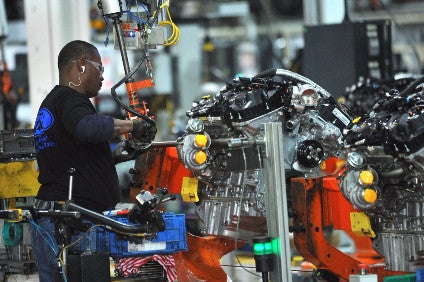 Ford said it was spending US$145m to upgrade its Cleveland engine plant – claiming to be "creating or retaining" 150 jobs due to strong demand for the second generation 3.5-litre EcoBoost engine options for the 2017 F-150 pickup truck range.
The allocation is part of the $9bn commitment the automaker made with the UAW last year to invest in its US plants. It committed to creating or securing 8,500 hourly jobs in Michigan, Illinois, Kentucky, Missouri, New York and Ohio over the next four years.
Cleveland produces the current 3.5-litre EcoBoost engine used also in the Explorer, Expedition, Transit, Flex and Taurus.
Cleveland Engine opened in 1951 and employs more about 1,500 people. It has produced over 1m EcoBoost engines since 2009.
It also builds the two-litre EcoBoost for the Edge, a 2.3-litre version for the Explorer, Mustang and Lincoln MKC, and a 3.7-litre V6 for the Mustang.