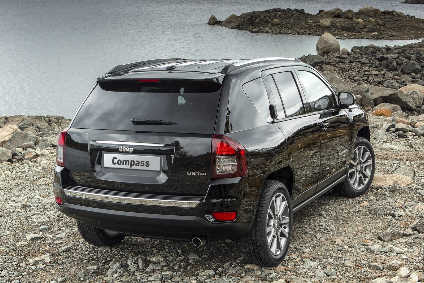 A replacement for the C-segment Jeeps Compass and Patriot may have its world premiere at the New York auto show in March. FCA will again employ the same risky strategy that has just seen the big-selling Chrysler Town & Country and Dodge Grand Caravan replaced by one model.
Despite being decade old designs, the Mitsubishi platform Compass and Patriot still sell well in the US. They played a not insubstantial role in helping Jeep to attain a worldwide sales record in 2015, with deliveries totalling 1,237,583 vehicles. The Compass and Patriot set new records in the US, and the Patriot also had a global best year yet.
Jeep sales were led globally and in the US by the Cherokee (295,081 global; 220,260 US), Grand Cherokee (277,236/195,958), Wrangler (255,283/202,702), Renegade (158,351/60,946), Patriot (143,003/118,464) and Compass (108,626/66,698).
It is presumed by many that the new FCA architecture S-SUV will be called Patriot , given that model name's success in 2015 but Compass might instead be chosen. The company is no doubt hoping that it can retain existing owners of both models, as well as draw in others who might otherwise be attracted to the segment leading Honda CR-V (345,647 US market registrations in 2015).
Ford is also strong in this class, with the Escape (306,492 sales in CY2015), which has a major facelift for the 2017 model year, and GM's aged but still strong Chevrolet Equinox. The Toyota RAV-4 is another rival but the current generation model has not been as successful as its maker might have hoped. Nissan's Rogue, on the other hand, is one of the models to have gained from the RAV4's sales slide. Rogue deliveries in the US surged by 44% last year to 287,190. This compares to a nonetheless impressive 315,412 for the RAV4 but the Toyota 's gain in 2015 was just 17.8%.
Jeep's C-SUV will be based on a version of the platform used by the Dodge Dart. A closely related Alfa Romeo crossover intended to rival the Audi Q5 will also be part of the C-SUV project. Fiat had stated that the Mirafiori plant in Turin would make both models on the group's Compact Wide architecture but a period of weakness of the dollar against the euro caused a change of thought. The Patriot and Compass are manufactured at FCA's Belvidere, Illinois plant.
The Patriot & Compass replacement is also expected to be built in China by GAC Fiat and potentially, at the Indian JV plant which FCA operates with Tata Motors in Ranjangaon, some 50km from Pune.
The press preview days of the 2016 New York International Auto Show are 23 and 24 March.