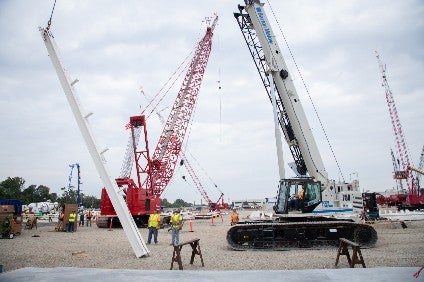 FCA has raised the first piece of steel for the nearly 800,000 square foot paint shop being built on the site of the former Mack Avenue Engine Complex in Detroit.
The automaker announced last February it would spend US$1.6bn to convert the two existing Mack factories into a new assembly plant for a new, three-row, full-size Jeep SUV and the next-generation Grand Cherokee, creating 3,850 new jobs.
While construction on the new paint shop started from the ground up, crews were working to renovate and transform the two existing facilities.
Mack II, which has been idle since 2012, will become the new body shop, where the frame of the vehicle is welded together. Mack I, which until June was producing the Pentastar engine family, will be repurposed and retooled as general assembly, where the vehicle gets its seats, instrument panel and wheels, among other things.
The first vehicles are expected to roll off the line by the end of 2020. When complete, the facility will be the first new assembly plant built in the city of Detroit in nearly 30 years.