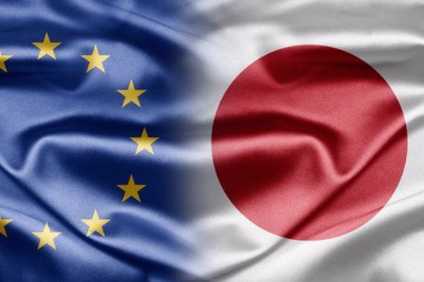 A free trade deal between the EU and Japan has been agreed 'in principle' between the two parties this week. It could come into force in 2019, but is subject to more negotiation on the details followed by finalisation and ratification.
The European Commission said in a statement that respective negotiating teams will finalise the agreement, allowing for the internal procedures to start soon, both in the EU and in Japan.
Some analysts and commentators have pointed out an EU-Japan FTA could potentially disadvantage the UK as it leaves the EU in 2019 and Japanese companies enjoy easier trading conditions with the EU than with the UK, if the UK is outside of the EU single market and customs union (it could still be inside in a 'transitional' arrangement, but it is far from clear how likely that is). And that, some say, could eventually impact investment strategies in Europe for Japanese OEMs such as Nissan, Toyota and Honda with the UK becoming less attractive in terms of EU market access and the higher costs, relative to the EU, of parts and cars imported from Japan.
The auto industry in Europe is also wary of asymmetric free trade deals – such as the one with South Korea – that benefit automakers in Asia more than Europeans due to a large imbalance in trade flows of automotive goods. Both the South Korean and Japanese car markets are notoriously difficult for Western brands to make an impact in; import share is very low. But the OEMs in both countries sell in substantial volumes to Europe.
Earlier this week, the European automakers' trade association Acea called on negotiators to 'ensure a balanced outcome for the European automobile sector' and resolve non-tariff barriers facing European vehicle exporters to Japan'.
"Concretely, this means that Japan should resolve the remaining non-tariff measures facing EU vehicle exports. This should at least partially offset the negative impact of increased Japanese imports on the competitiveness of the EU auto industry, caused by the elimination of EU tariffs," said ACEA Secretary General, Erik Jonnaert.
The Japan Automobile Manufacturers Association (JAMA) said today that it "warmly welcomes the agreement in principle reached on July 6 in the negotiations on the establishment of a Japan-EU Economic Partnership Agreement (EPA)."
Launched in April 2013, the negotiations on this free trade accord have been long and rigorous, it said, adding: "We take this opportunity to express our great appreciation for the continuous efforts made in the negotiation process by the Japanese government officials concerned."
See also: European auto industry cautious on EU-Japan trade deal