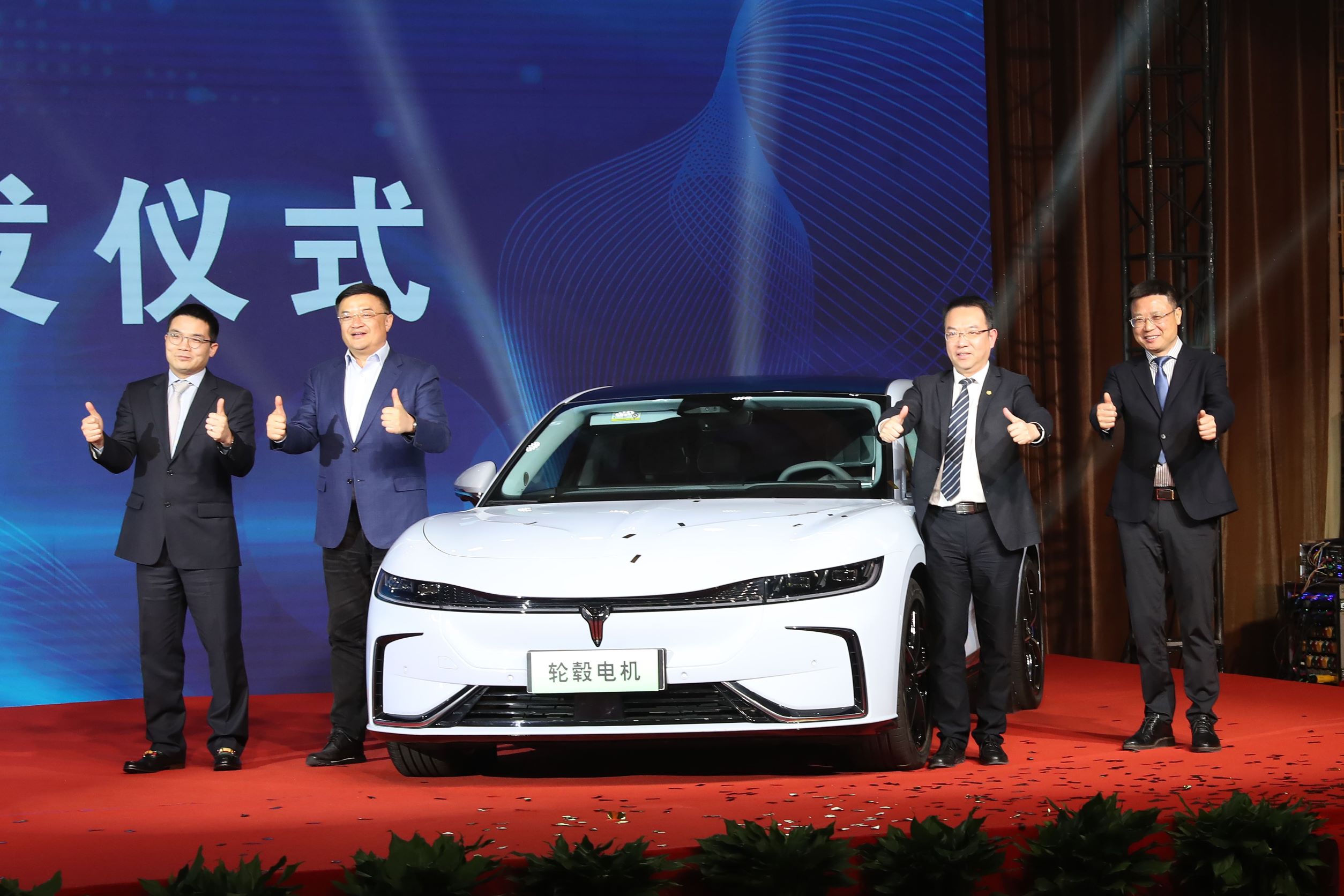 Chinese OEM Dongfeng Motor (DFM) has launched two new passenger cars powered by ProteanDrive Pd18 in-wheel motors.
The two models were shown at an event in Wuxi, hosted by DFM and Weifu Electric Drive Technology (WFDT), the joint venture between Weifu and Protean Electric.
Unveiled at the event was the E70, the first fully homologated passenger car equipped with ProteanDrive, alongside the Voyah Zhuiguang, a luxury sedan built on a new vehicle platform using in-wheel-motors.
In-wheel motor technology enables improvements in space, acceleration and cornering speed on the existing E70 vehicle platform
The supplier said its ProteanDrive Pd18 in-wheel motors used on the E70 platform create a high performing all wheel drive (AWD) option, "delivered with limited design changes and a short development cycle".
DFM said the E70 is lighter and more efficient than an AWD model powered by e-axles, with increased storage space of 50% and 0-100km/h acceleration time reduced by 42%.
Fitting the ProteanDrive system has enabled torque vectoring, providing an 18% increase in cornering speed under extreme driving conditions, and improving the dynamics, manoeuvrability and active safety while reducing the number of parts in the vehicle by 83.
DFM led vehicle development and full MIIT (Ministry of Industry and Information Technology) homologation, including successful completion of crash impact, mud, salt spray, high and low temperature, icing, winter and accelerated durability testing.
It successfully homologated the E70 as the world's first passenger car driven by in-wheel motors, in December 2022.
The initial batch of vehicles will now complete extensive fleet trials, including a road trip from Wuhan to Wuxi.
Premium BEV designed for in-wheel motors
Also launched at the event was the Voyah Zhuiguang, equipped with Pd18, and Dongfeng's latest dedicated electric vehicle brand for the premium market. The Zhuiguang is the first sedan product of the Voyah brand, a flagship luxury electric vehicle.
DFM has collaborated with Protean since 2016. In March 2022, Dongfeng, Weifu and Protean signed a three party partnership and cooperation framework agreement to fit the in wheel motor products to multiple vehicle models. The launch of the E70 and Voyah Zhuiguang is the latest outcome of the partnership.
"As demonstrated on the E70 and Voyah Zhiguang, accelerating the industrialisation of in wheel motors can make vehicle platforms more flexible and modular for OEMs, as well as delivering greatly improved interior space, enhanced driving experience and a host of other benefits for consumers," the three companies said in a statement.
How in-wheel electric motors can make EVs potent
Protean teams with Tianjin for in-wheel motors
Linamar becomes manufacturing partner for ProteanDrive
Protean, Human Horizons and Wuxi Weifu to develop in-wheel motors