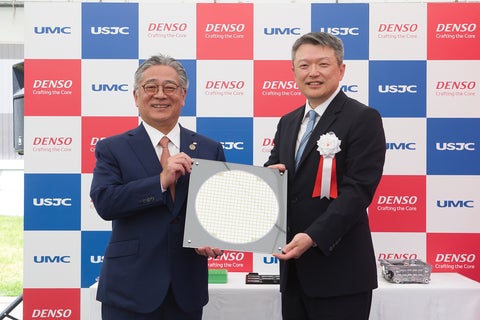 Denso Corporation and United Semiconductor Japan (USCJ) have announced a joint collaboration to produce insulated gate bipolar transistors (IGBT).
USJC is a subsidiary of global semiconductor United Microelectronics Corporation.
It comes one year after the companies announced a strategic partnership for this critical power semiconductor used in electric vehicles.
Denso has been ramping up its collaboration with outside chipmakers – including USJC – since the beginning of 2022
A first shipment ceremony was held at USJC's fab in Mie Prefecture, Japan. Attendees included DENSO President Koji Arima and UMC Co-President Jason Wang.
The IBGTs have entered mass production at the 300mm fab of USCJ. A IGBT is a core device that acts as a switch in inverters to convert direct current from batteries to alternating current to drive and control electric vehicle motors.
The jointly invested line at USJC supports the production of a new generation of IGBT developed by Denso.
It is claimed it offers 20% reduction in power losses compared with earlier generation devices. Production is expected to reach 10,000 wafers per month by 2025.
At the ceremony, Koji Arima, President of Denso said: "Today, we are thrilled to welcome a memorable shipping ceremony that symbolizes the partnership between DENSO, UMC and USJC. We are from different cultures such as semiconductor industry and automobile industry.
"However, we have worked steadily with mutual respect which is a source of our strong competitiveness. Denso, together with our trusted partners, will continue to further accelerate electrification through the production of competitive semiconductors in order to preserve the global environment and create a society full of smiles."
Michiari Kawano, President of USJC said: "USJC is proud to be the first semiconductor foundry in Japan to manufacture IGBT on 300mm wafers, offering customers greater production efficiency than the standard fabrication on 200mm wafers. Thanks to our dedicated teams and support from Denso, we were able to complete trial production and reliability testing without delay and honour the mass production date as agreed with the customer."