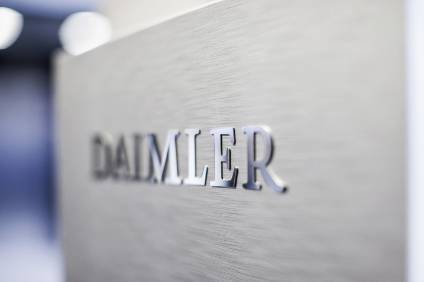 Daimler has reported a widening Q2 loss amid sharply slower sales caused by the impact of the COVID-19 pandemic. However, the company also said it expects to generate an operating profit this year as demand in major markets recovers from the worst of the crisis.
The results cheered investors and Daimler's share price has rallied in early trading today.
Assuming that the economic recovery continues in the second half of the year and that there is no new major wave of COVID-19 infections in its key sales markets, Daimler expects both group EBIT and the free cash flow of the industrial business to be positive in 2020, but lower than in the previous year.
For the second quarter, Daimler's total unit sales decreased by 34% to 541,800 passenger cars and commercial vehicles (Q2 2019: 821,700). Revenue slipped significantly by 29% to EUR30.2 billion (Q2 2019: EUR42.7 billion). EBIT was minus EUR1,682 million (Q2 2019: minus EUR1,558 million).
However, adjusted EBIT, reflecting the underlying business, was EUR-708 million (Q2 2019: EUR2,447 million). Net loss was EUR1,906 million (Q2 2019: net loss of EUR1,242 million). Industrial free cash flow was positive in the quarter, and industrial net liquidity remained on a solid level versus first quarter 2020, Daimler said.
Ola Källenius, Chairman of the Board of Management of Daimler AG and Mercedes-Benz AG said: "Due to the unprecedented COVID-19 pandemic, we had to endure a challenging quarter. But our net industrial liquidity is a testament to effective cost control and cash management, which we must continue to enforce. We are now seeing the first signs of a sales recovery – especially at Mercedes-Benz passenger cars, where we are experiencing strong demand for our top end models and our electrified vehicles.
"Going forward, we are firmly determined to continue to improve the cost base of our company. At the same time, we are committed to our key strategic objectives: to lead in electrification and digitalization."
Daimler said that besides temporarily shuttering factories, its COVID-19 response also meant that expenditure was reduced and 'investments were focused on the most critical future projects'.
Working capital was managed carefully with a focus on inventory reduction. At the end of the second quarter, the net liquidity of the industrial business was EUR9.5 billion (end of Q1 2020: EUR9.3 billion). The free cash flow of the industrial business was EUR685 million (Q2 2019: minus EUR1,302 million). The adjusted free cash flow of the industrial business, which was still influenced by high upfront investments in future products, was EUR778 million (Q2 2019: minus EUR1,208 million).
While the worldwide effects of the pandemic led to a significant decrease in earnings at Mercedes-Benz Cars & Vans, Daimler Trucks & Buses and Daimler Mobility, implemented cost-cutting measures countered the negative effects.
Sales of the Mercedes-Benz Cars & Vans division decreased by 30% to 480,800 vehicles in the second quarter (Q2 2019: 686,800). Adjusted EBIT, reflecting the underlying business, was minus EUR284 million (Q2 2019: plus EUR1,148 million) and adjusted return on sales was minus 1.5% (Q2 2019: plus 4.5%). Daimler said a favorable model mix, driven particularly by the success of the newest products, contributed positively to profitability. Restructuring expenses for capacity adjustments in the global production network, e.g. in Hambach, Tuscaloosa and Aguascalientes (EUR687 million), and the initiated personnel cost reduction program (EUR101 million), had a negative impact. Both initiatives will reduce fixed costs in the medium and long term, the company maintains.
Daimler said the COVID-19 pandemic will continue to have a strong impact on developments during the rest of the year. It said a considerable decline in global economic output must be expected for full-year 2020. Daimler assumes that the pandemic-related decrease in unit sales will not be offset in the remainder of this year. Therefore, efficiency and capacity measures are to be intensified, the company said.
See also: Daimler taking the right actions on cost