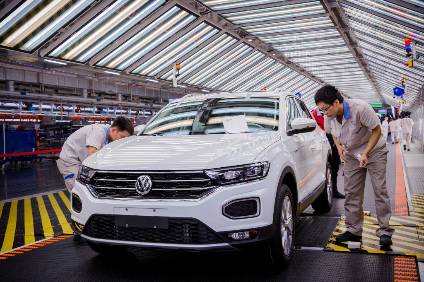 New vehicle sales in China fell by 5.2% to 2.52m units in March from 2.66m units a year earlier, according to wholesale data compiled by the China Association of Automobile Manufacturers (CAAM ).
Last month's market decline was the ninth in succession, although it was an improvement on the 17.5% fall in the first two months of the year, with dealer deliveries held back by a rapid rise of stock in the second half of 2018.
Consumer demand in the last year has been affected by slowing economic growth and rising uncertainty due to the China-US trade war.
CAAM was encouraged by the slower decline last month and hopeful the market would begin to recover in the second half of the year.
The association's assistant secretary general Xu Haidong told reporters: "We are optimistic and hope to see the turning point appear around July and August."
Automakers last month had offered discounts to try to entice buyers and clear stock with many holding more than double normal monthly sales volume.
The Chinese government has also introduced stimulus measures to help lift domestic consumption, including a cut in the manufacturing VAT rate from 16% to 13% at the beginning of April.
It has also loosened monetary policy this year, including measures to encourage bank lending.
Sales last month were supported by buoyant demand for commercial vehicles with the China Passenger Car Association (CPCA) reporting earlier last week that sales of light passenger vehicles fell by 12% to 1.78m units.
Sales of new energy vehicles (NEVs) rose by 85% to 126,000 units last month, driven by the introduction of minimum sales quotas at the beginning of the year.
First quarter total vehicle sales were estimated to have fallen by 12.6% to 5.76m units from 6.59m units in the same period of last year.
Volkswagen group's two main Chinese joint ventures, SAIC-Volkswagen and FAW-Volkswagen , delivered a combined 946,600 vehicles in mainland China and Hong Kong in the first quarter, down by 6.3% on the 1,010,600 units sold in the same period of last year. This includes some 40,000 imported vehicles.
General Motors and its Chinese joint ventures delivered 813,973 vehicles in the first quarter, down by 17.5% from the 986,052 units a year earlier. The US automaker said it plans to introduce around 20 new and refreshed models this year, with a "sharpened focus on the luxury vehicle and midsize/large SUV segments".
By contrast, Nissan's joint ventures sold a combined 133,069 units in March, up by 8.2% year on year, and a total of 343,748 units year to date while Honda's sales were up by 26% at 122,744 units last month and by more than 11% at 335,134 units in the first quarter.