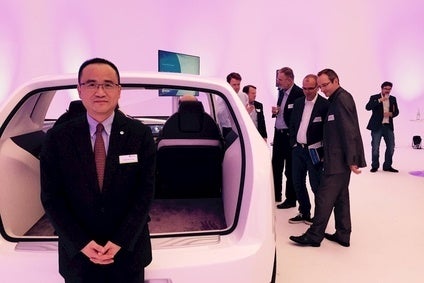 Yanfeng Automotive Interiors (YFAI) says it has localised most components for its China operation as the country undergoes an unusually turbulent economic period.
China has enjoyed spectacular double digit growth during recent times, with most overseas automakers beating a path to its lucrative door, but that stellar performance has been more measured of late leading to two currency devaluations.
YFAI – the joint venture between Yanfeng Automotive Trim Systems and Johnson Controls formed in July this year – regards China as a vital cog in its business and is keen to stress the importance of domestic content for the still-burgeoning market.
"Most components have been localised not only because of volume and cost, but [it also relies] on your capability," YFAI deputy CEO, Weizhong Wang told just-auto at yesterday's (8 September) pre-Frankfurt show briefing in Düsseldorf.
"It is important with big volumes and market support to be able to deliver locally manufactured components. You need a strong local team to be similar as a global team, with knowledge to allow you to keep product consistency."
The supplier will showcase its 'Better Life on Board' concept in Frankfurt, with its Innovation Demonstrator 2016 (ID16) concept car featuring initiatives such as smart surface technologies, storage solutions and how YFAI believes autonomous driving will drive interior design.
YFAI had the ID16 car in Düsseldorf and showed innovations such as a retractable steering wheel for when automated driving is initiated, with the driver seat also moving back, as well as a simple but effective 'catchbin' to ensure dropped coins are not lost in the depths of a vehicle
"The ID16 combines a range of solutions in our innovation portfolio with everything we are currently marketing for future vehicle generations," said YFAI VP advanced product development & sales, Han Hendricks.
"We have developed interior solutions that account for the changing requirements of autonomous driving as well as self-driving."
Returning to his China theme, Wang emphasised the robust nature of the domestic economy despite the hiccups of recent weeks and remains confident the country will ride out the current slight uncertainty.
"I think with this population and this size of country, it [growth] will happen," added the YFAI deputy CEO.
"Recently there was turbulence in the stock market and even in the exchange rate, but I think personally it does not reflect the economy and what is going on in China."
Headquarted in Shanghai, YFAI has more than 90 production and engineering centres, employing 28,000 around the world.
The company has two production plants and a global engineering centre and Neuss, where its European head office is based.