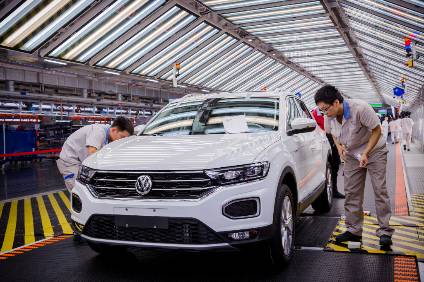 New vehicle sales in China continued to fall sharply in November, by 13.9% to 2.55 million units from 2.7 million units a year earlier, according to data released from the Association of Auto Manufacturers (CAAM). The decline makes it more likely that the world's biggest vehicle market could record an annual decline this year for the first time since 1990.
November was the fifth straight month of decline for the market, driven lower by a 16% drop in passenger vehicle sales to 2.2 million units, with falling stock markets and the deepening trade war with the USA continuing to undermine domestic consumer sentiment.
Sales of new energy vehicles, comprising mainly electric vehicles, rose by just 38% year-on-year to 169,000 units in November – the slowest rate of growth this year, while cumulative eleven-month sales were up by 68% at 1.03 million units.
Chinese brands reported a 23% fall in combined sales to 909,000 vehicles in November, after declining by 18% in October, with Geely outperforming with a drop of just 0.3% followed by SAIC Motor with a decline of just over 10%.
The recent sales slowdown has driven dealer inventories to new record highs, according to data from the China Automobile Dealers Association.
Overall vehicle sales were down by almost 1.7% at 25.42 million units in the first eleven months of the year and CAAM now expects full-year volumes to fall by around 3.0% from just over 28 million units last year. This would be the first full-year market decline in some 28 years, according to local market analysts.
Passenger vehicle sales were down by 2.8% at 21.5 million units in the eleven-month period.
While growth had been expected to slow this year as a result of government tightening measures, the rate of decline in the last three months will be a source of concern – especially with compulsory new-energy vehicle quotas set to be introduced at the beginning of next year. Further weakness will likely prompt the government to bring in additional market support in the way of new tax incentives.
See also: VW brand sales down 5% in November