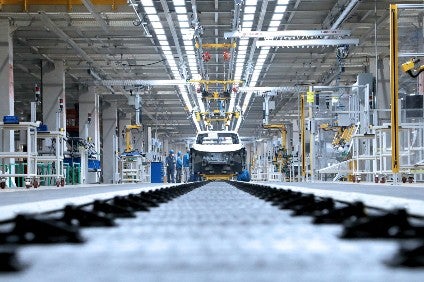 New vehicle sales in China plunged by 79.1% to 310,000 units in February 2020 from already weak 1,482,000 sales in the same month of last year, according to wholesale data released by the China Association of Automobile Manufacturers (CAAM).
That followed yesterday's news retail sales of new passenger vehicles in China plunged 80% last month from weak February 2019 sales of 1.21m, according to preliminary data from the China Passenger Car Association (CPCA).
Today's CAAM data included both passenger vehicles and commercial vehicles.
It said wholesales of passenger vehicles alone, including passenger cars, SUVs and MPVs, declined by 81.7% to 224,000 units – as a large part of the country remained in lockdown mode for most of last month due to the COVID19 coronavirus outbreak.
Sales of new energy passenger vehicles fell by over 75% to 12,908 units in February, resulting in a more than 59% drop in year to date sales to 59,705.
The overall vehicle market decline last month was said to have been the steepest ever recorded in the country and was also expected to be the steepest this year.
Earlier this week CPCA said "dealers returned to work gradually in the first three weeks of February but showroom traffic remained very low".
Overall vehicle sales declined by almost 42% to 2.25m units in the first two months of 2020 from 3.85m units in the same period of last year.
With signs the spread of the coronavirus was beginning to slow, the Chinese government began to ease restrictions on business activity in most areas of the country towards the end of February but consumer spending and overall business activity remained far from normal.
Automakers were hopeful the market would stabilise in the second quarter before rebounding in the second half.
Some local analysts thought it would be "weeks, maybe months, before the industry is able to return to normal production levels", given the significant supply chain disruption that has already occurred.
Senior CAAM official Chen Shihua told reporters "auto sales will definitely rebound in March" from the previous month, adding the market "should return to normal in the third quarter this year".
The association forecast first half sales to decline by 10% year on year.
Chen suggested if the outbreak in China is effectively contained by April, the full year sales decline could be just 5%.
Earlier this month GM China President Matt Tsien also said he expected China's vehicle market to decline sharply in the first half of 2020 before staging a recovery in the second half.
He urged the Chinese government to delay the next tightening of vehicle emissions regulations, scheduled for July 2020, until the end of the year to allow dealers more time to sell old stock.
The ministry of industry and information technology has called on local municipal governments to ease restrictions on the number of licence plates they issue to help the market's recovery.