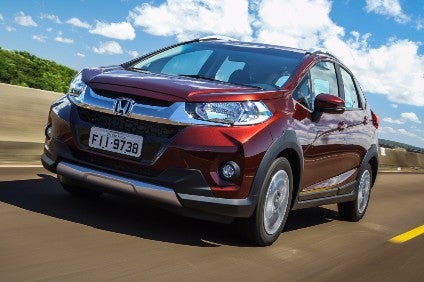 It was unplanned, they say, but 'Japanese Week in Brazil' happened here anyway as three automakers launched new models: Honda's WR-V, the 2018 Toyota Corolla and Nissan's Frontier pickup truck.
Honda
[
Cruelly described by a
just-auto
reader as "a Jazz [Fit] hit with the ugly stick" – ed
], the WR-V has much in common with the Fit and, indeed, its design goal was to make use of an existing platform to create a 'city crossover SUV'. The model, developed fully in Brazil,
is also now produced in India
as well, continuing the Brazilian auto industry's role as a development source for 'emerging market' cars.
The new Honda is priced from BRL79,400/US$25,600 to BRL83,400/$26,900 and retails for 8% less than the HR-V on average. But the HR-V is 29cm/11.4 inches longer overall with a larger boot (437 litres/15.4cu ft vs 363 litres/12.8cu ft).
The WR-V front end is nicely styled but the tail lights seem to be exaggerated. With a 20.7cm/8.15 inch ground clearance, the comfort-driveability relationship is pretty good. Front and side airbags are standard on all models and two curtain side bags are added to the top version. LED daylight running lights (DRLs) are also standard.
It's much the same inside as the Fit but, with an extra 2.5cm/0.98 inch in the wheelbase and new seat upholstery and dashboard appliqués. Engine and CVT gearbox are also shared and cope well with the minute increase in mass (22 kg/48.5 lb).
Toyota
The current Corolla (sedan in Brazil) is now three years and, despite its easy lead in the compact-midsize saloon segment, has had a minor refurbish, with the exception of the front end. Previously unavailable items such as electronic stability and traction control, hill start assist, and seven airbags (one for the driver' knees) are now factory installed on all versions.
The sole mechanical change was to the suspension: larger, 17 inch wheels, low profile 215/50 tyres and a 0.5cm/0.2 inch ride height increase. Some harshness was noted on uneven surfaces.
No significant changes inside but the top Altis finally has dual-zone air conditioning. A new 'sporting' version called XRS has the same two litre flexible fuel powertrain as the other variants but looks nicer. Prices range from BRL90,990/$29,350 to BRL114,990/$37,100. The redesigned 12th generation is due in 2019.
Frontier
Nissan did not want to waste time launching so, thanks to the free trade agreement, has started importing the new Frontier pickup from Mexico – for now – in a uniquely specified, fully-equipped Brazilian version for BRL166,700/$53,800. In 2018 the midsize, double-cab four-door pick-up will come from Argentina. Cabin and cargo bed, chassis, engine (2.3 litres/140.3 cubic inch, 187bhp; 450Nm) and a seven-speed epicyclic automatic gearbox (previously five) are all new. Kerb weight was brought down from 2,066kg/4,553lb. to 1,985kg/4,376lbs.
For bad roads, ride comfort was highly upgraded thanks to coil springs in place of semi-elliptical leaves at the rear, though keeping the rigid axle. On tarmac, 17 inch wheels (16 inch are fitted) would improve directional stability. Driving position is enhanced by newly specified power-adjusted seats.