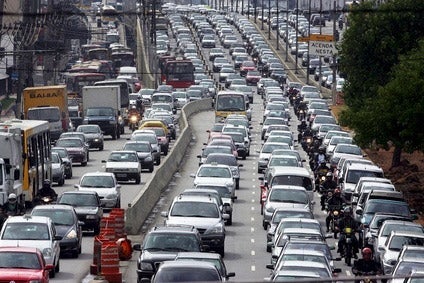 In the last few years, the Brazilian vehicle fleet, besides growing thanks to strong market expansion, has been rejuvenated. But this began to reverse last year as combined registrations of light and heavy vehicles dipped by 9%.
The 41.5m unit fleet average age increased to eight years and eight months in 2014 compared with eight years and six months the year before. In 2007 the fleet average was nine years and two months.
In a country that has no national programme for regular vehicle inspections, a younger fleet would, theoretically, help safety-wise as a partial trade-off for a lack of regular maintenance.
Brazil's motorisation index growth has also ceased rising. Since 2004 the number of inhabitants per vehicle had been improving between 0.2 and 0.5 yearly.
But in 2014 the index fell from five inhabitants per vehicle in 2013 to 4.9, a clear sign of stagnation. Even in countries like Argentina and Mexico this index hovers around 3.5 inhabitants/vehicle, revealing more advanced positions in terms of motorised population compared to Brazil.
With the strong new vehicle sales downturn expected in 2015 – an estimated 13% to 19% – Brazil is in reverse gear in motorisation index and keeping an ever ageing fleet in use.
Despite a falling but still positive birth rate, (the population is expected to reach some 205m by the end of 2015), the motorisation index is prone to worsen rather than improving.
Optimistic projections some years ago showed that, this year, the four-to-one proportion would be reached but the current scenario suggests this will recede to a little over five inhabitants per vehicle.
In global terms, it is estimated the planet is currently at around six inhabitants/vehicle. In the US it's a low 1.2-to-one.