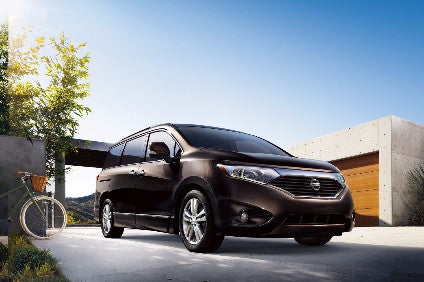 Relatively milder temperatures may have brought people outdoors but it was most likely incentives averaging 11% higher than last February and petrol prices averaging 27% less that brought them to dealer lots last month.
The formula seems to have worked: February sales were up 6.8% to better than 1.34m. The seasonally adjusted annualised rate (SAAR) came in at 17.54m units, down slightly from January but 1.15m ahead of February 2015.
As has been true for some time, light truck sales were the driver of February's results. Pickups, utilities, minivans and commercial vans claimed 59.2% of the market last month. For the first two months of 2016, the share was even higher, at 59.4%.
Crossovers and SUVs continue to blossom. Year-to-date (YTD) market share has grown to 38.5% of total sales, 2.2 points more than the same period in 2015.
One surprise was the jump in minivan/MPV deliveries. Sales were up 23.2% last month. Much of that was the comparisons of the FCA minivans to a year ago, when the assembly plant was being refitted for the new Pacifica, but sales of the Nissan Quest and Kia Sedona were up 279.6% and 68.8%, respectively. The segment picked up about a half point of market share.
Fiat Chrysler is possibly the biggest beneficiary of the market shift. Jeep continues to be the top brand in the segment and FCA has sold more utilities this year than any other automaker.
Fiat Chrysler notched its 71st consecutive month of year-over-year sales growth.
While Fiat Chrysler may have been the big winner, Detroit's share of the pie has grown as well. FCA, Ford and General Motors made 46.6% of total sales in February, nearly a full point more than a year ago.
Ford turned in an outstanding performance, bouncing back from a January slump with a 20.2% jump in February deliveries. Ford benefited from strong fleet sales as F-Series pickups, commercial vans and police vehicles accounted for 38% of its activity last month. The automaker noted last month's van sales were the highest for a February since 1979.
General Motors' determination to decrease rental fleet sales contributed to its 1.5% shortfall. The automaker noted it was pleased with its retail market performance but that's not surprising; GM put the most cash on the hood of any of the major players. Only BMW spent more.
Detroit's extra share meant smaller pieces for the other players. The Japanese automakers gave up about 0.2 points; the Koreans chipped in another tenth but the Europeans were the big donors as deficits reported by BMW, Daimler and Volkswagen trimmed the European share by 0.8 points.
Land Rover and Nissan set new February sales records, joining Subaru, Hyundai and Kia in the winner's column. Audi came through with its 61st consecutive monthly sales record.
Lexus squeaked by Mercedes to take the top spot among the luxury brands in February. The margin was 149 sales. Mercedes still has a 3,582-unit lead for the year.
The premium segment is showing a bit of weakness. Total premium brand sales rose just 0.5% last month and they are down 1.5% for the first two months of the year. Market share is still within its typical historical range but is down about a half-point.
Automakers are looking for another 17m-plus year and they seem to be prepared to do most anything to get it. But a bit of caution is needed. The purchase rate per 100,000 population continues to decline. In the 16 years between the first time the industry hit 17m sales and last year's new record, the new vehicle purchase rate among American adults dropped 16.7%.
That's worthy of consideration for automakers and suppliers alike.
Members' Report: U.S. light vehicle sales
* indicates a sales record.
**Volkswagen Group figures include Audi, Bentley, Porsche and Volkswagen brands
Other includes estimated sales for Aston-Martin, Ferrari, Lamborghini, Lotus, Rolls-Royce and Tesla
Source: Manufacturer's reported sales