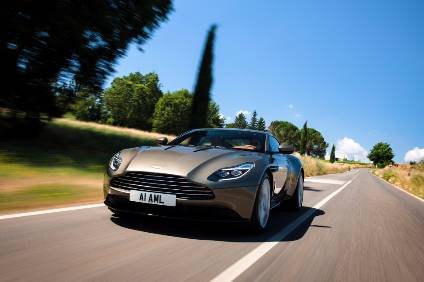 Luxury sports car maker has reported a surge to sales and profit as its new DB11 lifts unit volumes.
It said that revenues in the first quarter more than doubled to GBP188.3m with retail sales up 100% vs. prior year. Wholesale units jumped 75% to more than 1,200 vehicles.
There was a sevenfold increase in underlying EBITDA to GBP43m and Q1 pre-tax profits of GBP5.9m; profit after tax was GBP4.8m
The company said it reported record first quarter results boosted by strong orders for its flagship DB11 model. The new DB11, introduced late last year, is the first in a planned line of seven new models to be launched over the next seven years.
Demand for the DB11 sports car and other specialist models also coincided with the company's completion of a GBP550m refinancing to enhance liquidity, reduce borrowing costs and increase financial reserves.
Dr Andy Palmer, Aston Martin President and Chief Executive Officer, said: "The group has made a strong start to the year. We are delivering on our 'Second Century' transformation program and building sustainable profitability. Forthcoming models including the new Vantage and Vanquish will expand on our recent growth, underpinned by the financial resources and operational discipline of a true British success story in luxury car production."
Aston Martin improved its full-year forecast to reflect the expectation that revenues will rise to more than GBP800m in 2017, with EBITDA expected at or above GBP170m. Annual wholesale volumes are expected to rise by more than 30% on the 3,687 units in 2016.
The strong first quarter results are sure to increase speculation about a future share offering.
See also: