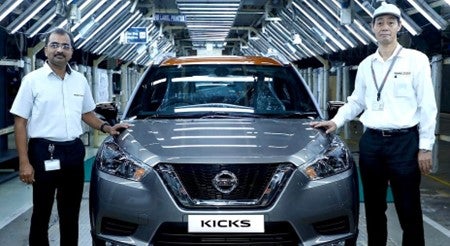 Nissan Motor and Renault unveiled details of their investment plans for India under their new "rebalanced" Alliance, at a ceremony in Chennai on Monday.
The meeting was attended by Ashwani Gupta, Nissan director and chief operating officer and a member of the Alliance board, plus Tamil Nadu government officials.
After months of negotiations, the boards of the two automakers last week signed off on a deal that would reduce Renault's shareholding in Nissan to 15% from close to 44%, in line with Nissan's holding in Renault.
The Japanese automaker said, as part of its new long term vision for India, the two companies planned to spend an initial US$600m to expand production and R&D, introduce new battery electric vehicles (BEVs) and move to carbon neutral manufacturing.
Through their Renault Nissan Automotive India manufacturing joint venture in Chennai, the companies plan to collaborate on building six new vehicles for both domestic and export markets, including two BEVs.
The Chennai JV would become a bigger part of their respective international operations as a result.
Nissan said the six new models would comprise three for each brand and be engineered and produced in Chennai. They would be built on common Alliance platforms while retaining the distinctive styling of each brands. They would include four new C-segment SUVs and two new A-segment BEVs.
The two companies hope the new models would help "significantly" increase exports from India, lifting plant utilisation at Chennai to 80%.
R&D activity at the Renault Nissan Technology & Business Centre India in Chennai would also increase "significantly", resulting in the creation of up to 2,000 new jobs.
Guillaume Cartier, chairman of Nissan's Africa, Middle-East, India, Europe and Oceania region, said in a statement: "Renault and Nissan are fully committed to the Indian market, committed to [electrification there] and committed to minimising our impact on the environment.
"India was the first Alliance plant and will be at the centre of this new chapter of the Alliance, with new vehicles, new R&D activities and new export markets taking our joint operations to the next level."
Francois Provost, international development & partnerships Renault Group and managing director of Alliance Purchasing Organisation, added: "India is a key market for [us]. Over the past 14 years, we have been developing the Renault brand with our teams and dealers, reaching up to 100,000 sales per year. India has also a key role in our worldwide R&D footprint. This project together with Nissan is a first concrete output of the new Alliance ambition [announced last week]."