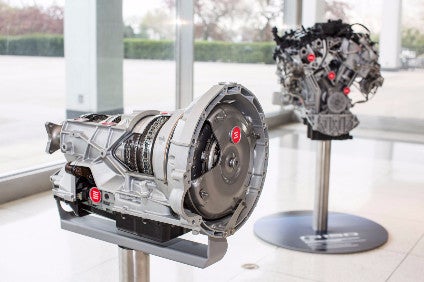 Ford said its 2017 F-150 pickup truck line, produced in multiple assembly plants primarily for North America, will have more torque and better from a second generation, 3.5-litre EcoBoost V6 engine and 10-speed transmission.
The new engine will provide 30 lb-ft more peak torque compared with the first generation motor, up to a claimed best-in-class 450 lb-ft for a V6. The F-150 remains the only truck in its segment to offer a twin-turbo V6 gasoline engine, the automaker noted.
The new transmission – built in-house and claimed to be the first volume-production, 10-speed automatic transmission available from any automaker – will deliver improved acceleration and performance compared with previous six-speed automatic transmissions.
However, the transmission is the result of two previous successful collaborations that led Ford and General Motors to a new agreement in 2013 to jointly develop a new generation of nine- and 10-speed automatic transmissions for cars, crossovers, SUVs and trucks, again primarily for North America.
The new transmissions, to be built in both front- and rear-wheel-drive variants, would improve vehicle performance and increase fuel economy, the automakers said at the time. The collaboration enabled both to design, develop, engineer, test, validate and deliver new transmissions for their vehicles faster and at lower cost than if each company worked independently.
Raj Nair, Ford's product development head and chief technical officer, said: "The powertrain is the heart of every F-150, and together our all-new 3.5-litre EcoBoost and 10-speed transmission will give our customers better power, efficiency and confidence."
More than 20 patents are approved or pending for the powertrain combination.
The G2 3.5 EcoBoost follows on from the 2.7 and G1 3.5in the 2016 F-150. Nearly 1million F-150 EcoBoost engines have been sold to date, with the 2.7 and older 3.5 accounting for approximately 60% of F-150 sales – the rest were V8s.
The engine was designed to achieve best-in-class torque for a V6 engine, beating petrol- and diesel-powered competitors. Ford said it provides better low-end and peak engine performance, ideal for hauling heavy payloads and towing heavy trailers.
The engine features has a new, Ford-first, dual-direct and port fuel-injection system. Two injectors per cylinder – one mounted in the intake port where air enters the cylinder and one positioned inside the cylinder – work together to improve power output, efficiency, and emissions.
New turbochargers deliver more boost thanks to improved twin turbos and a lighter turbine wheel. The new turbos work seamlessly with Ford-first, electrically activated wastegates, enhancing operating efficiency. Light-weighting the turbine wheel – by making it out of high-temperature super alloy Mar-M-247 developed by the aerospace industry – improves responsiveness.
More light-weighting to improve performance is evident in the hollow camshafts in the new roller-finger follower valvetrain that help save up to four pounds of weight. The valvetrain also features more durable intake and exhaust valves, and hydraulic valve-lash adjusters that optimise engine durability over the life of the truck.
The new 3.5 EcoBoost has auto start-stop as standard, helping customers save fuel, though actual fuel savings vary depending on driving patterns. The technology also contributes to a reduction in CO2 emissions due to decreased idle times. The start-stop is specially tuned for truck customers, shutting off the engine when the vehicle is at a stop – except when towing or in four-wheel-drive mode.
10-speed transmission
The new EcoBoost engine will be paired with a new 10-speed transmission which, Ford said, delivers improved acceleration and performance compared with previous six-speed automatic transmissions, thanks to optimised wide-span gear spacing, coupled with drag-reduction actions. Three overdrive gears and a wider ratio span enable lower-numerical rear-axle ratios to help improve fuel efficiency at highway speeds, while maintaining best-in-class towing.
Weight savings play a key role in improved shifting performance. The transmission uses advanced materials and alloys to save weight, and is the first Ford gearbox that does not use cast-iron components.
An integrated torque converter/turbine clutch also helps shave more than two pounds of weight while also reducing the packaging footprint.
Smarter shift logic helps towing using tow/haul mode. New, real-time-adaptive shift-scheduling algorithms monitor more than a dozen powertrain- and driver-control signals to ensure the right gear at the right time, including in sport mode.
An integrated electric pump works with the standard start-stop for seamless restarts and improved driving efficiency.
Manufacturing spend
Ford announced earlier this year it would spend US$145m to upgrade its Cleveland Engine Plant – creating or retaining 150 jobs to support production of the new EcoBoost 3.5.
An additional $1.4bn is earmarked for the Livonia Transmission Plant to create or retain 500 hourly jobs to build the 10-speed transmission.
The 2017 F-150 is on sale this autumn.