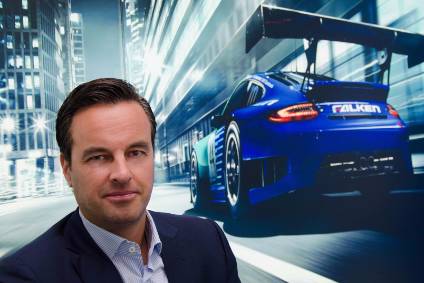 Following Sumitomo Rubber Industries' (SRI) acquisition the Micheldever Group, including Micheldever Tyre and Auto Services (MTS), the UK's second largest distributor of tyres. SRI has secured a route to market for the Falken brand. Continuing just-auto/QUBE's series of interviews, we spoke to Stephan Cimbal, head of marketing at Falken Tyre Europe GmbH about MTS and some retail trends in the tyre industry.
Where are you currently seeing the most growth in the tyre industry?
The high-performance tyre market has shown significant growth in recent years, outpacing the rest of the passenger tyre market.
The high-performance tyre market has shown significant growth in recent years, outpacing the rest of the passenger tyre market. It's set to continue with predictions of it reaching 314 million units by 2020. The increasing popularity of sports utility vehicles (SUVs), luxury passenger cars and sports cars is the main driver behind this. However, even mainstream cars are delivering higher power outputs. It's not uncommon for production saloon cars to have over 250bhp on offer and generate significant torque. This extra power and torque demands a high-performance tyre but there are more factors contributing to this.
Consumers are looking for better performing, quality products as they find the image and aesthetics desirable. This is particularly prevalent in the UK where there is a larger average wheel rim size as British motorists tend to specify the higher end option on their vehicles.
We have seen the rapidly increasing demand for high-performance tyre models first-hand. When we launched our flagship, range-topping AZENIS FK510 tyre in 2016 it was available in ten sizes, which we soon increased to 66 sizes and developed a SUV derivative to fulfil customer demand.
We've seen that new car registrations in the UK have fallen by 6.4 percent from August last year; what impact do you expect from this?
Typically, any change in new car registrations impacts the replacement tyre industry in around three years' time. Currently, we're feeling the benefits of the rise in new car sales from 2012 onwards. This has increased the number of one- to four-year-old cars on the roads in the last few years, contributing to the growth in premium and mid-range tyres.
What do you see as the main challenges of today's tyre industry?
There's a lot of competition at present in the market. There are many brands vying for market share with some of the larger manufacturers creating off-shoot 'budget' brands to cover all areas of the market. Brand differentiation and cut-through can be difficult, particularly as many consumers are not fully aware of the importance of tyres on vehicle performance, safety, economy and comfort. We have to rely on good dealers to educate, give advice and appropriately market their business. We feel it's important they discuss the type of driving a person does to find an appropriate tyre that will most suit their journey types and driving preferences. In the Falken passenger car tyre line-up, we have high-quality products for sporty and economical driving, performance tyres with exceptional grip, long-lasting and comfortable ride tyres as well as those designed for performance in all-round weather conditions and those specifically for winter weather. It's important that dealers support motorists to make the best tyre choice for their driving requirements.
Dealer awareness is also a challenge. Traditionally, independent dealers have relied on conventional selling models but now they need to be online savvy. We're seeing that 70 percent of consumers research online when looking to purchase tyres with between eight and ten percent of tyres now purchased using the Internet. We expect that to grow further in the coming years.
Online shopping has also had an impact on driving habits.
Online shopping has also had an impact on driving habits. Consumers are increasingly using delivery services rather than travelling to shops. Through the acquisition of Micheldever Tyre and Auto Services (MTS) by our parent company Sumitomo Rubber Industries, we have greater insight into trends in the UK. Data from MTS shows that the average mileage for private motorists has dropped to just over 7,000 miles per annum compared to an average of 9,500 in 2005, which is extending the time between changing passenger car tyres.
What part are OEMs playing in influencing these challenges?
The ongoing, boundary-pushing changes to automotive technology from OEMs is, of course, a challenge, such as developments in autonomous and electric vehicles. These advancements have – and will continue to have – an enormous impact on tyres and the performance demands. For example, as you will know, EVs are between 20-30 percent heavier and are likely to have batteries in varying positions within the car. As a result, weight distribution over tyres will vary significantly between models. We also need to take the more linear torque delivery in EVs into consideration, while accounting for range with reduced rolling resistance. We are already working with OEMs on future-forward projects such as this and launched our new high-technology ECORUN A-A TYRE for electric and hybrid cars at Geneva. This was developed with Toyota to provide an innovative and high-quality solution for use on the Prius III. In this application, the tyre's technology means that the rolling resistance is significantly improved.
Noise, or more importantly the reduction of it, is another important industry issue. We've been working on technologies to reduce cabin and drive-by noise created by rubber on the road. Our innovative Silent Core solution uses ether-polyurethane foam within the tyre's carcass to reduce tyre sound in the cabin by as much as four decibels and drive-by noise by ten decibels.
Regarding the anticipated growth in online sales, do you foresee this as the major sales route for the future?
Getting independent dealers online aware is critical for their future as well as for the tyre manufacturers.
Online sales are growing rapidly with MTS predicting that this could reach around 15 percent by 2020 in the UK. Getting independent dealers online aware is critical for their future as well as for the tyre manufacturers. Recent research we have undertaken across Europe indicates that 99 percent of those that bought tyres online would consider it again with 65 percent of those who hadn't said they would consider it in the future. At present, the main factor that's off-putting for consumers is that this method of purchase means there's no fitting service. However, MTS is supporting its independent dealer network in the UK with an online retail presence through its proprietary TyreClick solution. The website service also allows customers to book a fitting, making it a more convenient purchase option. Through services like this, opinion on accessibility is set to change.
Sales of part worn tyres in the UK has been criticised by tyre manufacturers as dangerous. Do you see the rise in online sales further increasing this?
Fitting part worn tyres is a gamble that's not worth taking. You simply don't know the history or where they have come from. Ultimately, the tyre industry still suffers from the longstanding issues of consumer awareness and a lack of education about tyres and their importance as a safety product. MTS has identified that half of customers visiting its UK dealers for new tyres are driving with illegal tread depth. Motorists are keeping their tyres for longer with 50 percent in 2017 waiting until the tread depth falls below the 1.6mm limit before replacing compared to just 15 percent in 2008.
We always recommend purchasing new tyres from a reputable supplier. With part worn tyres you do not get to see how old they are or how they have been stored. It's a concern from a safety point of view that we're seeing more part worn tyres sold in the UK than Europe. Data suggests that part worn tyres are more likely to be bought by 18-25-year olds, younger people with lower disposable income to spend on their motoring or desire to spend it on other things, like trainers.
How significant are the industry differences between the UK and Europe?
With our strong distribution network across Europe and the UK it's possible to identify trends and differences within the markets. As mentioned, there is less part worn sales in Europe and general awareness of tyre safety is greater. However, the main difference remains the use of winter tyres. In the UK, all-season tyres are gaining traction and with milder weather, an all-season pattern can be a reasonable solution depending on the mobility needs and habits of the driver. It's also worth noting that in many parts of Europe there are legal requirements to fit winter tyres but not in the UK.
We're starting to see brands market their all-season products harder, helping to boost demand. While the best performance solution is to use specifically designed seasonal tyres, advances in technology mean all-season tyres offer an effective solution for specific applications. They can be an option when the driving is chiefly in an urban setting. If motorists are regularly making long or motorway journeys then fitting summer and winter tyres is recommended, especially as long-range weather forecasts are predicting that the UK needs to brace itself for its worst winter since 2010. We see most home delivery fleets of LCVs switching between summer and winter tyres: they cannot afford for a van to get stuck when making deliveries in the lead-up to Christmas.
One other significant difference is that, in Germany, magazine reviews and tyre tests are extremely influential. Overall, all these factors combined mean that brand differentiation is crucial to stand out in the marketplace and attract consumers.
How is Falken able to compete against better known brands in the UK?
We want to create an emotional connection with consumers.
The Falken brand was established in 1983. We're relatively young so we don't have the one hundred or more years of heritage that some other brands have. We're differentiating ourselves in the market with the ethos of excitement and high technology. We want to create an emotional connection with consumers and to do that we've established a variety of partnerships and undertaken events to support this. We run both Falken BMW and Falken Porsche teams in motorsport, support drifting drivers, have a team in the Red Bull Air Race and hold a series of football partnerships, with the latest being the support of Liverpool Football Club as a global partner and official tyre partner. This partnership will be particularly helpful in the UK to drive further awareness and bolster our position as we utilise the relationship in our media and social media activities as well as at events to raise awareness amongst Liverpool FC fans and further afield.
Our young and energetic brand image is supported by quality, affordable products that are delivering performance and we're being recognised for that. Our compounds have been developed with award-winning 4D Nano Design technology for performance and we continue to innovate across the passenger car market, trucks, light commercial vehicles, SUVs and 4x4s. As well as the aftermarket, our OEM business is growing and this is also helping increase customer awareness. Falken tyres have recently been announced as OE fitments for the SEAT Ibiza, Volkswagen Tiguan, Škoda Superb, Nissan Rouge and Jeep Compass.
How is Falken faring under the current market conditions?
Things are very positive for Falken. Following MTS's purchase by Sumitomo Rubber Industries in February, we're working even closer with the company, which sells around six million tyres in the UK. This is giving us a greater degree of freedom as we expand our business throughout Europe. Now, Falken tyres are available in at least 600 UK garages offering expert advice and that number continues to grow. Included in this is MTS's retail arm, Protyre, which has gone from strength to strength recently. In the past three years, it has grown to become one of the UK's largest independent chains of fast fit and mechanical centres and has plans to increase a further 20 percent during 2017. Ultimately, things are looking positive now and as we look ahead, both in the UK and across Europe.