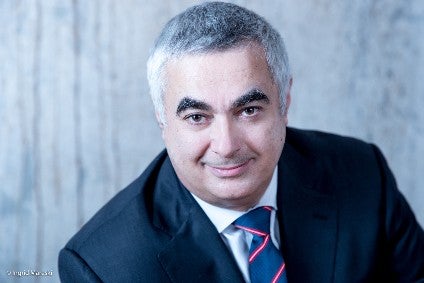 French supplier association, FIEV (Fédération des Industries des Equipements pour Véhicules) had a major presence at the recent Mondial de l'Automobile in Paris and just-auto caught up with its CEO, Jacques Mauge, fresh from his meeting with French President, Emmanuel Macron to discuss industrial policy.
Mauge, started his career at Philips Electronics in France before becoming general manager of Philips Technologies Europe in 1992. In 1998 he joined Valeo as deputy group VP in charge of the Security Systems branch. He was then promoted to Group VP for Valeo Service, a position he held until moving to Faurecia.
In 2003 he was appointed deputy executive VP of Faurecia Exhaust Products. From 2006 he joined the group's executive committee, in charge of Customer Development, before becoming president of Faurecia Automotive Exteriors in 2008. He then acted as chairman and CEO of Faurecia North America from 2013 to 2015.
He was also VP of European Automotive Suppliers Association, CLEPA from 2009 until his departure to the US. Just-Auto caught up with him at the recent Mondial de l'Automobile in Paris, where FIEV had a major presence.
JA: When we last spoke you said you had given each French Presidential candidate a 14-point list of what you would like to see done for the manufacturing sector in France. Now President Macron has had the keys to the Elysée Palace for more than a year, what's your assessment?
JM: I am very pleased with the attitude the government and Macron are taking towards our industry – it is a big change. [Former French President] François Hollande realised the previous policy had no chance to work and for him it was very important to turn around the situation. It was too hard for him – he could not rescue his position for the second term.
Macron was prepared to go further. He finished the social laws which are now in operation and reform of working law, also tax on companies. Taxing a company before it produces anything is counter-productive – we underlined this during the campaign. He [Macron] is sympathetic and the story is he can't [do] everything at one time. Let's see whether he can push forward changes.
Then you also have the cost of the State – that is the mother of all reforms – he is [going] in the right direction.
JA: What are some of the key challenges facing the French automotive sector at the moment, particularly the tough new emissions targets put forward by the European Parliament?
JM: This industry – which is very big and important for France and all Europe – is under threat from energy transition. He [Macron] understands this is a big risk for the industry if it is not well managed. Our job is to make products our customers want. [The stiff new CO2 target] is exactly the wrong thing to do. We will [however] work [with] what Europe will decide by all means we have.
It is not the central point, because if it is possible to really have a solution through electric vehicle with a significant number of electric cars in circulation, let's go for it. The problem [is] if the product is not accepted in mass volume by customers. How are you going to produce this energy? You need to make batteries – in China there is such a plan
We are part of the Plateforme Automobile [PFA] and we discuss with all stakeholders to find a position. Let's define the most ambitious target which we can make [and] which is realistic. Our duty is to study what is realistic, what is achievable, otherwise we are talking about dreams. We call to have an achievable target.
JA: France has enjoyed something of an economic up-tick of late with a slowly improving financial landscape – albeit with stubbornly high unemployment. What does that mean for your supplier members?
JM: This positive sign is a reality [although] it is a relative reality. We know this industry is cyclical. The current cycle is still strong. Technological transition is a good thing because it brings opportunities. We believe we have new opportunities; electric, autonomous mobility.
JA: You have previously referred to the need for France to "re-industrialise" – to what extent is that happening?
JM: I keep saying that [re-industrialise], but it still remains an issue. We have a good example – it is the UK. Ten years ago there was almost no automotive production and ten years [on], it rose almost to the same level as France
I am involved with MEDEF [French employers association], UIMM [Manufacturers Association] and France Industries – re-industrilisation is a key topic there. It is going to be hard. For me, the first thing is to improve the competitiveness of our industry. Industry 4.0 should help improve competitiveness. It is an industry initiative supported by the government and FIEV is part of it as well as the PFA
JA: FIEV and French suppliers had high hopes for undertaking business with Iran. Given the US sanctions now in place, how has that affected component manufacturers in France?
JM: The Iran situation is a great disappointment for the US and also Europe – there are no counter-measures back to the US. We had the first wave of sanctions [before], but FIEV was keeping relations. As soon as possible sanctions were waived and we took a position. I will keep getting in touch with the industry in Tehran to tell them what we have built together will remain.
JA: Some view electrification with trepidation, particularly with regard to its possible effect on employment. What is FIEV's view of the CASE trend?
JM: We have to anticipate the speed and logic of the change and provide training – then we can minimise the impact. I don't believe it will be a disaster – there will be a transition period.