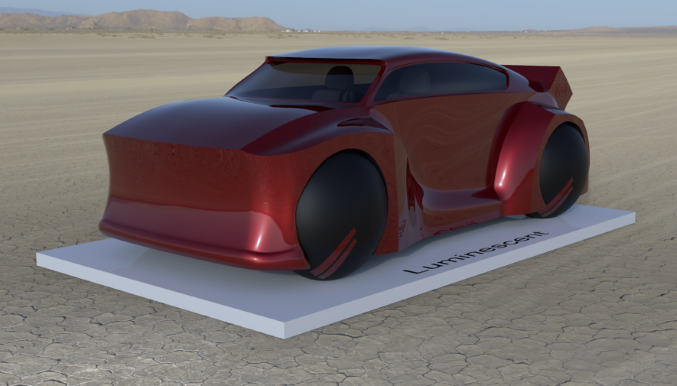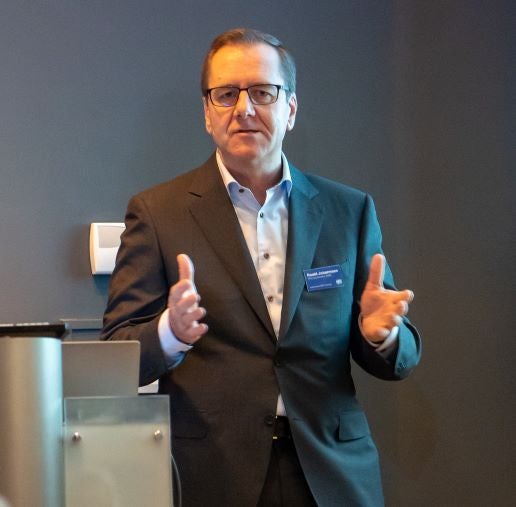 Given the push for electric vehicles (EVs), what are your customers expecting in terms of advanced coating technologies?
Battery electric vehicles (BEVs) are the new frontier in sustainable mobility. Through a mobility-focused, team PPG is creating coatings solutions for battery pack design focused on performance, safety and manufacturability to enable automotive OEMs and battery and component manufacturers to accelerate the development of vehicle energy storage solutions.
We help customers to increase performance by boosting energy density and reducing cost per kilowatt-hour and to improve safety through proven research and development on electrical and thermal properties. We also help them to automate applications to yield scalable cost-effective manufacturing; this reduces costs by increasing throughput and helps meet their sustainability objectives.
Along with protecting and beautifying vehicles, PPG is helping OEMs and battery and component manufacturers accelerate the development of tomorrow's automotive and commercial vehicle energy storage solutions. PPG delivers innovative and customer-specific lithium-ion battery pack solutions that touch virtually every area of battery design and construction.
Our battery pack coatings teams recently launched their first production program for battery fire protection (BFP) coatings. The BFP product is used to coat the lids of battery packs to provide enhanced protection in the event of a fire. We are also supplying dielectric powder coatings in battery pack applications—our proprietary formulation provides exceptional electrical insulation and greatly improves safety by eliminating the potential for electrical arcing.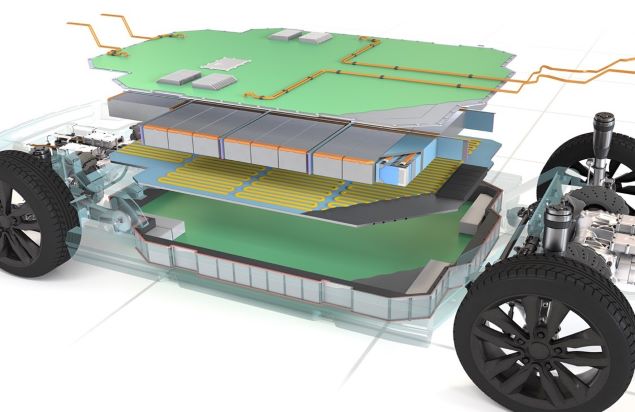 And how is PPG addressing AVs?
Coatings will be crucial to the variety of sensors that will allow vehicles to communicate with each other, to see each other, and to detect obstacles and road markings). We are pioneering the development of paints and related coatings that will improve vehicle and infrastructure visibility to RADAR and light detection and ranging (LIDAR) sensors used in autonomous driving systems. That includes coatings with enhanced LIDAR vehicle detection that enable improved visibility and reliability for dark colours or in challenging environmental conditions.
In a test, a black car reflected just six percent of the near-infrared signal that a white car did, making it dramatically less "visible" on the road. PPG has designed coatings with enhanced dark colour vehicle detection that allow the light to penetrate down toward a reflective under-layer. The signal "bounces off" this layer and returns to the sensor instead of being absorbed. PPG can utilize these paints not only for cars but also for infrastructure and road markers so that standing structures like bridges and lane markers can be clearly identified and precisely measured by a car's sensors.
We have developed a coating technology that lets its users better manage the reflectivity of specific wavelengths, and we expect to market improved coatings that will absorb less infrared light and still provide excellent colour and appearance. We will also introduce improved coatings that enhance the radar reflectivity and transmission properties enabling the integration of radar proximity for plastic and composite substrates.
We are also creating a transparent easy-to-clean lens coating technology that enhances advanced driver assistance system (ADAS) vision performance. The coating allows dirt and water to efficiently wash away from sensor lenses, eliminating obstructions that could be caused by snow, ice or debris. Additionally, this supports a clearer vision of roadway markings.
PPG is also launching an energy reflective coating that will reduce cabin temperatures during high-temperature conditions, creating fuel and CO2 savings. This was developed in close collaboration with a major OEM. The key to the technology is the ability to align the basic physics of the coating with the ability to apply it within current OEM processing lines.
How are automotive OEMs leveraging PPG's digital colour styling capabilities?
The PPG MAVIS digital colour styling platform helps automotive designers dramatically accelerate the process of creating new colours and effects for their latest vehicles. It uses an exceptionally realistic three-dimensional modelling, including a proprietary "speed shape," that accurately depicts the interaction of colour, geometry and light on a virtual rendering of a vehicle.
Colour is a key decision factor for consumers. Around 88% of respondents say colour is a key deciding factor when buying a car, in China the figure is 99%. Conventional colour styling processes, which involve the production and exchange of physical panels, can consume as much as nine months of work.
With our digital system, design teams can download digital colour files that allow the teams to collaborate with PPG experts directly, remotely and in real-time. Developing these digital colour tools has resulted in a 60% reduction in cycle time for new colour development at PPG.
Could you tell us a little more about the steps PPG is taking to develop adhesives and sealants (A&S) to improve the light-weighting of vehicles to meet OEM sustainability goals?
New vehicle designs are adding opportunities for the growth of automotive A&S products, especially in the areas of lightweighting, sustainability, and noise and vibration performance, as well as products that deliver improved performance, enhanced safety and extended battery life.
We recently introduced differentiated A&S product solutions such as PPG CORATHERM, PPG CORABOND and PPG CORASEAL. PPG Coratherm is a thermal management solution that offers outstanding performance and low density that is available in one- and two component forms that can be tailored to the requirements of each OEM. PPG Corabond provides superior sheer strength, high durability and outstanding corrosion resistance, allowing battery EVs to deliver best-in-class performance. PPG Coraseal also provides battery EVs with the adhesion and sealing necessary to protect from water intrusion or a thermal event in either a one- or two-component sealer.
In terms of today's car colour trends, what are you observing and where?
Trends highlighted in PPG's most recent annual automotive colour popularity report are the increasing popularity of greys, blues, greens and violets, with vibrant new colours more likely to debut on sporty models rather than SUVs and pickups.
Green, with its connection to nature, sustainability and inclusiveness, remains strong worldwide and this will continue to be an important colour space for the automotive industry. It is also seen as a 'traffic light' colour, acting as a signal for everyone to go forward – it's safe and we can trust this colour. Green has two directions. One is sporty, fresh and vivid; the other is organic and darker, with deeper tones developed or designed as dark luxury greens yet still with a sporty and fresh attitude.
From a global perspective, white (35% of vehicle builds) and black (18%) continue to be the predominant choices of car buyers, while demand for greys has increased by 2% in each of the past two years. Blues remain strong at 8%, while reds dropped to 7% of builds. This was led by a 1.5% drop among North American consumers.
Cars painted in two tones appear to be making a come-back, favouring retro colours and styles. To what extent are you seeing a rise in two-tone colour applications and requests for personalisation in the industry?
Increased demand for two-tone finishes and personalized colours are key emerging trends among car buyers. The rise of two-tone finishes reflects consumers' desire for personalization, and the progress in colour science and application technologies provides an opportunity to bring these styling choices to the masses more practically and sustainably.
Although two-tone finishes were common in the 1950s and 1960s, conventional colour development and application processes made them increasingly impractical in mass production environments. The traditional process for achieving a two-tone finish requires labour-intensive masking of the vehicle body and multiple runs through the paint shop. PPG has helped global OEMs overcome this challenge through a breakthrough application technology that produces crisp paint edges without the use of masking and other time-intensive steps.
As well as two-tone finishes, other key trends include special-order colours, tinted clearcoats, tri-coats and matte finishes, reflecting vehicle owners' individual preferences and personalities.
How can PPG support the painting process to make it more efficient and support the OEM's sustainability goals?
PPG's precision application process can reduce paint shop application time by approximately 50 minutes per two-tone vehicle. It supports customer sustainability goals by reducing carbon dioxide (CO2) emissions and eliminating the need for energy-intensive air-filtering systems to handle overspray. Colour personalization is also enabled through PPG advancements in digital colour styling, which dramatically reduces the time to market for new colours.
How does PPG set about managing automotive OEM paint lines to ensure the quality application of coatings in real-time?
Customers look to us to drive product performance through innovation, service and industry-leading knowledge that creates mutual value. PPG automotive coatings experts are deployed in over 700 OEM customer facilities to ensure the successful application of our paints, coatings and adhesives and sealants on the production line. This enables us to deliver a comprehensive and consistent value package designed to help OEMs reduce costs, increase productivity, and meet increasing quality and performance targets. It also allows us to introduce new coatings solutions and expands customer access to innovative technologies.
Customer expectations continue to accelerate and the demand for digital tools and advancements in connectivity, automation, and data have transformed how we work together. Customers are increasingly comfortable – and oftentimes expecting — digital tools that support new ways of working. These digital solutions, including our OPTIMA Insites digital platform that can detect dirt on paint lines and optimize inventory define PPG as a forward-thinking paint manufacturer while simplifying and creating consistent processes with our customers.