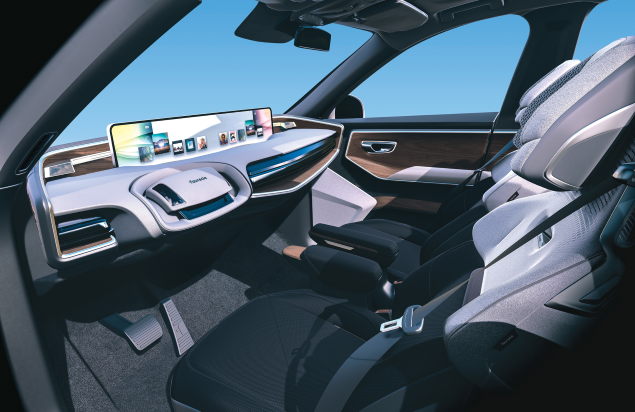 What are automakers requesting in tomorrow's seats? How is Faurecia supporting them?
Due to its global leadership position, Faurecia is well-positioned to tackle the challenges of the future through our clear product strategy based on sustainability, modularity and personalized experience. The automotive industry is undergoing a technology revolution and environmental concerns are accelerating the need for change. For Faurecia, this means changing the way we think and design vehicle technologies, in line with our global commitment to become CO2 neutral.  As such, we initiated a programme called "Seat for the Planet" that we presented to our customers at the IAA in Munich. This innovation programme takes a complete seat approach – from frame to the foam, covers and accessories – in redesigning to reduce seating's carbon footprint. We aim to offer up to 15 per cent weight savings and a 70 per cent reduction in emissions compared with conventional seats. This brings additional benefits for the vehicle: overall weight reduction improves driving range and slimline design offers more flexibility and roominess in the cabin, all without sacrificing Faurecia's priorities of comfort and safety.  Of course, alternative solutions to leather and the oil industry are the main requests specifically in Europe due to the taxonomy that is coming.  But besides this CO2 reduction topic, it is clear there is a strong need to develop more individualized and personalized solutions to assist with smart solutions (sensor, wellness and HMI), all of which provide the occupant with a safer, more comfortable journey.
We understand that Faurecia is partnering with Swedish steelmaker SSAB for fossil-free high strength steel for use in its seating business. What are the benefits to Faurecia?
Faurecia has defined an ambitious roadmap to reach CO2 neutrality for its internal emissions by 2025 (scopes 1 and 2) and reducing by half its scope 3 emissions by 2030.  Along with leather, steel is one of the biggest contributors to CO2 emissions. As such, we selected Swedish steelmaker SSAB to partner for fossil-free high strength steel. This partnership makes Faurecia the first automotive supplier to explore fossil-free steel and marks a major milestone on our CO2 neutrality journey. Faurecia secured SSAB fossil-free steel to start equipping its seating structures from 2026 onwards. SSAB will provide Faurecia with the industry's most ambitious and advanced fossil-free steel, using hydrogen and zero-carbon electricity instead of coking coal and other fossil fuels traditionally used to make steel. Under this partnership, Faurecia will develop, test, validate and industrialize ultra-low CO2 seat structures.
What role does seating play in Faurecia's Cockpit of the Future vision?
Our Cockpit of the Future aims to promote an intelligent, scalable cabin, offering a different and personalized experience to passengers. Until now, seats were developed and set to be comfortably safe only in the driving position. Seats will have to be safe and 200% comfortable in all "authorized" positions to meet the needs of all vehicle occupants. To assess those limits and to define this new needed product, Faurecia is working in partnership with the CEESAR institute on a full campaign of tests. Additionally, Faurecia is redefining new seat kinematics with new mechanisms and actuators. All of these investments contribute to end customers benefits.  The seat will also be an important part of the Cockpit of the Future to offer "immersive solutions" such as sound, thermal, Haptic wellness and safety. The cockpit will be key in terms of differentiation for our decarbonation. The main challenge is to offer new ranges of materials and new designs that will help achieve a circular economy.
How does enhancing user experiences factor into seat design?We are working on all the parameters and all the senses of the customer. We have created with UX specialists a set of solutions that are delivering immersive experiences (massage, haptic, sound, visual and touch on material) combined with sensing solutions. As an example, we have developed a VIBE Seat System that is proposing entertainment, wellness, safety alerts and 4D gaming. We have developed a set of services (climate fit as thermal automatic seat adjustment; preventive back pain solutions) and some new sustainable materials such as our ECORIUM material, which is a touch and sense premium vegan and bio leather that aligns our product offering to consumer needs beyond the current technical specifications. Without question, the user-experience factor is accelerating the innovation time to market and influencing product offerings.
Is seat comfort still top of mind for most consumers, or are they looking for other factors such as personalisation and wellness? And how is Faurecia responding to that?
The customer is not able to assess dynamic seat comfort at the dealer level, but comfort is the enabler to increase customer loyalty. When you sit in your seat for the first time, you are assessing its look, shape, accessibility of lever and switches, colour, material, and sewing lines. To summarize: perceived quality is key.
Massages, active lumbar support, and ventilation are a must and Faurecia is developing smart and affordable solutions to address these customer satisfaction areas. Wellness experiences with seamless solutions are other main drivers of differentiation.
There is still a lot of talk these days about the autonomous car and the future of driving. How will that impact the driver's seat and the rest of the car's seats?
Passengers are already in autonomous drive, and we need to develop for them new comfortable and safe seated positions to answer to their use cases. Basically, instead of having one driving position, you will have access to three positions through uses cases we identified as driving, working or relaxing. We must therefore define new kinematics and safety standards, which can meet the expectations of consumers according to the three defined scenarios.
We are also hearing about seat modularity and the benefits it provides to both automakers and vehicle occupants. What's your view?
Our seat modularity set of solutions is developed to reduce complexity and meet the circular economy challenges to ease seat extension life with 20 fewer modules that will be reparable, easy to upgrade, and recyclable. The benefits for automakers are to standardize solutions cross-platform to meet taxonomy CO2 regulations, and from a consumer perspective, we offer an opportunity to upgrade and update the seat with innovative solutions during the car's life.