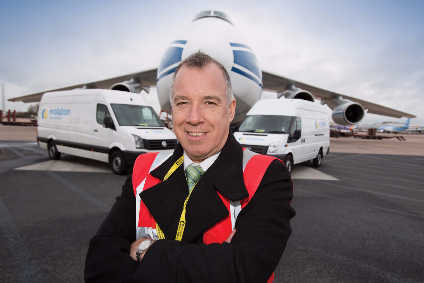 UK-based emergency logistics specialist, Evolution Time Critical recently introduced a bespoke transport management system, recruited staff and generated a 19 percent increase in revenues. Matthew Beecham spoke to Brad Brennan, managing director of ETC to find out more.
Calais ports have experienced a number of issues over the past 12 months. This must have posed many challenges for Evolution Time Critical?
Without the provision of adequate time sensitive solutions, the disturbances in and around
Calais could have had serious ramifications for the automotive supply chain. Fortunately, vehicle manufacturers now display a greater awareness of the crucial role played by supply chain continuity, so were quick to contact Evolution Time Critical as a way of tentatively expressing interest in emergency logistics solutions, monitoring delays and, ultimately, helping to bridge gaps in the supply chain. Nevertheless, the challenges we faced were diverse and were needed to meet fluctuating deadlines.
Traditional emergency logistics techniques still provide a suitable resolution for the majority of time sensitive concerns. However, the prolonged nature of Calais disturbances led to the creation of a new, bespoke solution that overcame component delivery delays to enable sustained vehicle production. We worked with a major OEM's supplier network to analyse the stock levels required to maintain supply and establish potential delivery bottlenecks; we then chartered a private aircraft in a central European location for essential parts to be transferred to by road, and then flown on to the OEM production location as one consolidated shipment. The success of this shipment has led to subsequent, smaller scale, operations and will continue to be a valuable strategy as the automotive industry experiences continued time contraction.
Emergence from the extended Calais disturbances with minimal supply chain disturbance is testament to the enhanced focus that vehicle manufacturers have placed on supply chain optimisation in the last 18 months. Supply chain visibility is an essential part of developing a robust strategy and, in the Calais instance, eased the analysis of supplier networks: a vital head start is provided by knowing which parts are caught where, what can remain on its original journey and which components must be prioritised for interception and time sensitive onward travel.
Industrial accidents in China have led to stricter Dangerous Goods Guidelines; has this had an impact on the supply chain, or the way ETC skills are utilised by OEMs?
Tightening of legislation and legalities of transporting dangerous goods has heightened the importance of displaying a clear understanding of global issues and cross continental challenges. A valuable head start can be provided for vehicle manufacturers who work with a truly multimodal emergency logistics supplier, which understands geographical nuances and can overcome potential problems by ensuring relevant paperwork is submitted correctly and in good time, and that regional distinctions are met.
Without such knowledge, critical shipments containing hazardous materials risk being held at origin, and the supply chain ramifications of such open ended delays can be devastating. Evolution Time Critical maintains staff fully trained in Dangerous Goods regulations, attending all required refresher courses, so that we can offer advice on packing, quantities and documentation to enable hazardous shipments to be moved on the right transport service to meet schedules.
The guidance that can be provided by Evolution Time Critical to avoid such delays is typical of the changing way that emergency logistics expertise is viewed by OEMs. Once seen as the answer for when supply chain operations fail, the logistics failsafe provided by expedited freight and ultra time
sensitive expertise has acted as an enabler for higher risk production strategies and we are now a first point of contact for the strategic use of premium freight for some high value components: OEMs would rather pay to ensure costly items such as interactive screens for the latest premium vehicles arrive in time and without sustaining damage in transit, than contend with damaged components that could jeopardise ongoing production.
We have seen a heightened number of acquisitions and mergers of suppliers taking place. How is this impacting the supply chain?
The number of acquisitions and mergers that have been taking place pose a huge opportunity for the automotive industry to streamline its supply chain processes. Improvements in operational efficiency and supply chain visibility can be sought, while the level of inbuilt contingency can be enhanced by taking advantage of the chance to tighten control over supply chain operations.
Vehicle manufacturers share an aspiration to optimise production processes, and the merger of suppliers has the effect of naturally consolidating the supply chain; in theory, fewer companies operate so visibility is improved, capacity is increased and supply routes simplified. Information can flow more easily between OEMs and suppliers to the advantage of manufacturers, benefitting from aligned lead times and schedules, inspiring supply chain streamlining and offering enhanced protection.
Potential provided by mergers and acquisitions exists, but the industry must act to take full advantage of greater supply chain understanding and transparency. Continued consolidation could lead to the emergence of further 'mega suppliers', which can deliver a more efficient package to manufacturers and reduce the number of supply chain links.
Negative connotations also exist. Alterations to terms and conditions of business and trading are expected as companies merge or come under new control, which can negatively affect the purchasing process of components. Combined with potentially fluctuating stock control policies and lead times during a period of new management takeover, OEMs can experience a transition akin to setting up with a new supplier.
How does Evolution Time Critical respond to time sensitive enquiries, how has its capacity evolved and what does the automotive industry expect?
Evolution Time Critical provides a 24/7 service and operates a 15 minute response time. That means that when a call comes, we immediately assign an expert operator to analyse the problem, factors involved, potential fallout and to consider a bespoke resolution.
Expectations are constantly evolving. We were once instructed when things go wrong, but we are now becoming more frequently involved with providing proactive contingency and supply chain analysis skills to ensure that initial supply chain operations are more robust, and resistant to potentially turbulent factors. The bottom line is that we are here to prevent supply chain failure and protect vehicle manufacturers and their suppliers from costly production shutdown or delays.
In line with automotive industry growth figures, in 2015 Evolution Time Critical experienced a 19% growth, which suggests that we continue to provide the services and expertise that manufacturers and their suppliers require. During this time we have carried out an intensive recruitment programme and introduced a bespoke new transport management system, EDMS (Evolution Delivery Management System).
EDMS has been built using proven technology to our specification – given the crucial nature of our work with vehicle manufacturer customers, we cannot jeopardise any element of our solutions by trialing unproven systems or new technologies. It has been specifically designed for use in the time critical sector and provides us with greater control, faster response time and operates a reduced dependency on manual data entry: lessening the chance of human error and providing an enhanced customer experience. At the beginning of a complex emergency logistics response, seconds saved in the planning, implementation and tracking stages can be the difference between success and failure.
Our supply chain experts are handpicked and trained in the art of emergency logistics in-house, having excelled in a wider transport or logistics background. Without the required training, the expectation for ultra time sensitive solutions can be a shock to the system: the realisation that literally every second counts carries a considerable weight of responsibility.
What are the consequences of failure?
The potential impact of failure is twofold: there are both financial and reputational costs to consider. The worst case scenario that every manufacturer seeks to avoid is unscheduled production downtime and customers receiving their cars late. It is therefore crucial to put in place robust operations that are resilient against failure and clearly visible throughout the supply chain, which is a fundamental method of reducing risk and the threat of a breakdown in supply.
Unplanned production downtime can cost a manufacturer millions in just a matter of minutes, but in a connected world where social media can spread bad news faster than good, it is reputational damage (which can be caused by subsequent late vehicle delivery or component recalls) that can have the longer term negative impact. Business partnerships between OEMs and suppliers can suffer, as can the trust between vehicle manufacturers and previously loyal, new car buying customers.
As the industry expands, the supply chain moves faster and the costs of failure magnify. The successful safeguarding of supply chain operations has never been more important.