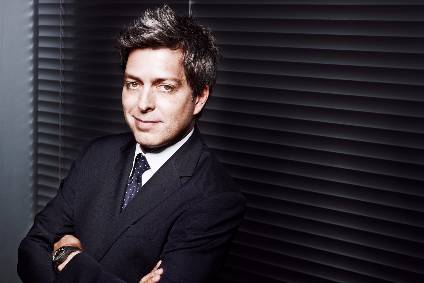 The arrival of Kia's fourth-generation Optima as an estate in the UK last year – along with a plug-in hybrid version – gave the Korean automaker two new opportunities to expand its business in Europe. Continuing just-auto/QUBE's review of interior design and technology trends, we borrowed an Optima Sportswagon to take a closer look and got the inside story from Gregory Guillaume, Kia Motors' chief designer for Europe.
Designed in Europe
Offered in three trim lines – 2, 3 and GT-Line S – the Optima Sportswagon is based on the Sportspace concept, itself a hot topic at the 2015 Geneva motor show, and has been modified only where legislation or practicality considerations demanded it. The Optima's D-segment rivals include the Skoda Superb, Vauxhall Insignia and Ford Mondeo.
The variant we took out was a GT-Line S estate that bristled with connectivity and active driver assistance technologies, including Android Auto, Apple CarPlay, Kia Connected Services powered by TomTom, a Harman/Kardon eight-speaker audio system, autonomous emergency braking, smart cruise control and rear cross traffic alert.
The GT-Line S relieves you of the drama that can come with parallel parking.
A comfortable and spacious place to sit, the Sportswagon has the same horizontally structured dash layout as the saloon. The centre console is angled at 8.5 degrees towards the driver. The eight-inch bright touchscreen positioned centre stage is very intuitive to use, allowing you to prod and swipe to access the navigation, infotainment and various car settings. The screen is also linked to a rear parking camera plus with three other cameras that collectively provide a bird's-eye view of the car manoeuvring back and forth when parking. The GT-Line S also comes fitted with Kia's Smart Park Assist System that relieves you of the drama that can come with parallel parking.
The fascia is divided into upper display and lower control zones, and the number of buttons and switches has been kept to a minimum thereby giving the dash a less cluttered look. We also found the Optima's substantial and clearly displayed buttons lined up beneath the screen infinitely easier to use than some fiddly, hit and miss buttons found in other cockpits.
A faux leather finish in the GT-Line S covered the seats, door and centre console armrests. The black leather trim and red stitching extending to the gear lever and D-shaped steering wheel gives it a classy look while the door switch panels, handles and interior bezels are trimmed with either metallic paint or satin chrome.
Adient is supplying the complete seats for the Kia Optima.
Adient confirmed to us that it is supplying the complete seats for the Optima. Handy USB charging points are located in the front and rear of every Optima although the GT-Line S included a wireless mobile charger concealed a neat little cubby-hole directly ahead of the gear stick.
All the bells and whistles
Other reasons that make the range-topping GT-Line S a pleasure to live with include a tilting and sliding panoramic sunroof, LED headlights with automatic levelling, dynamic cornering lights, ventilated front seats and heated outer rear seats (supplied by Gentherm, incidentally), alloy pedals, stainless steel door scuff plates, a smart key with illuminated start/stop button, LED front map lights and rear reading lights, ambient interior lighting, privacy rear windows and a powered boot lid. What is there not to like?
The Optima Sportswagon has bags of luggage room (552 litres of cargo space behind the rear seats, to be precise), including two underfloor storage boxes, and up to 1,686 litres with the 40:20:40 split rear seats folded. Pulling a certain lever allows the seat backrests to tumble forward without getting tangled up with trailing seatbelts or obstructed by headrests. Rear leg room for tall adults is ample, too, even with similar-sized front seat occupants.
Out and about
The Optima Sportswagon is powered Kia's familiar 1.7- CRDi turbodiesel engine, which develops 139bhp and 340Nm of torque. The push-button start engine – which triggers a melody of its own on firing up – was engineered at the carmaker's European R&D centre in Germany and features high-pressure common-rail fuel injection and a variable geometry turbocharger.
Although the engine grunts and grumbles on inching away from start, its mood soon settles down to deliver a smooth, quiet journey on 18-inch alloy wheels. Innovations that help dampen noise entering the cabin include a large under-floor cover and effective windscreen seals, each of which contribute two percent to the reduction in wind noise. Specially-designed dashboard insulation further lowers the amount of engine noise able to enter the cabin by four percent. Large cross-member bushings front and rear eliminate a greater proportion of road noise while reducing the vibrations transmitted through the floor and steering wheel. The stop-start engine felt good, helping to return 43 mpg over 455 miles covered along motorways and about town.
Electronic stability control and vehicle stability management are also standard on the Optima. These can automatically counteract any loss of traction when cornering or setting off on surfaces with differing levels of grip from left to right. Six airbags are fitted as standard (supplied by Key Safety Systems).
There are large disc brakes on all four wheels, ventilated at the front, with ABS, electronic brake-force distribution and brake assist, giving the car powerful emergency stopping power, regardless of the force applied to the pedal. Although we did not have the opportunity to try it, the Optima's autonomous emergency braking system uses both long- and short-range radars to read the road at higher speeds and longer distances than other systems. GT-Line S also comes with a welcome feature called Hill-start Assist Control (HAC), which maintains brake pressure for two seconds after releasing the pedal to ensure smooth transitions when setting off on inclines.
Q&A with Gregory Guillaume, chief designer Europe, Kia
To find out more about the Kia Optima's interior design and technology, we spoke to Gregory Guillaume, chief designer Europe, Kia.
What message should the interior of the Optima give potential buyers?
In its latest generation, the Optima-interior matured, providing value by increased quality and a focus on truly purposeful design, rather than superficial styling.
What is your favourite interior feature of the Optima?
Instead of a single design feature, I would like to point out the refined, sophisticated and upscale interior architecture that we achieved with the Optima. Its cabin combines a driver centered cockpit with a clean and generous interior design that conveys a sense of space which feels greater than the average car in its class while at the same time providing the driver with a commanding workplace. The uncluttered design of the interior elements, such as IP [instrument panel] and doors, add to that clean and modern impression.
I guess when designing the next generation model, there is always a balance to be struck in terms of how much is carried over from the previous generation and how much innovation is added. How did you address that with the interior of the Optima?
The interior of the Optima is a deliberate move, away from a rather graphical, 'obvious' driver orientation towards a far subtle, but effective driver-centric interior architecture that reflects the general maturation of Optima design from first to second generation.
Were there any challenges between combining interior styling of the Optima with interior engineering design?
Constantly challenging the 'status quo' for us is an integral part of progressive interior design development, and of our design process in general. Thus, the Optima project was not very different from other developments in translating our design concept as purely as possible into the final product. In the end, both designers and engineers can benefit from a healthy squabble for the cause of product improvement.
In what ways will the autonomous car change the look and feel of the Kia cockpit?
"The advent of autonomous cars is a very interesting time for us designers."
The advent of autonomous cars is a very interesting time for us designers. The way we use the car and interact with it changes profoundly, and with it, novel design solutions and interior architecture will evolve.
Incidentally, this change somehow resets the whole industry to a similar starting point: past achievements and package advantages don't necessarily provide an upper hand anymore. While autonomous driving certainly will provide a lot of comfort in congested cities and motorways, the reasons that make individual car ownership and driving today so appealing to many buyers will not disappear. I believe that only the designs that will still stir emotions and, at the same time, offer the best usability will prevail. Perhaps we will see a separation into 'driver cars' and more 'passive' vehicles that focus on seamless travelling from A to B, but regardless of how it will look like, the interior of an autonomous Kia always needs to stimulate the senses and stir, create emotions.
Based on an architecture that provides best ergonomics, any future Kia needs to convey a sense of design and product quality that stimulates the same pride of ownership and satisfaction that we are aiming for today.
What does the trend for increased digital content mean for Kia information displays?
We set our focus on creating a rewarding user experience. While we see a general improvement in presentation, and size of the info-displays, they mostly present not much more than the same basic functions, i.e. climate, sound, navigation and setup. We welcome the increased flexibility that digital info-displays provide, but for Kia the truly interesting challenge lies in defining the era beyond merely increased display sizes.
"Just because you 'can do' a lot today, doesn't mean you always 'should do'."
In a dynamic context such as driving, we also see our responsibility in defining which features are useful for a rewarding user experience. Just because you 'can do' a lot today, doesn't mean you always 'should do'. The truly rewarding experience lies in the right selection and simplification of tasks. For example, consumers embraced iPhones because of their usable interface not because they could do everything or had the biggest screens.
We understand that for car manufacturers as well as their suppliers, individualisation is a growth market that offers great potential for differentiation. How is Kia responding to that?
We are working on it. In fact, we began to offer a variety of individualisation options years ago when we launched our Kia Soul. Our latest Kia Picanto, for example, now offers an unusually wide range of interior trim options in its segment which makes tuning the car to match your personal taste very easy.
At the same time, we are still operating in a price-sensitive segment and thus have to strike a healthy balance between variety and a lean production. For the future, we'll continue to expand individualisation on to models that are based on the same platform, but serve different roles and thus look very individual.
What other megatrends in the automotive interiors industry and how could that shape the look and feel of tomorrow's Kia cabin?
"The design of automotive interiors will probably see a quantum leap in the near future."
The design of automotive interiors will probably see a quantum leap in the near future. The automobile increasingly becomes 'intelligent' and connected, drives autonomously and will take over more and more responsibilities from its driver, which offers chances and risks at the same time. Technology and usage patterns will influence interior design and architecture, but at Kia we'll continue to perceive the car as an object that moves you, physically as well as emotionally. In that matter, the Kia cabin of tomorrow will always be a place that invites you to experience the joy of driving, backed by the rewarding satisfaction of Kia dependability and product quality.