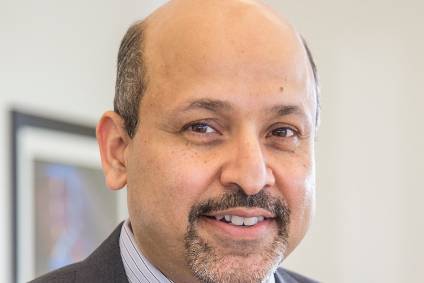 Continuing just-auto/QUBE's series of interviews with automotive suppliers exhibiting at CES, we caught up with Sachin Lawande, President and CEO of Visteon for an update on company's operations and recent infotainment business wins.
Visteon used to be known as a tier 1 traditional supplier of custom product development. Where is the company at now?
Visteon has transformed from a traditional auto supplier of multiple products such as interiors, climate, and electronics to a supplier that is exclusively focused on cockpit electronics and autonomous driving solutions. Today, we are the only tier 1 supplier in the industry that is exclusively focused on automotive electronics systems that are increasingly defined by their software content. Nowhere is this more evident than in our DriveCore™ autonomous driving controller, which we are introducing at CES 2018. DriveCore™ is the first autonomous driving technology platform that enables vehicle manufacturers to build Level 3 and above solutions quickly and in an open collaboration model. It is a complete technology platform consisting of the hardware, middleware and frameworks to develop machine learning algorithms for autonomous driving applications of Level 3 and above.
In Q3 2017, Visteon won some $400m of new business in China. Could you elaborate on what product/technology areas and how your business in China is shaping up?
China is the biggest automotive market in the world and it represents a significant growth opportunity for Visteon despite the market slowing down in terms of growth. China is also an early adopter of technology, especially in the areas of cockpit electronics and autonomous driving, which makes it particularly interesting for Visteon.
We are well-positioned to capitalise on growth in China with strong relationships with some of the largest auto manufacturers in the market. Visteon won $1.2 billion (US) in new business in China for the first nine months of 2017. These wins have been across all of our key product areas including instrument clusters, infotainment and displays. Our business is doing well with both the international joint ventures and the domestic OEMs, and we expect this to continue going forward.
How are your technology platforms for all-digital instrument clusters performing in the marketplace?
In the past, most of the innovation in cockpit electronics was driven by the improvements in infotainment systems. Instrument clusters are now following this trend and are quickly evolving from being a collection of meters such as tachometer, speedometer, etc., to showing more digital content including navigation, media and climate controls. This trend has driven the change in the technologies used to build these instrument clusters from analog meters and indicator lights to LCD displays of varying sizes.
By 2021, we expect three-fourths of all clusters to be all-digital.
Today the market is made up of mostly analogue and hybrid analogue/LCD display instrument clusters with display sizes of less than 5 inches. As we look forward, the market is evolving to mostly digital clusters with display sizes of 8 inches or greater, which are increasingly all-digital with no analogue meters or indicator lights. All-digital clusters have the advantage of being able to be reconfigured via software and can offer different "skins," and they are also upgradable with over-the-air software updates. By 2021, we expect three-fourths of all clusters to be all-digital.
Visteon is one of the foremost leaders in digital instrument cluster technology and is actively driving this transition toward all-digital clusters. Almost all of our instrument cluster new business wins in 2017 are digital, with a significant portion being all-digital. Additionally, all-digital and large display hybrid clusters require significant computing resources in terms of silicon and software. As a result, they feed into the trend for the use of domain controller technology where Visteon is the market leader with our SmartCore™ domain controller solution. SmartCore™ enables the integration of the instrument cluster, infotainment and head-up displays into one system-on-chip instead of three – reducing cost, weight and power consumption.
We understand that Visteon is a market leader in combiner head-up displays but windscreen HUDs represent a new product line. How is this product area performing? And by when do you expect to introduce augmented reality HUDs?
Visteon was first-to-market in the combiner HUD product segment and continues to be a leader in this offering today. And we are beginning to get traction in the windshield HUD segment with several significant wins in 2017. The evolution of windshield HUD technology and the increased market interest has reduced the cost of these solutions, which will help increase market penetration. At CES 2018, we will show a range of windshield HUD solutions with various field-of-view sizes and other capabilities.
Augmented reality HUDs offer the potential to elevate the driving experience.
Augmented reality HUDs (AR-HUD) offer the potential to elevate the driving experience and integrate AR-HUD with safety and self-driving solutions. However, there are significant technical challenges that need to be addressed to bring this technology to the market. Visteon is actively working on these technologies, and at CES 2018 we will be demonstrating our progress in this technology domain.
Currently, 20 percent of Visteon's sales come from audio and infotainment products. What is the potential for growing your share of the audio/infotainment market?
The audio/infotainment segment is going through its own transformation both at entry and mid/high segments.
The audio/infotainment market is the largest product segment in the cockpit electronics market today, representing approximately half of the total market. This segment is going through its own transformation both at entry and mid/high segments. Display audio systems that integrate smartphone projection technologies such as CarPlay and Android Auto are experiencing explosive growth, replacing traditional AM/FM radio and entry infotainment systems. At the mid/high end of infotainment, traditional systems built with proprietary and closed technologies are transforming into connected application platforms with technologies such as Android and cloud-based services.
In 2016 Visteon acquired AllGo Systems, a global supplier of smartphone projection technologies such as CarPlay, Android Auto and Mirror Link, to strengthen our capabilities in this increasingly important area of technology. And at CES 2017, we launched the Phoenix™ infotainment technology platform, which was the first solution in the industry to offer an open infotainment system with APIs (application programming interfaces) and a development tool chain for third-party app development. These moves have positioned Visteon very well in the entry/mid segment of the market. Visteon has won significant business with the Phoenix™ solution and we expect to continue to do well in the entry/mid-segment. Additionally, we are developing our capabilities in embedded Android for Automotive, which we expect to be a key technology for the next generation of high-end infotainment systems. At CES 2018, we are demonstrating our Android capabilities with a discrete, Android-based infotainment solution from Visteon, as well as a domain controller solution that offers integration of the instrument cluster and Android-based infotainment system.
With the combination of Phoenix™ technology, in-house smartphone projection technology capability through the AllGo acquisition, SmartCore™ domain controller technology, and the new embedded Android capability, Visteon is the only supplier with the full range of technical capability to meet the needs of the automotive industry for next generation of infotainment solutions.
The emergence of smartphone integration technologies, such as CarPlay and Android Auto, have created a new product category of display audio. To what extent is display audio becoming the preferred option for entry infotainment?
The success of smartphone projection technologies … has resulted in strong demand for integration in the vehicle across all systems from entry to high end.
Automakers have traditionally offered phone integration through Bluetooth technology in AM/FM radios and infotainment solutions. This solution was able to offer integration of telephony and media playback with the vehicle electronics. However, the success of smartphone projection technologies such as CarPlay and Android Auto in offering a richer, more graphical experience – including navigation and media playback – has resulted in strong demand for integration of these technologies in the vehicle across all systems from entry to high end.
The traditional AM/FM radio with Bluetooth capability has evolved into the so-called display audio system with a 7-inch or greater LCD display with smartphone integration. The automotive industry is actively going through this transformation now, which is driving the spectacular growth of these display audio systems. As I mentioned earlier, Visteon is uniquely positioned to take advantage of this trend with our technology solutions and expertise that is unmatched in the industry.
During the third quarter of 2017, Visteon won some $1.5bn in new business awards, including its first win for the Phoenix Infotainment platform for a high-volume car model. What does the Phoenix platform address in terms of requirements of audio and infotainment?
The Phoenix™ infotainment platform is the latest, most advanced solution in the industry for display audio and infotainment systems. It is based on open standards and offers a rich set of APIs and development tools to enable the development of third-party applications on the platform. In addition, Phoenix™ offers advanced cybersecurity, over-the-air software update capabilities, and integration with app stores. This enables the automaker or their partners to quickly implement apps and deploy them in the field, which has been a difficult challenge for the industry in the past.
The combination of standards-based APIs and software development tools that enable third-party app development, state-of-the-art cybersecurity, app store integration, and OTA software update capability makes Phoenix™ the only "out-of-the-box" infotainment system that is ready to address the needs of the industry for infotainment systems that match consumer's expectations.
Now that you have got your first Phoenix order, what are your thoughts about the initial partners for making native applications on the platform for your Phoenix Studio?
As the first open infotainment operating system built for third-party app development, Phoenix™ InfoCore offers programming interfaces for rapid app development, plus an HTML-5 based runtime to quickly integrate web services such as smart assistant and streaming media services. Because it is an open architecture system, any app developer can develop software for use on the Phoenix system. These apps can be written once and run on any infotainment system in the car that runs on our Phoenix™ platform – without the need for adaptation. Currently, there are over 20 apps available for Phoenix™ and we are continuously adding new apps to this list.
Sachin Lawande
Sachin Lawande has been president and CEO of Visteon since June 29, 2015. He also serves on Visteon's board of directors.
Lawande is considered one of the foremost technology and business thought leaders in automotive original equipment electronics industry. Throughout his career, he has championed the need for suppliers of automotive cockpit electronics to evolve to meet the demands of the connected car era and, ultimately, autonomous vehicles. Since joining Visteon, Lawande has shaped Visteon into the largest Tier 1 supplier focused exclusively on the fast-growing cockpit electronics segment, driving consistent financial performance, introducing next-generation technology, and generating record levels of new business wins with global automakers.
Lawande also serves on the board of directors of DXC Technology, the world's leading independent, end-to-end IT services company, with $26 billion in annual revenue.
Before joining Visteon, Lawande had been president of the Infotainment Division of Harman International Industries since 2013, and an executive vice president since 2009. His other leadership roles at Harman included executive vice president (EVP) and president of the Lifestyle Division, EVP and co-president of the Automotive Division, EVP and chief technology officer, and chief software architect.
Lawande has a wealth of experience in developing embedded systems and software and holds four patents in communications software. He has a bachelor's degree in electronics and telecommunications from Bombay University in India, and a master's degree in electrical engineering from Southern Illinois University at Edwardsville.