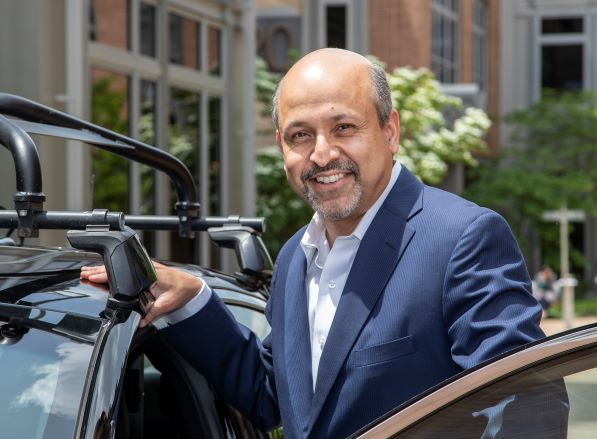 What is driving the convergence of consumer, automotive and mobility electronics?
Revolutionary changes are taking place in the mobility industry that are tied closely to advances in technology and consumer expectations. Our industry is preparing for a future that is increasingly electrified. Drivers and their passengers want to stay connected with the world in a safe and secure environment and seek the same experience in their electric and conventional vehicles that they have with their smartphones. Advances in mobility electronics technology make it possible for automakers to deliver the connected, personalized digital experience that consumers expect.
How is the global automotive market changing over the next 10 years and how does the Visteon portfolio support these changes?
The shift toward electrification and increased connectivity will be the most significant changes in the industry through the next decade. Visteon is motivated by these trends to innovate and develop advanced solutions that keep our automotive customers ahead of the curve. Our history of industry-leading innovation will drive us toward continued leadership in disruptive technology solutions such as our wireless battery management system for electric vehicles. Other connected solutions, such as the fourth-generation SmartCore cockpit domain controller, and our new AllGo App Store in combination with our advanced display technologies will continue to lead the mobility industry toward the kind of immersive driving experiences consumers demand. Visteon's scalable hardware and software solutions will continue to enable the digital, electric, and autonomous evolution of our global automotive customers in the years ahead.
And electrification is a big part of Visteon's CES 2022 offering …
For a long time, the industry has been driven by the internal combustion engine as the powertrain. Right now, the global mobility industry is undergoing a once-in-a-century transformation from traditional gasoline and diesel-powered vehicles to electrification. Visteon is supporting this shift to electrification with scalable electronics solutions designed to help OEMs drive the global growth of electric vehicles across brands and segments. One example is our first-to-market smart wireless battery management system (smartBMS). This innovation, which GM uses on all its planned EV models powered by Ultium batteries, replaces traditional wired connections with secure and reliable wireless communication technology that also deliver highly accurate battery cell measurement.
Visteon is working to grow our electrification capabilities beyond smart wired and wireless BMS solutions. For example, we are investigating a smart junction box to perform the same functions as traditional battery disconnect units (BDUs) such as fusing, pre-charging, external charging, voltage sensing, temperature control, diagnostics, terminal interfacing – but it is also safer and more cost-effective.
Visteon is also working on integrated power electronics to combine key components into a single unit through power stage integration, including the junction box, DC/DC converter and on-board charger, which minimizes electrical connections, wire harnesses and other connectors while also integrating system communication and a simplified cooling mechanism.
These critical solutions for OEMs reduce the complexity, weight and materials used to manufacture electric vehicles and helps automakers drive EVs to market faster.
How is Visteon changing the landscape for infotainment and cockpit electronics since launching the first automotive cockpit domain controller in 2017?
SmartCore's evolution in the past five years demonstrates how our infotainment and cockpit electronics are becoming more intelligent and focused on consumer expectations for their driving experience. More than ever, we are gearing the digital experience to the realities of current and future driver needs. With today's fourth-generation SmartCore, automakers can offer advanced, personalized user experiences in a multi-display cockpit environment for conventional and electric vehicle applications.
This modern, intelligent cockpit solution seamlessly brings together traditional cluster information with safety and navigation inputs that include internal and external camera feeds. It also offers Android Automotive infotainment that includes maps and parking, charging locations for electric vehicles and enjoyable entertainment experiences for passenger displays. SmartCore brings all this information together seamlessly across multiple displays in the cockpit and can deliver feature upgrades wirelessly over-the-air, eliminating the need to replace the hardware to further extend the platform's lifecycle.
Our new AllGo App Store is also advancing in-vehicle infotainment to help the industry meet growing global demand for safe and convenient ways for consumers to access app-based content in today's smart, connected cockpit. The AllGo App Store is an end-to-end infotainment solution offering verified, trusted applications for OEMs, consumers, and developers. It features automotive-optimized versions of the most sought-after mobility, navigation, parking, and infotainment apps around the world to provide today's consumers with the in-vehicle information and entertainment experience they expect for their connected car.
What kinds of opportunities does Visteon offer to people looking to be a part of this automotive technology revolution?
I believe mobility is the most relevant, dynamic, and exciting area of technology, offering more opportunities for greater transformation than any other field. As a leader in mobility technology, Visteon offers more opportunity for technology talent to thrive and participate in transforming our industry. Because the shift to electric vehicles and the continued development of connectivity solutions is dominating the industry, Visteon will continue to innovate – not just in traditional automotive electronics engineering but also in software engineering. Attracting talent is very important to our success as a company.
We need people not only with technology and project management skills but also have the entrepreneurial spirit to drive the kinds of innovation that enable key industry trends and keep our customers ahead of the curve. We offer an environment that drives innovation, advances careers and builds leaders in our company and beyond. For people who want to make an impact on this transforming industry, Visteon is the place to be.