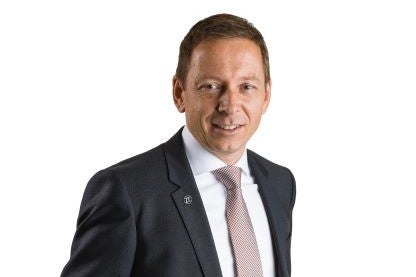 Following weeks of uncertainty and exhibitors making last-minute decisions to suspend their on-site activity, including ZF, the show is now underway. This interview forms part of a series of CES interviews with key suppliers showcasing their latest innovations either on the ground in Vegas or virtually.
What is the headline message that ZF is putting out at this year's CES?
ZF is participating under the banner of "Next Generation Mobility – NOW" at the 2022 CES. We continue to bring new, more advanced technologies to market to meet the needs of the future as the industry transforms to the software-defined vehicle and accelerates electrification and autonomy. ZF has launched or is prepared to launch a full array of technologies and is bringing them together now in areas like its automated shuttle business and new ways to further improve efficiency and performance of electric drive systems – in particular making e-drives smarter through software and advanced silicon configurations. After years of investments, ZF products are hitting the market NOW.
We understand that ZF is working with its customers to potentially reach higher levels of autonomy for passenger car AD and upping its game on the Level2+ suite of coASSIST, coDRIVE and coPILOT. Could you bring us up-to-date on how that is going?
We have some very exciting things happening on the passenger car ADAS and autonomy systems front. We are working with a new customer, Vietnam's VinFast – where ZF will deliver Level2+ systems and has a partnership to supply Level 3 systems scalable to Level 4 for automated parking functions. This includes system responsibility for urban and highway driving functions like Traffic Jam Pilot, Automated Valet Parking and Highway Driving Chauffeur for the ZF coPILOT system. This is in addition to the launch of Level2+ coASSIST – the industry's most affordable L2+ system on the Dongfeng Aeolus Max and promising customer interest in ZF's coDRIVE systems.
As the automotive industry shifts toward higher levels of driver autonomy, what are the opportunities for ZF?
ZF is well-positioned to apply the expertise gained from L2+ and will be positioned for L3 and above for the global passenger car market while utilizing the learnings from its autonomous shuttle business to further fuel technology advancement. ZF has a broad portfolio of technologies in place today, including its advanced sensor set of the latest and further generations of ZF forward-looking and surround-view cameras and multiple radar technologies including imaging radar and Lidar systems. At the heart of the systems will be ZF's ProAI central controller, the world's most powerful automotive supercomputer.
ZF is collaborating with Oxbotica to roll out autonomous passenger shuttles in certain cities. What stage have you reached?
Oxbotica is a key partner in the development of the "virtual driver" that will make autonomous shuttles a reality and have already proved their expertise through real-world vehicle testing in London and surrounding cities. ZF and Oxbotica expect the autonomous shuttle market will grow substantially over the next ten years with the potential to increase access to mobility, improve road safety, reduce congestion, and boost productivity. The two companies will work together to launch autonomous shuttles on defined routes in 2022 in two German cities in a first deployment step as well as at Rivium business park in Rotterdam. Additionally, we have announced at CES that we are bringing our shuttle expertise to the US in 2022 through our subsidiary 2getthere and with the help of other key relationships.
Although we understand your latest generation ProAI enters production in 2024, the ongoing chip shortage must be a concern?
While the chip shortage is expected to remain a concern into 2022 we are optimistic that we will have a consistent supply of the high-powered semiconductors needed for the launch of ProAI in 2024. 
The data monetization approach is that data collected by components can also be used. With the algorithms, AI also comes into play. Can you explain this connection to us in more detail and what ZF Is doing in this realm?
We are accelerating our data business and monetization efforts in many areas of our business, including the ability to gain efficiency in electrification through the measuring, reporting and reducing of Co2 output, collecting sensor data from ball joints for preventive maintenance and to help identify road irregularities like potholes for cities and municipalities. Another example is utilizing ADAS components to collect an AI-enhanced global dataset of driving scenarios that can make the testing of ADAS systems more efficient, safer and less costly.
2021 was another memorable year for everyone and for all sorts of reasons. We had a bumpy recovery from the worst of the Covid pandemic, but the automotive industry was also hammered by a shortage of semiconductor parts. In your business, what stands out as the biggest challenges you faced this year?
It was admittedly a very challenging year for suppliers and the chip shortage stands out – our teams worked extremely hard to locate and deliver as many semiconductor chips as possible among other parts shortages. We established action teams and instituted new practices to be as efficient and fair as possible across the customer base. And as a result of the chip shortage of course overall sales were down and we needed to aggressively contain costs to allow our business to succeed on lower sales while continuing to invest in technology.
How are you feeling about 2022 – both in terms of business prospects and more generally?
Despite the concerns of further COVID issues and the semiconductor and other component shortages, the good news is that the underlying demand for vehicles remains strong. We are excited about our technology pipeline and we plan to continue to invest significantly in Next Generation Mobility systems for electrification and autonomy as well as chassis, active and passive safety and software and digitalization to fulfil the coming trends driving the transportation industry.