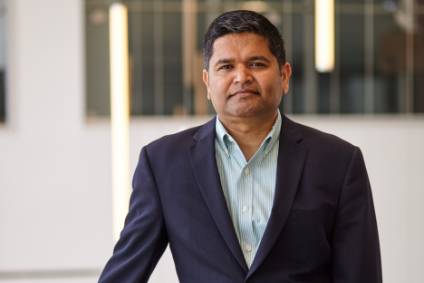 As vehicles and infrastructure become more connected, new revenue-generating possibilities for players across the mobility ecosystem are emerging. Following its acquisition by Samsung in late 2017, Harman is well placed to help enterprises make the most of those opportunities. Continuing just-auto/QUBE's series of interviews at CES, we met with Gani Nayak, Senior VP Connected Car, Harman.
Could you tell us the headline message that you would like to put out here at CES?
My responsibilities are for the digital cockpit products. The key message is that, as the technology evolves, we see two or three things happening. One is we are putting more and more capability into the core domain controller. And that will be able to deliver more capabilities to our OEM customers at a better price. By combining more capabilities in one system you are now allowing the OEM to launch more features and more capabilities without buying so many different hardware boxes. So that is one core message. That is going through in every car that you see here. One computer is doing multiple things. In previous years, you might have seen multiple ECUs used to do that function. That is one point.
The second point that we are making is it is all about connected experiences. So as millennials start to use their vehicles, they are bringing their smartphone electronics into the car. It is really about making sure that the experiences that you get at your home, in your car and at your workplace is seamless. We are demonstrating that here.
Is connectivity the main driver for progress at present?
Connectivity plays a very important role. Connectivity is the basis for being able to drive a lot of innovative services that we have. Because a lot of the applications and services that you want to consume are in the cloud so connecting the car to the cloud is the first step. And that enables all the different services that we have showcased here. As much as we talk about connectivity, of the number of cars on the road today only a small percentage are connected to the cloud. So our whole premise is that over the next five years, the number of cars connected to the cloud will increase exponentially. As a result, it will enable us to bring all of these services in the vehicle without having to specially programme your system in the vehicle. Because the other way to do it is to embed all of that capability into vehicle although that is a very challenging and expensive task.
Security within the connected car continues to cause debate. How is Harman addressing this security risk?
When we deploy these digital cockpit systems into our customers cars, there are securities at multiple levels. We have to make sure that security built into the system from both a lower-level hardware perspective as well as from a lower level software perspective. So we implement security down in the hardware and lower level software perspective. And then there is security of when you are communicating between different components in the vehicle so secure communications between the different components. So that is the second layer of security that we have. That is very much done through software. And then there is a third level of security where you are connecting your system to the cloud. And that is where we made an acquisition a couple of years ago through Towersec. The Harman Shield product, that we bring, is now embedded in our platform. So when our customer purchases a platform from us, it comes with the Harman Shield embedded that provides that level of security out of the box.
While giving instructions in our cars is nothing new, putting questions to the likes of Alexa and Cortana while on the road is. Is this the way things are going?
This is a more sociological question. People are talking to their phones and devices at home. That did not exist five years ago. And Amazon has just announced that they have shifted 100 million of these devices. So what it means is it is really about ease of use. If you think about it, when you first put out this device into somebody's home, it is a totally different way of user, human-machine interface. But it is also the most natural interface. So I think it is really driven by the next generation, the younger generation. So they are very comfortable using and talking to devices. It is a shift that we are seeing.
Just as with a lot of smartphone technology, bringing that into the vehicle is, essentially, you are taking what is leading edge in the consumer market, what people are used to what they like and bring it into the car. Whether that is the Apple interface with CarPlay or whether it is a Google interface on Android because people are used to it and then it becomes very easy to operate in the car. So to address that market segment, voice is another way to help to get this more prevalent in the mass market.
The second point is that from a technology perspective, although voice recognition technology has existed for a long time, it has been fairly clunky. If you look at most JD Power reports and from the US, voice interface is generally the lowest scoring in terms of end consumer satisfaction. And why is that? Well, it is because that most of it is based on very limited vocabulary that was actually programmed into the car. But now because of connectivity you can actually leverage car that is what Alexa and Google brings. Because if you talk to Alexa five times and she gives the wrong answer four times because she doesn't understand you then you will stop using her. So the power of the cloud makes her understand you 9 out of 10 times.
Are you scouting for start-ups at this event? If so, in what areas?
We have a group within Harman that is constantly looking at new startups and technologies. We meet them here as this is an important event and we also meet them elsewhere. And you will see some of our partners here, for example, Innoviz with its LiDAR technologies. We are showcasing Innoviz's technologies here. And we have some other partners who may not necessarily be named but there technologies are embedded in our systems.
Harman has invested in a number of collaborations and acquisitions in the past two years. Can we expect to see even more?
I think that as cars open up to the cloud and get connected to the cloud, building the right ecosystem to bring the right services to the end consumers is the Holy Grail. That is why we coined the term 'Experiences Per Mile.' It is not about RPM anymore but it is about EPM. So the idea is that you have to be able to bring all these capabilities and services to the passengers and driver in the vehicle. It is even more important as the market evolves to semi-autonomous and fully autonomous vehicles because people who are sitting in a vehicle are not really focused on driving as much so you have got to give them something else to do. No one company can do all of that stuff. So building the right ecosystem is a very important aspect of it.
A while ago, IT in cars was seen as more of an enabler but nowadays viewed as a core element, linking the home and personal devices. What opportunities and challenges does this present Harman?
In one aspect, it is actually our core competence. From an opportunity perspective, all of the technology that you are seeing that is being put in the car today is more and more software driven. So that is a sweet spot. If you look at Harman and our senior management, our CEO saw this several years ago and that is why he went and acquired the company called Symphony Teleca [in 2015] with its 10,000 plus software engineers. We saw that software is where the core capabilities will need to be developed so that is why we acquired that company. So I think from an opportunity perspective, that is definitely coming from our sweet spot. We are actually in the area where customers are looking at us in order to solve best software related issues. In terms of challenges, one challenge is that software comes with a set of bugs. So if you have any type of device that may go wrong then sometimes you have to reset it. Once you connect the car and bring a number of applications in, it requires those new applications to be downloaded and updated. You must also ensure that those applications downloaded behave properly and are not allowed to put malware or create problems for vehicles so that hackers can take advantage.
What's next for Harman on the connectivity front?
So from a connectivity perspective, the next major milestone is for 5G technology. We have shown some basic capability last year and this year we have shown more. And I think it will take another year or two years for us to fully bring 5G into the car. We are showing some really cool antennae designs here at CES. So it is also about the aesthetics and making sure that while you are connecting the car to the cloud, you are also making the car look good.