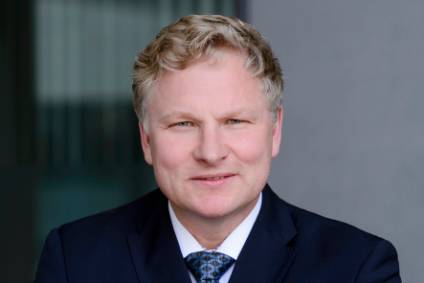 Just under a year ago, Harman International became a wholly-owned subsidiary of Samsung Electronics. Focused on connected technologies for automotive, consumer and enterprise markets, the pair have already leveraged their combined teams and resources to drive future mobility forward. They used the most recent CES to reveal a variety of novel connected car solutions that support their joint mission to become the leader in connectivity and autonomous driving: connecting the lives of people, whether at home, on the go, or together in the car. Continuing just-auto/QUBE's series of interviews at CES, we sat down with Mike Peters, executive vice president and president, Connected Car, Harman to learn more about the company's showcase.
Looking around CES it seems like everything is connected to everything, Could you give us your vision of the connected car?
It's all about bringing all of the history and the CE industry together. Samsung well-known CE industry components, and Harman as a traditional automotive supplier with all the expertise over years to integrate in having the custom interface. So, the vision is both companies have now the ability to bring the CE industry to the automotive world. And then, of course, you have a powerhouse of innovation, speed and talents. Think about 300,000 people around the globe, 80 countries, 36 engineering centres. This the OEMs pick up as an opportunity for us, and being considered now not as a pure component supplier, we are considered as an innovation partner or a system partner. Only a part of it is the connectivity. Basically, that's our view, that's our strategy, we would transform the user experience in the car by, for instance, bringing in a fully integrated digital cockpit, which means multiple displace multiple functionalities for the changing interior of a car because of new mobility concepts.
The second thing is the connectivity itself. We are [the] industry-first 5G provider. We just before Christmas got an award from a big European OEM for a 5G implementation in a car. It's a strategic win for us, and that was possible because of the combination of Harman and Samsung. Just to give you a flavour, Samsung is shipping 60 million devices a year, that's 2.5 million a day. Can you imagine that? What this means for us now, what we can do for our customers and their customers, it wasn't possible without Samsung having us in the background, so this connectivity 5G. 5G is a new network having higher bandwidth and lower latency, and this network is necessary to have reliable B2X and car-to-car communication, which is crucial for security, safety and a full-functional autonomous driving network in place.
The third one is our latest, three days ago, announcement [on] Driveline open platform for autonomous driving. This is a big thing because the trend to autonomous driving levels 3, 4, 5 is there, and we believe an open platform with the power of Samsung and the power of an ecosystem which enables third parties to tie into this platform will enhance the performance and the functionality of the platform. I'd say yes, it's a competitive advantage to others, we believe, the flexibility, the time to market you gain with that, it's because of the flexibility and openness of this platform, it's the key differentiator.
Nevertheless, the fourth thing is supporting new concepts of mobility where you maybe separate Driveline and the compartment, having all the information of the passengers in the compartment available. So, what is the intention? Is it an office, is it work, is it entertainment that they need? Is it just a relaxing thing? Will it enhance the experience and new ways of using those concepts? We are not there to compete with our OEM partners. We actually support their new concept. That's why we presented and demonstrate this concept there, that they understand, 'Actually, Samsung and Harman have all the technology and talents in their portfolio to support those new ways of interaction and the connectivity and the experience in the interior.' I believe the new ways how we are being mobile as human beings will definitely change the interiors of those concepts, and Harman is there and Samsung is there with our audio, with our connectivity, with our graphic, with our display, with our answer to those cloud-based solutions. We have everything, 360 degrees in our portfolio to support our partners to enhance this experience for our customers.
Autonomous driving technology can 'give back' time to drivers, allowing them to pursue other interests. I guess that Harman is well positioned to deliver the user experience, whether it's streaming this or interactive that?
Even this is true if you went through the Maserati, we presented the new integrated cockpit. The thing about this passenger display, and I have worked in my former company, so 15 years with an OEM, and we discussed a lot, 'What do you need with the passenger display?' But now, if you have more time in the car without paying attention to the traffic and paying attention to actually your driving, there is time to use now a huge display in front of you with other applications. This is new, because of this technology this new way of driving safely without paying too much attention gives you spare time, and the OEMs are looking for new ways how the user is experiencing this drive. That's why we presented this, and I can tell you the last three days, the response we got from the OEMs and the excitement, I feel it's good for the team as well. It was a collaboration between Samsung and Harman, the teams within four months they delivered this, and this was possible with the power of Samsung and Harman cooperation.
Turning to the displays themselves, and the QLED in particular, are we right in thinking it's applicable for electric vehicles? And how does QLED compare to OLED?
QLED and OLED has a different culture behind it. QLED Auto, which is the brand we have there, is derived from actually what you have right now in TVs, with having an extended colour gamut, nice appearance. The good thing is it's still TFT based, so you have all the reliability and the quality over lifetime. It's a proven technology for automakers, so temperature is not a problem, fading over lifetime is not a problem; all those things OLED has to prove yet. That doesn't mean that we don't go into the OLED direction, but QLED is definitely something which is interesting for our partners because it's there already, they can easily replace existing displays, and at much lower cost compared to QLED they have the opportunity to give their customers the experience really closely to OLED.
Last summer, we heard that Harman was developing or helping develop a concept car with up to 22 displays, Is this the way you see the industry going, i.e. more displays, front and back, curved as well?
I don't know if 22 was the right number, but definitely, we will have more. I call it 'active surfaces' in the car. So the thing is, you no longer can distinguish between a display or a surface you can interact with, right? This is emerging tech, and we definitely need to interact somehow. By the way, it sometimes is a display, so that's why the number of 22 came across. I don't know if 22 is the right number, but in this car we have here are 7 displays already being integrated.
Could you remind us of where Harman is in relation to augmented reality head-up displays? What stage are you at? Have you introduced something yet, or are you about to this year?
We have right now for head-up displays many activities, and we also use, have leveraged the technology Samsung has in place. Samsung have their own head-up technology actually driven out of 3-dimensional TVs, so it's holographic transmission, or projection if you will. Then we have a discussion with partners, because Harman itself we also don't have head-up technology, so we will use Samsung's and enhance with partner technology as well. I am convinced head-up, and especially for autonomous driving you need these augmented AR head-ups anyway, so this is part of our strategy to invest and to deliver products for that. You will see soon something happening, maybe already the next show.
Going back to car security, we often hear about car hacking. Is there such a thing as a cyber-secure car?
Security is the big issue everywhere. So, you have, even if you start with such a concept the first thing you need to think about is security. That's why we believe if you really want to personalise and individualise the experience in the car, you need the data of the customer and user. But what happens if the data of the user is out there and not secured anymore? No one will use it. So this is crucial, this security of data, the security of transmission and functionality is a crucial thing, and that's why we are investing a lot. The good thing is, if you build such a system it's not about intrusion, it's not all about detecting that someone is playing around with your system, it's also having the experience how to develop and compile those systems over lifetime and how the processes you need to be secured are being delivered. This is also something we offer to our OEMs, if you will, as an adviser or an experienced securities guy, how to build your communication and interaction layer with your consumer. We have a lot of experience with that.
We've learned a little bit about Harman's intelligent personal assistant. Is this a clear trend though, i.e. more drivers having conversations with their cars? And, if that is the case, what does that mean for interactive displays, if we're talking rather than pushing buttons?
Well, it's actually how we interact as well. It's a multi-modality interaction. Sometimes you like to interact by voice and sometimes you like to interact by touching and feeling, so it's an enhancement of the experience. I'm just talking now about a speech interface, AI [artificial intelligence] is much more than that because it is enhancing your experience how to interact with a complex system based on your data, based on your behaviour, it's a much more inclusive and human way to interact with a machine. That's why I am convinced AI is one of the key elements for future mobility, because it will help you to extract the information you need and it's giving you the information you need at the accurate time and at the right moment. That's why I think it's going definitely in this direction.