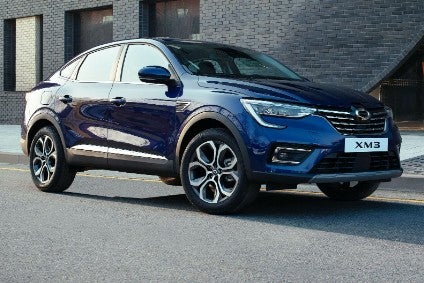 Even as HMG idles plants due to stalled sales in the US and Europe, the South Korean giant's home market is on the up for the second month in a row. Hyundai was down but KIA rose yet the brand which set the charts alight was Samsung . After April deliveries rocketed by 78 per cent, the Renault -controlled company has become the number three make.
As with GM Korea, a big chunk of Renault Samsung Motors ' business has traditionally been exports of Renault- and Nissan-badged cars and SUVs. That is changing though, as the Alliance is restructured with Groupe Renault as well as Nissan Motor changing how they operate. Where that will leave RSM in the future is unclear but there will be an update on how the global business will be changing fairly soon.
For now, there are four new models this year (XM3, QM3, Captur and the addition of the Zoe) for RSM plus three updates (Master, SM6 and QM6) with additional vehicles – mainly EVs – expected in 2021 and 2022. As some of these do or will wear Renault badges, the question remains: is the Samsung brand to be gradually phased out? Neither Groupe Renault nor RSM will say for certain what the plan is, only that the Korean company – 80 per cent owned by Renault – must be profitable and exports-driven.
The results for April were certainly a very welcome improvement for RSM yet the four-months total was only 41,477 vehicles, a 22% drop from 52,930 in the prior year. April sales reached 11,015, a 78.4% surge, which is how the company was able to take third place. The gaps to Kia (50,251) and Hyundai (58,223) as as large as ever, though. At least Samsung and Renault were able to stay ahead of a major gain for Genesis, its 59.7% improvement to 10,217 securing fourth place for the luxury marque, well ahead of Mercedes (6,745), GM Korea (6,706), SsangYong (6,017), BMW (5,123), Audi (2,043) and in tenth place, Volkswagen (1,345).
While the Samsung range is small, it is expanding. All vehicles, including the Master, an LCV, are very closely related to Renault models. The smallest is the Twizy. In October 2018, RSM took over production of this tiny EV from Renault's Valladolid plant in Spain due to the success of the vehicle in South Korea. The company believes the quadricycle will remain competitive for many years yet, promoting it as a specialist delivery vehicle, building up to 5,000 a year.
Build and exports will probably end around mid-decade, which would be a remarkable production run for a vehicle which was launched at the end of 2011. It is still to early to say how and if Groupe Renault will replace its dinky electric car.
The QM3, which was the old Captur from European markets with different badges and a few other changes, has just been replaced. The successor went on sale in April but was not officially launched until today (13 May). The new model, an import, drops the Samsung QM3 name, becoming the Renault Captur. It should have a life cycle which lasts until 2027 with a facelift in 2024. The Captur E-Tech Plug-in, a PHEV, will likely join the Korean market line-up later in 2020.
RSM has added the Renault Captur only weeks after the arrival of the Samsung XM3. This coupé-crossover was first seen at the Seoul motor show in March 2019. The XM3 Inspire was a prototype which looked nearly identical to the Renault Arkana which had been revealed at the Moscow motor show in August 2018.
The XM3, launched in South Korea in March, can be thought of as a kind of replacement for the SM3 and SM5, two decade-old Nissan-based sedans which were finally discontinued in late 2019. There are two petrol powertrains: a TCe260 1.3-litre turbo coupled to a seven speed dual clutch transmission and, alternatively, the GTe 1.6-litre combined with a CVT.
Renault Samsung will likely export this model to selected markets as the Renault Arkana. One interesting detail is that RSM's car has a more upmarket interior than the Russian-made Arkana. The life cycle of the Korean market car should be seven years with a facelift in the third or fourth quarters of 2023.
The division's oldest model is the SM3 Z.E. Now called just SM3, this electric sedan dates to 2011 as a Renault but sales stopped in European countries long ago due to high pricing and a lack of demand. Production of the Fluence Z.E. at the original factory wound down in November 2013 but continues in South Korea. As the sales volume is small, no direct replacement is expected. Nonetheless, various future Renault EVs should find their way to Korea.
Now that the QM3 is gone, there is only model with a Q in its name. The QM6 replaced the QM5, a version of the Nissan Rogue that RSM built at its Busan manufacturing base for almost nine years. The reason for a higher number is that this is a larger model.
One of the oddities about the Samsung line-up is the lack of a Renault Kadjar equivalent: the QM6 is instead the Koleos. First seen at the Busan motor show in June 2016, it went on sale in South Korea three months later. Both models were developed at the Yongin-based Renault Samsung Technical Center in South Korea's Gyeonggi province.
A facelifted QM6 was announced in June 2019. At the same time, the LPE , an LPG option, was announced. The next generation model should appear in 2023.
Though built in South Korea, the SM6 is more or less a Renault Talisman sedan with Samsung badges. RSM stated at the start of production in January 2016 that it hoped to sell an average 50,000 units of the car per annum. The car exceeded that number in CY2016 by several thousand, making it far more successful than the Renault Talisman was across all of its worldwide markets. In January 2018, RSM told the media that it had built the 100,000th SM6 to be sold in South Korea. The milestone took 22 months. A facelifted car is imminent. If there is a successor it would arrive in 2023 and almost certainly be available as a PHEV.
Reports for many other manufacturers' future models are grouped in the OEM product strategy summaries section of just-auto.com.
Future platform intelligence
More detail on past, current and forthcoming models can be found in PLDB, the future vehicles database which is part of GlobalData's Automotive Intelligence Center.
The first brands to be featured as part of the Groupe Renault and Nissan Motor series were Alpine and Renault, followed by Dacia. Next after Renault Samsung Motors will come reports on Lada, Mitsubishi , Infiniti , Datsun, Venucia and Nissan.