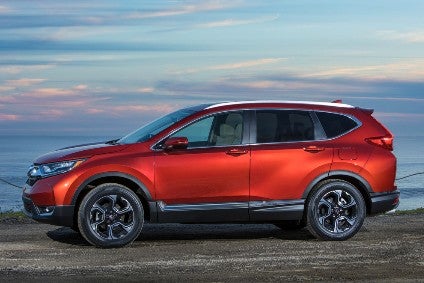 What Honda claims is 'the world's best selling SUV' is newly available in European countries, some two years since the 2HX series model went on sale in the USA. Major changes over the former 2WS include the option of a seven-seat layout, the deletion of the diesel engine and the choice of turbocharged petrol powertrains, one of which is a hybrid.
How is it that a brand which outsells Nissan and even Toyota in China, and which is enormously popular in North America too, can be an also-ran in every European country? Honda even has two factories in its greater Europe region, neither of which manufactures Honda Motor Europe's latest new model, the CR-V. Or, for that matter, the smaller HR-V, another SUV which sells in this region in numbers which are vastly fewer than what is deserved. Both these models, and pretty much every other Honda, are first rate vehicles. The trouble is, so too are the leaders and multiple other vehicles in the B-SUV and C-SUV segments, as well as the two other categories in which HME competes – what it would call the Jazz and Civic segments.
European market share: still sub-1.0%
ACEA hasn't yet issued volumes for November, so we instead have only data for the first ten months. The news for HME is…well, it could be better, shall we say. Market share, which last year was below one per cent, hasn't climbed, remaining at point nine. In October, deliveries fell by 5.8 per cent to 9,011 vehicles, and over the ten months, by 1.7 per cent to 118,416. To give that context, Toyota sold 617,729 vehicles while Nissan Europe, which is having a dreadful 2018 due to the sales collapse of the Juke, still managed to be miles and miles ahead of HME, selling 439,288 cars (down by 10.5 per cent from the 490,723 in the prior ten-months period).
UK market share: similar to Citroen's
November also wasn't a great month for Honda in Britain. Deliveries fell by 15.7 per cent to 2,970 units although year to date, the dip is only -2.64 percent and volume is 49,917 which also shows just how important the UK is for HME: around 40 per cent of all Hondas sold in the region go to British buyers. The addition of the new CR-V should help the brand greatly and the product itself is certainly good enough to lure those who might instead be considering a Qashqai or Tiguan. Honda has taken the decision not to offer diesel power so it's case of 1.5-litre petrol turbo, although very soon a 2.0-litre normally aspirated hybrid will become available too. Which means that from the first quarter, the brand should start to see far better results in the C-SUV segment at least.
2WD, AWD, 1.5T
The turbo 1.5 is a good engine for the CR-V, having just the right amount of power (193PS) and torque (243Nm). What's interesting is that outputs are significantly lower (173PS and 220Nm) if a buyer instead chooses manual transmission. The top spec EX model grade provided for the review came with all-wheel drive and a CVT. In this case, top speed is 124mph and zero to 62mph takes a claimed 10.0 seconds. Consumption is quoted as 39.8mpg and that's slightly better than what I found. CO2 is 162g/km but can be as low as 143g/km if a buyer instead chooses a manual gearbox and two-wheel drive.
Pricing and model grades
Honda offers the new CR-V with up to four trim levels, S, SE and SR being below EX, although there is no base or EX with the seven-seater variants, these being priced from GBP30,655 to GBP35,445. The least expensive five-seater is the S, which costs from GBP25,995 and the best equipped EX is priced at GBP36,455 with CVT, which is the version I tried. It's certainly loaded with premium level equipment, a few examples being heating for the steering wheel and rear seats, a head-up display, some great looking 19-inch wheels, an electric tailgate (which is a bit slow) and an opening panoramic glass roof.
Standard safety tech
Every CR-V comes with a high level of safety and convenience gear, including adaptive cruise control, traffic sign recognition, emergency call, trailer stability assist, lane keeping assist, lane departure warning and forward collision warning. As seems to be the case with so many vehicles, the automatic high beams on the CR-V are often a dangerous nuisance, delivering a blinding pulse of light at an oncoming car as the sensors often think they know better than the driver in lit streets. The answer is to keep the setting off Automatic. Why do car makers keep buying this tech from suppliers when it is at the very least a terrible annoyance?
Every occupant has good views out as the windows are deep and seating is on the high side. For families then, the CR-V has strong appeal. From SE trim upwards, there are four USB ports (two front, two in the back) which it's fair to say are an essential for anyone with kids, while specifying an SE CR-V also means the S trim level's 5-inch touchscreen is replaced by a 7-inch one. Honda sensibly keeps the HVAC controls away from the screen, these being that much quicker and therefore safer to adjust for being physical buttons.
A few other things which need singling out are a spare tyre – it's a space saver but that's infinitely better than a 'mobility kit' – as well as a rubberised tray which covers the boot floor. Anyone with a dog and/or who needs to just chuck their muddy wellies in after a walk will love this thoughtful touch. Oh, and there is an electrical outlet inside the load compartment too, so you can power up a cool box in the summer months.
As the US is the CR-V number one market, it shouldn't come as a surprise that the new shape model is bigger than the prior one. The width has grown by 35mm to 1,855mm not including the mirrors. That's something which owners will notice in narrow British lanes. It's not excessive for the vehicle's class, just something to be aware of – get used to the sensors beeping a lot. Better news is the interior room, which is excellent thanks to clever packaging, a thinner fuel tank (so Honda says) and a 40mm stretch for the wheelbase. The seats have soft backing too so passengers' knees won't be brushing on unyielding plastic.
Driving dynamics
Those who think that CVTs are whiny and too slow to react should try the transmission in the CR-V. All of the typical issues are absent and this genuinely feels like a first rate torque converter automatic. Honda has perfectly matched the engine's power and torque to this gearbox so there are no flatspots and zero sense of this being a turbo of just 1.5 litres. There are no diff locks with the AWD system so you also aren't aware of it working away in the background either to ensure always-smooth progress. In short, all is quiet, all is seemless.
Some will probably wish for a little less body sway; I wouldn't call it unpleasant, it's more that the vehicle's chassis set up is otherwise well balanced. Steering feel is much better than it was in the old CR-V with the only downside being the turning circle which is a bit larger than that of some others in this segment due to the new model's extra girth.
Manufacturing plants
Honda Motor Europe will be immensely happy to finally be selling the new CR-V after what has been a long wait. The model for this region comes from Japan (Sayama), whereas the previous one was built in Swindon. As Honda has noted, this is an extremely important model for the company and already, it is the world's best selling SUV. Production for the North American region takes place at an unprecedented four plants in the USA and Canada: East Liberty and Marysville, Ohio; Alliston, Ontario; and, for the first time, Greensburg, Indiana using domestic and globally sourced parts. Engines are manufactured in Anna, Ohio and in Alliston, with the CVT being produced in Russells Point, Ohio.
A Thai plant also builds the CR-V as does China's Dongfeng Honda joint venture. The latest sales data by model for the PRC reveals that the compact SUV had crossed the six-figure mark by the end of October (100,972), while US sales were of course far higher, the model's deliveries there reaching 336,934 units over the first eleven months of the year. The Civic was the USA's best selling Honda in 2017 but this year, the CR-V is 37,000 vehicles ahead so will be the division's number one model in CY2018.
Can new model lift HME above a 1.0% market share?
Even though the number of CR-Vs sold in the UK and other European countries will be small compared to the demand in the US and China, thanks to this key new model, Honda UK and Honda Motor Europe will inevitably be looking to 2019 with much hope.