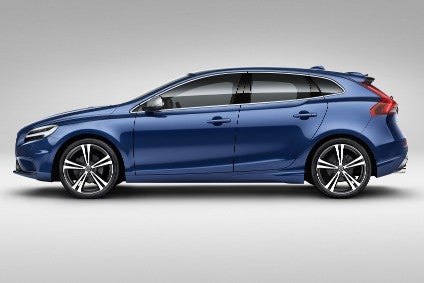 Volvo is selling ever more cars and SUVs, even in China. Global deliveries for the first half of 2019 saw the brand delivering a record 340,826 vehicle, a year-on-year gain of 7.3 per cent. With many new models due in the early 2020s, a once ambitious sounding goal of one million vehicles a year is beginning to look attainable.
Cars
At the moment, Volvo has no presence in the B segment but that could change. V20 is the most likely model name for a five-door hatchback due for launch in the early 2020s (project code: V220). This would be targeted at the Audi A1 Sportback with the platform being B segment Modular Architecture (BMA). Volvo's 1.5-litre three-cylinder petrol engine as well as a forthcoming 1.0-litre derivative would be the main powertrains. There will not be any diesel variants but there could be an electric alternative.
A V40 replacement had been expected to appear this year. However, in August 2018, there were reports indicating that the V40 and V40 Cross Country successors had been cancelled. Instead, apparently there will be a crossover but not until the second half of 2021. 'V40 Cross Country' seems the most likely name for this model which is meant to succeed both models, complementing the XC40.
It is not clear why Volvo believes that there would insufficient demand for a potential S40 sedan and a new V40 five-door. In CY2018, the company sold a combined 77,587 units of the V40 and V40 CC. Nor has the company explained its decision to walk away from a segment and then seek to return to it after an interval of what could be two-plus years.
Unlike previous generations of the S60, the latest one is not built in Europe. The standard wheelbase model is instead manufactured in the USA, while the next S60L will be made in China. The car was revealed at an event in South Carolina in June 2018. Series production commenced on 27 August but the first sales didn't show up in Volvo's own data until the month of November. Even then, it was just 24 cars. Exports to left- and right-hand drive European countries got underway in February.
VCC's Berkeley County plant in South Carolina was inaugurated in June 2018. The US plant is for SPA vehicles only. The S60 is the first of two vehicles to be built there. The next XC90, which will introduce SPA 2, will be the other model. It will be added in 2021, taking the factory's annual combined capacity for the two models to 150,000 units per annum. So far this year, Volvo has sold 10,558 units of this model worldwide, the majority of them in the USA.
In May 2015, Lars Wrebo, global senior VP of Purchasing and Manufacturing, told a US automotive trade magazine that the local content of vehicles coming out of South Carolina would be 55 to 60 per cent. This is because engines are sourced from Sweden. The company has said that it would have to build 300,000 vehicles annually at the US plant to justify adding an engine production facility.
In May 2018, VCC told the media that the S60 would not be sold with diesel engines. Instead, it is available only with a range of four-cylinder Drive-E petrol and two petrol plug-in hybrid powertrains.
The S60's mid-life facelift should take place in mid-2022. A successor isn't due until 2025.
See the link to PLDB below for other current and future Volvo cars.
Crossovers & SUVs
V216 is the development code for the proposed XC20, a small crossover. The platform should be BMA and the market launch could take place as soon as 2021 though this is not confirmed.
There has been some speculation that Volvo is developing yet another SUV. The XC50 would reportedly use the same powertrains and platform as the XC40 but have its own body with a lower roofline.
As well as above the XC40, there are also model name gaps between the XC60 and XC90. Volvo may fill these in by moving the next generation of the latter up a size and a pricing category. That would mean not only even higher margins for the firm's largest SUV but room to position an XC80 below the third generation XC90. Such a model would be a logical competitor for the Range Rover Sport, with an XC70 below it as a rival for the Velar. Neither model is expected before 2021 or 2022.
The third generation XC90 should come in two wheelbase lengths and potentially, in fully electric form too. The company stated in September 2017 that the next model would be in production during 2021. This means that the second generation of this big SUV will have a six-year cycle of production, whereas the first one was built for twelve years.
Production of the XC90 3 will be in the USA. Volvo has not said if this means that the model will not be built in Sweden too. VCC's announcement also stated that the US plant's capacity would be expanded to 150,000 vehicles per annum. It did not give the expected mix of S60 and XC90. It does seem likely that the Torslanda plant in Volvo's home city of Gothenburg will lose build of the XC90.
This model should be the first for SPA 2, a second generation architecture for larger models.
Electrified
The E40 (speculative name) will be Volvo's first series production electric vehicle (the C30 was only ever built in small numbers). It will be manufactured at the Luqiao plant in China's southeast for local sales and will also be exported.
Volvo Cars confirmed in October 2015 that it would build an all-electric car for sale "by 2019". This was restated in April 2017. The EV in question will reportedly be able to support battery packs of up to 100kWh in capacity.
An alternate possibility is that the EV will instead be a fully electric XC40 available with different range options.
Speaking to the media at an event in London in January, Volvo's Lex Kerssemakers said there would be a fully electric version of the V40 successor. He did not, however, state exactly when the C segment electric crossover would go on sale. It likely will not appear until 2021 at the earliest.
Volvo is also reportedly planning an electric D segment SUV which is said to have the E426 codename. Expected to be based upon the V426 series XC60 it could effectively be a plug-in version of that model but with a unique body.
Reports for many other manufacturers' future models are grouped in the OEM product strategy summaries section of just-auto.com.
Future product program intelligence
More detail on past, current and forthcoming models can be found in PLDB, the future vehicles database which is part of QUBE. That include various other current and future models.
The final brand to be covered within the ZGH (Zhejiang Geely Holding Group) series will be Polestar.