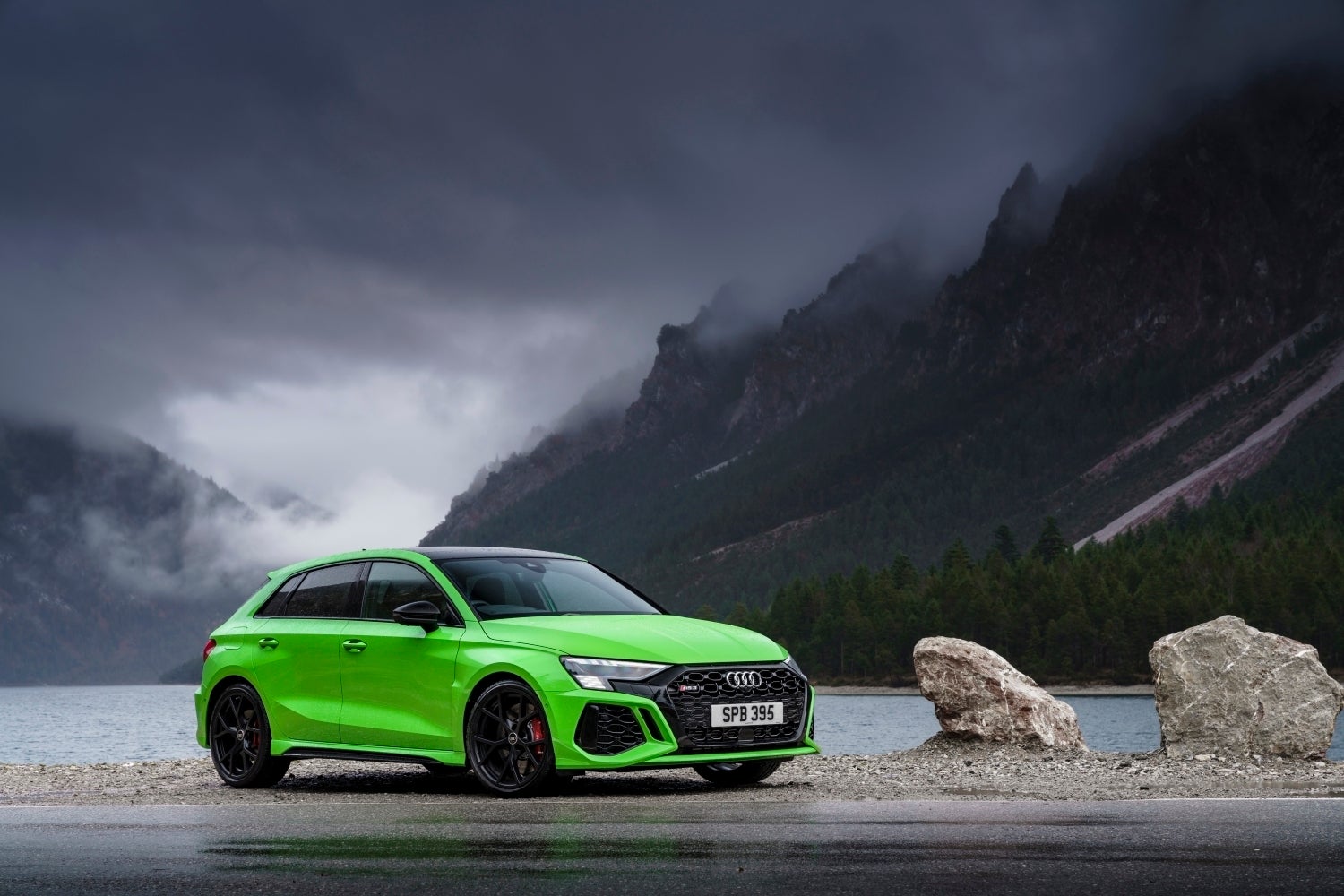 The new RS 3 is so speedy that it almost matches the 3.7 seconds that Audi's own R8 RWD takes to hit 100 km/h. And while those could be EV times, there is a big reason why Audi Sport's smallest super saloon and hyper hatchback are petrol-powered.
Launched at the end of 2021, the latest RS 3 Sedan and RS 3 Sportback celebrate Audi's long tradition of five-cylinder engines.
There's a quattro badge on the dashboard but in truth, these new cars really don't share that much when it comes to a philosophy of engineering. Long gone for example, is the era of longitudinally-mounted I5s in the most rapid of the company's models.
As times change, vehicle weight continues to do so as well. Safety legislation and customer expectations of convenience features are the driving forces behind the ongoing general increase in mass for most fast cars. And so Audi, like its competitors, must crank up the boost.
MQB A/B Evo architecture
Vast reserves of power and torque are all well and good but when the basic platform is that of the A3 (and Golf), specialist attention is called for in terms of chassis and transmission engineering.
Audi Sport and its suppliers have done an exceptional job with the RS 3. This was evident on the first morning of the multiple days I recently spent with a Sportback. What a phenomenal car it is, and painted in Kyalami Green, not the most inconspicuous of vehicles.
The fantastically glossy-bright colour of the press test model suits the character of the RS 3. Far from subtle in most ways and something really rather special, from the first eruption of its engine into life.
That always unusual timbre of any Audi in-line five is more than obvious even at idle. As the revolutions of the 1-2-4-5-3 ignition sequence rise it only gets better. Even someone who's not particularly interested in cars would be intrigued by the mechanical music.
Torque Splitter – Magna brings the magic
The driver is able to make things sound even better should they wish to. This happens via the car's so-called drive select system (in Dynamic and RS Performance modes). Pressing the button to activate either of those opens a variable exhaust flap. Audi will also sell you an optional RS sports exhaust system to make the 2.5 TFSI even meaner.
All the delicious noise, power and torque would be wasted if the tyres couldn't cope. They certainly can cope. The reason why is what has replaced the former Haldex clutches and rear differential. Developed by Magna, it's called a torque splitter and the RS 3 is the first Audi to be fitted with one.
There are still multi-plate disc clutches but now these are used on each of the drive shafts. Push the car hard and the splitter automatically delivers maximum torque to the outer rear wheel with the highest loading. The benefit is claimed to be less understeer and it really does work.
Corner carving and drifting
With this system, drive goes to the back right tyre in left-hand bends, the opposite applying in right-hand ones. Then when corner carving ends as the road straightens out, power and torque are sent to both wheels.
It doesn't take long to realise that the RS 3 can be a drifter's dream. Yes that's an accurate assessment of this car which sits on what started life as a front-wheel drive platform. Audi Sport and Magna have transformed it into something quite amazing.
On track days, the driver simply selects the special RS Torque Rear mode and the fun begins thanks to a tailored engine and DSG gearbox configuration. Other modes, by the way, are comfort, auto, dynamic, RS Individual, and efficiency.
Why no air springs?
Unlike many an equally rapid EV, the suspension of Audi's most compact RS model is steel. Another benefit of not having to manage the great weight inherent to all cars with a big battery pack.
In standard form, special shock absorbers with a bespoke valve system keep roll to a minimum without making the ride unnecessarily firm. Extra money buys a more extreme RS Sport alternative. That includes adjustable dampers for those who want to experience track days or just prefer more extreme tuning.
Audi Sport has modified many other parts of the car. That includes angling the front wheels a little more towards the road than in the A3 and S3, the benefit being increased steering precision. You also get to enjoy corners more too, helped by lower wishbones which have stiffer bearings, subframes, and stabilisers.
Ride height – 10 mm lower than an S3
At the other end, there's a four-link axle with separate springs and dampers, a subframe and a tube-shaped stabiliser. And the additional lateral force generated by the torque splitter is absorbed by stiffer wheel carriers. Front and rear, the whole set up is 25 mm lower to the ground than in an A3.
You can easily spend a lot of money ticking the options boxes with one of these cars. That includes brakes. Go for the ceramic package and as well as the extra stopping power there's a 10 kilo weight saving. Don't be thinking there's a special colour for the calipers though: multiple options bound, consisting of grey, red, or blue brake. And even if you stick with steel discs, the standard black can be switched to red at extra cost.
R-S-3 light sequencing show
The front of the RS 3 is arguably its best angle. Here, in addition to a lot of gloss-black trim on the grille, there's a multitude of LEDs, some of which signal a chequered flag when the car is locked or unlocked. And there is even a sequence which illuminates in the shapes of an R, an S and a 3.
Passengers and driver will immediately know this is far from an ordinary Audi at the first sit or gaze inside the car. The steering wheel has a flat bottom and is small but thick, the pedals are metal-trimmed, there's lots of dark and purposeful plastic which is soft to the touch. Also, the dramatic and aggressive grille's honeycomb pattern is repeated in a far more subtle way on the seat surfaces.
A few things which aren't ideal include no spare tyre, an occasional driveline tremor under a hard-pushed throttle pedal and that annoying lack of low-speed precision which can bedevil some of Volkswagen's own DSGs. You just need to be extra gentle with the right pedal when parking.
Pistons pay (some of) the battery bills
So then to why Audi and its parent company keep launching or retaining models as mad as this new one when e-tron is supposedly the future.
In short, a high priced five cylinder vehicle using the large-volume Golf/A3 platform will inevitably be making way more money than bespoke architecture EVS. Plus there are still a lot of countries and many buyers with a preference for piston engines. That the 2027 successor for this staggeringly stirring hatchback will likely be a two-motor EV only makes the new five-cylinder RS 3 even more desirable.
The Audi RS 3 Sportback will reach 62 mph in 3.8 seconds, has a top speed which can be optionally raised to 180 mph (part of a Dynamic Pack), averages a Combined 31.4 mpg and emits an average of 205-207 g/km. The as-tested Launch Edition costs from GBP57,770.