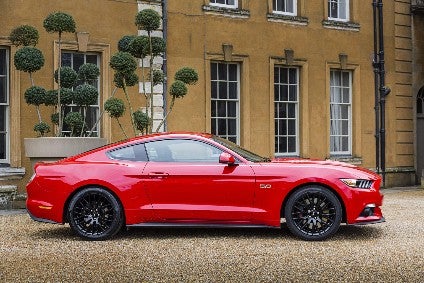 Talk to Audi, Porsche, Mercedes-Benz and BMW and you'll hear that sales of sports coupes and convertibles are in decline all over Europe. Ford's experience with the Mustang seems to be the opposite.
With close to 5,000 examples of the latest shape car having already found homes in the UK market alone, Ford has tapped into a growing group of buyers who love the idea of a big and loud American muscle car. What singles out the Mustang is that this is a car which people have a favourable, call it romantic opinion of, even for those who wouldn't ever consider buying one themselves. It's a real heritage, not one conjured up overnight by ad campaigns or branding professionals.
Perhaps the most fascinating thing about the Mustang's success on this side of the Atlantic is the timing. After all, GM Europe has offered the Camaro here for some years, and not really with a huge amount of success – no RHD for the UK, Ireland, Cyprus and Malta being a factor of course. If there are songs about the big Chevy coupe and convertible, then this writer at least hasn't heard them. Perhaps I haven't been alone in naming the press car I had for a week.
Sally rumbled, burbled and above all massively charmed not just me but every friend I saw over the seven days. I know, it's a terrible cliché but it's a great track and like me with the Rolling Stones or Beatles, you don't need to remember the original artist to appreciate a catchy song.
In European spec, the 5.0-litre V8 produces 418PS and 524Nm of torque, while the alternative is a 314PS and 434Nm turbocharged 2.3-litre four-cylinder EcoBoost. You'd have to have the V8 though wouldn't you? There's no diesel, nor is the US market's V6 available here but a hybrid is coming (see below). The manual and automatic gearboxes each have six speeds, making the self-shifter feel a little outdated but Ford is aware of that and will soon be installing a ten-speed auto.
As you would expect, the manual change is nothing like as slick and effortless as in, say, a Ka, Fiesta, Focus or Mondeo. Instead, this makes you feel as though you could be lieutenant Frank Bullitt variously cruising around or hammering up and down the boulevards of San Francisco. Only it's 2017, not 1968, and this car is probably even faster than the one that Steve McQueen famously drove in that film. The 2017 Mustang also handles infinitely better too and its steering is a huge surprise for anyone who thinks all US muscle cars are still very much old school in every way.
There is no external badge which says Mustang and yet people who don't normally pay any interest to passing cars turned their heads and smiled. Pedestrian crossings, city traffic, motorways, and junctions all become places for lots of Pony Car Appreciation. I do think the rumble of the V8 helps. At high speeds it is just the most fantastic noise – proper American muscle car thunder – and it isn't even hard to love when it comes to paying the price of ownership. Average consumption is a realistic low to mid 20s miles per gallon; maybe more if you're lighter on the right pedal than I tend to be with cars which sound as good as this.
Zero to 62mph takes fewer than five seconds (4.8), v-max is 155mph, the Urban consumption is 14.1mpg, Combined is 20.0mpg and the CO2 average squeaks in at one gram less than 300 per kilometre. In as-sampled GT manual form, the fastback costs GBP38,095. Options included a Shaker Pro audio system with navigation and for GBP795 this is some of the best money you can spend. The sound coming out of this set-up is phenomenal (for those rare times when you don't have the windows lowered and the audio off). If you want reversing sensors, that's an additional GBP295 and climate controlled seats are GBP495. So all in, GBP40,275. For the performance, the looks, and above all the sound – OK, and maybe the image too – that's something of a bargain.
Could Ford leverage this name into a sub-brand? Why not?
As one of my favourite American writers would say, 'here's the thing'. The reason why the Mustang translates so well the world over is how terrific it looks, how easy it is to drive and its relative affordability. And, it's a reminder of all the great things which the USA has brought the world, balancing out some of the less universally loved stuff.
Ford has an extraordinary opportunity with this car, should it ever occur to the company that it could easily turn Mustang into a sub-brand. Don't believe me? Then how about what JLR has done with Range Rover, two words which mean a Focus architecture can be used to make a C segment SUV which costs from £40,000. And which sells incredibly well and delivers massive profits. Who amongst us saw that coming a decade ago?
Mustang Sport? Mustang Velar? Mustang Evoque? Well, yes, but stay with me. The names would have to be relevant and the models possibly not SUVs but surely I am not the only one who sees the glaring opportunity to create some high-priced electric cars with which to take on Tesla? BMW shows no sign of jumping in and owning this space, nor does Mercedes-AMG. Only Volvo, which is aiming to make Polestar an eco-performance division, appears to be trying to see if there is decent potential volume and profit in high performance EVs via a fresh brand name. Imagine what Ford could do with a well known name if it got the execution of the vehicles and their pricing right. How about a five-door fastback which looks even more aggressive than the current Mustang and is priced and sized to take on the Tesla Model S?
At least FoMoCo appears to be aware how strong some of its sub-brands have become: rumours continue to swirl claiming that the high-priced F-150 Raptor will be the inspiration for a sports version of the next Ranger. As with the Mustang name, making this a byword for aspirational but not too expensive vehicles seems pretty obvious to some of us. Already, Raptor in many countries equals premium priced pick-up and now Mercedes-Benz is jumping in to the medium size segment with the X-Class ahead of Ford. How soon until it can persuade itself of the opportunity that exists for AMG versions? I give it until around the time of the X-Class' mid-cycle facelift, at the point where sales are beginning to sag.
Just how successful is the Mustang?
Ford claims that the Mustang was the world's best selling sports car in 2016, with more than 150,000 sold. Global sales increased by six per cent compared to 2015. Outside the USA, deliveries were up by 101 per cent (albeit from a low base as the old model wasn't offered in many countries) to slightly fewer than 45,000 cars.
FoE says that during the first full year of sales, customers ordered 15,335 Mustangs across the region. That was in what the division terms its Euro 20 markets: Austria, Belgium, Britain, Czechia, Denmark, Finland, France, Germany, Greece, Hungary, Ireland, Italy, The Netherlands, Norway, Poland, Portugal, Spain, Romania, Sweden and Switzerland.
Given that the market knows a facelift is coming and the general trend away from cars in the US and Europe, a year on year fall in production to 75,321 fastbacks and convertibles built between 1 January and 30 June 2017 from 84,831 during the relevant prior period isn't a bad result at all. Especially given that sports cars tend to be extremely popular in their first year on the market and then fade away fairly quickly.
Recent history
The Mark Six Mustang had been expected to adopt the platform of Ford Australia's then-planned Falcon replacement but that project was axed in late 2008. North America's 2015 model year Mustang instead introduced a new (rear-wheel drive) architecture. Dave Pericak, the head of engineering for the S550 project, told the media in December 2013 that the platform "started out as an evolution but as our plans matured it became an all-new [platform]". The car has independent rear suspension – all previous models had a live rear axle.
The Mustang arrived in dealerships first in the United States and Canada in September/October 2014, followed by China (January 2015), and then LHD European countries (June 2015: hatchback and convertible), with cars for the UK, Japan, Australia, New Zealand and selected other right-hand drive markets arriving in those countries from November 2015 onwards.
The high performance Shelby GT500 was replaced by a model named Shelby GT350. This car had its world premiere at the LA auto show in November 2014. It is powered by a 5.2-litre V8 and went on sale during 2015. An even more extreme derivative, the Shelby GT350R, followed at the 2015 Detroit auto show. Production commenced in August 2015.
What's next?
There should two facelifts for the sixth generation car: the first one was announced in January for the 2018 model year. The hatchback/fastback was first seen during the public days of the Detroit auto show, i.e. Ford chose not to reveal it to the media a week earlier. Similarly, the convertible was suddenly announced on 20 January.
Another update should happen in 2020, with the seventh generation model due for release during late 2023 or early 2024.
For the 2018 model year, and in addition to the facelift, the 5.0-litre V8 engine gains power. The 2.3-litre EcoBoost is unchanged but both gain the option of Ford and General Motors' 10-speed automatic transmission. Also, the 3.7-litre V6 is dropped. These cars will be in US showrooms from October and in European ones from 2018. As for the Shelby, insiders whisper of a GT500 with as much as 680hp from a supercharged V8 but this might not be revealed until the 2019 model year.