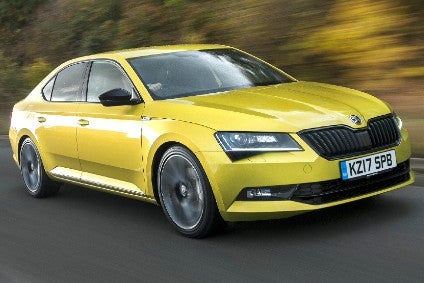 So-called value brands are in a death squeeze as premium makes continue to colonise their traditional territory. Or so goes the theory. And, how about the supposed fact that to pull in big worldwide sales and profits, a car company must be present in the US market? Škoda breaks these and other rules.
The Czech brand's largest car points the way to where Citroen, Peugeot and Renault should be headed.
What low-margin OEMs could learn from Škoda
The Czech brand's largest car, the Superb, points the way to where both of Groupe PSA's two main divisions; FCA's Fiat, Dodge and Chrysler brands; Renault and others should be headed. These marques have struggled for decades with an inability to convince prospective customers that their cars – especially the larger models – shouldn't be deeply discounted.
GM Europe's soon to be off-loaded Adam Opel and Vauxhall Motors will need a thorough rethink once Groupe PSA takes control of them, if for no other reason than to define where the Paris-based firm itself sees their future models fitting into the marketplace. PSA would do well to see that Škoda has succeeded by sizing its models in the C/D and D/E segments (Octavia and Superb), while its own D segment C5 and 508 models have never found much favour, at least outside France.
Is Škoda really that successful?
Given what might appear to be a bold statement about Škoda being the brand which breaks the usual rule, where is the evidence for this? Well, let's start with the bottom line and the company's ever greater rate of expansion. June was the firm's best month yet, with 105,200 vehicles delivered worldwide, of which 23,500 were in China, the number one market.
While the Octavia remains the best selling model worldwide (205,300 deliveries in H1 of CY2017), the larger Superb hatchback and estate line-up found an impressive 75,900 (+8.3% YoY) buyers. Not bad for a model series which in the Volkswagen Group ownership era started life as a tweaked version of a cancelled project: a long-wheelbase VW Passat sedan for China.
Manufacturing and global build numbers
Since the first Superb of the twenty first century appeared in 2001 (136,000 built over a seven-year life cycle), sales of this nameplate have steadily risen. Total build of the second generation model under VW ownership reached 618,500 units between 2008 and 2015. This was the result of both the clever sizing (bigger than the normal D segment but not too long or too wide), and a kind of bargain-Volvo image. In other words, taking over the space where the V70 used to be before it became pricey as VCC began to reinvent itself as a premium brand. Plus, Volkswagen kept SEAT and its own Passat out of the five-door hatchback class so as to give Škoda a clear shot at success with no internal competition. All of this worked.
Suberb production has always been at Kvasiny in Škoda's home nation, and with the exception of some small scale assembly at Shendra in the Indian state of Maharashtra (this no longer takes place), several other locations have been added. The only true extra manufacturing operation is in the Chinese city of Ningbo and is part of the SAIC Volkswagen joint venture. There is some kit assembly at Kaluga in Russia, and in Kazakhstan (Ust-Kamenogorsk) too.
The millionth Superb was built in April. Of that number, a quarter are the current, two-year old model series.
The millionth Superb was built in April, and of that number, fully one quarter are of the latest series model which has only been in production since 2015. The lifecycle is likely to extend until 2022 after a facelift in late 2018.
The next generation vehicle seems likely to be based on an update of the current car's MQB A/B architecture.
Will there be an electric Superb?
A plug-in hybrid version is under development, as is a PHEV Kodiaq. These will be followed by a battery-electric Škoda in 2020. The Superb PHEV will be powered by a 1.4-litre petrol turbo engine plus one motor; the same powertrain as in the Passat GTE.
A far away country of which we know little
Prices in the UK range from around GBP19,000 to GBP36,500, which just goes to show how far Škoda has travelled in this market, a country where its image was once awful. Much of that was due to snobbery and ignorance.
Last time I checked, Germany and Austria were located in central and eastern Europe respectively. How can that be, when these regions are apparently poor, under-developed and backward? Sometimes long-outdated and incorrect generalisations take a long time to die out. But die out they eventually do.
Thankfully, the rest of the world no longer thinks of Land Rovers and most other English brand vehicles as being dreadfully unreliable, with ramshackle build quality. And, in turn, the majority of the British now see a certain Czech car maker as a company which churns out good looking, great value cars and, increasingly, SUVs.
Škoda has always been a firm which produced exceptionally well engineered cars, some of which were luxury models. So really, the existence of the latest generation Superb is merely a continuation of the company's heritage. Having said that, there is no denying that Škoda Auto, during the decades of the Command Economy, very much lost its way as a maker of high quality cars. Or rather, had its way lost for it due to a relative lack of competition in the closed Czechoslovakian and other Soviet Union markets.
A profit margin of ten per cent
Now the darling of the Volkswagen Group, especially as it has lately been delivering a better RoI than even Audi (a lot of which is due to the ongoing costs of the TDI engine software scandal), Škoda is pulling in much-much money. Not always in an industry notorious for burning capital do ever rising worldwide sales and increased margins go hand in hand. Yet in this case, they continue to do.
Figures for the first half of CY2017 are yet to be announced, but during Q1, sales revenue shot up by 28.3 per cent to 4.3bn euro (the company reports not in koruny ceské but in the currency of its parent) and operating profit increased by 31.7 per cent to 415m euro. Return on sales grew by 0.3 per cent compared to the same period of last year and was a superb 9.6 per cent during Q1.
It will not be a surprise if 2017 sees a new annual profit record being set.
It is surely no co-incidence that between 1 January and 31 March, deliveries of Škoda's largest model line rose by 18.9% to a combined 38,300 hatchbacks and estates compared to the same quarter of 2016. With the brand's sales continuing to rise in China and across Europe, it will not be a surprise if 2017 sees a new annual profit record being set.
Segment leader in Europe
The current generation Superb hatchback had its world premiere at the Geneva motor show in March 2015 with production at Kvasiny commencing later that month. The car has an 80mm longer wheelbase than the previous model but front overhang was reduced by 61mm. The Combi (wagon) was then revealed at the Frankfurt IAA six months after the debut of the five-door. Combi production, which also takes place at Kvasiny, had commenced in June 2015.
In keeping with the previous Superb hatchback/sedan and its 'Twin Door' arrangement, the latest one also looks like a saloon. The old car's tailgate opened either as a conventional bootlid or as a hatchback. It might be a case of lowering the cost of the module from the supplier but Škoda says the Twin Door added weight and complexity. Further, it claims most owners hardly used the boot option so it gave that idea…the boot.
Big in China too
China's Superb, meanwhile, retains the Supai model name of the previous generation hatchback. Its local premiere was at April 2015's Shanghai motor show and production followed seven months later. This takes place at SAIC Volkswagen's Ningbo plant in Zhejiang province. As was the case with the previous model, the wagon is imported.
The hatchback has an enormous space for luggage – 625 litres – and instead of one umbrella in the rear left-hand door (previous model), there is now one in each of the front doors, though not on base trim level cars. The electric tailgate can be complemented with a virtual pedal/gesture kick. If that huge boot isn't big enough, then there is always the Combi. This has a capacity of 660 litres or 1,950 with the seats folded.
Powertrains
The car for European markets features five TSI petrol and three TDI common-rail diesel direction injection turbocharged four-cylinder engines. All powertrains have stop-start and brake energy recovery as standard. The petrol engines produce between 92kW (125PS) and 206kW (280PS). The power outputs of the diesels range from 88kW (120PS) to 140kW (190PS). With the exception of the entry-level petrol, all are available with dual-clutch transmissions. Four (1.4 TSI/110kW, 2.0 TSI/206kW, 2.0 TDI/110kW and 2.0 TDI/140kW) are available with Haldex 5 all-wheel drive.
The Superb 280 is the fastest series production Škoda yet.
The car supplied by the UK importer was powered by the Volkswagen Group's 280PS turbocharged 2.0-litre petrol engine. This makes it the fastest series production Škoda yet. Zero to 62mph takes 5.8 seconds, top speed is limited to 155mph and the Combined MPG is 39.8, while CO2 is 160g/km. In as-tested Sportline trim with a six-speed Volkswagen DSG and 4×4 drive, it costs from GBP34,335.
There were some surprising omissions to the standard spec of what is not a cheap car. That included front and rear parking sensors (a GBP350 option), a rear wiper (NCO) and a temporary space saver spare (GBP100). Should you wish to have the virtual pedal for the tailgate, kick back, relax, and add a further six hundred pounds to the cost of your configured car.
A week spent with the Superb 280 saw me thinking what I almost always do with Škodas. Namely, that you need not spend any more money on something similarly sized but with a mass-premium brand badge. Vehicles I would include would be the BMW 4 Series GC or the even larger 3 Series GT. And maybe too the VW Arteon; the maybe being shorthand for this being a car I am yet to drive. How about the Opel/Vauxhall Insignia? That is probably the Superb's closest rival. So it will be fascinating to see what Groupe PSA does with that model should the deal for it acquiring those two brands be sealed later in 2017.
How Renault-RSM and GM do things differently to Škoda
Without the relatively big numbers of Samsung SM7 sedans built and sold in South Korea, would Groupe Renault have been able to make a case for the Talisman, its European markets replacement for the Laguna? Renault Samsung stated at the start of production in January 2016 that it hoped to sell an average 50,000 units of the four-door car per annum. This, RSM exceeded in CY2016 by several thousand. That made it far more successful than the almost identical Renault Talisman was across all of its worldwide markets, including the estate which is not available as a Samsung.
Let's also look at the example of the new Insignia. There is no sedan, which is amazing, given how many countries that GM (and PSA) will be building and selling it in. Production is in Germany and China and the five-door hatchback, estate and crossover estate will eventually be marketed with Opel, Vauxhall, Buick and Holden badges. There are variations when it comes to engines (no petrol V6 for Europe or China) and model names – Insignia, Regal and Commodore – but this is really one model series with some minor styling variations for multiple regions and brands. GM is saving a lot of money doing things this way and yet you have to wonder if it won't instead end up with a car which has had to be engineered with many compromises.
Big car, big sales numbers, big margins
Back then to the Superb. The genius of this model is that it continues to exploit a segment which only product planners at the Volkswagen Group and Škoda seemingly saw. It is nothing short of amazing that the brand continues to dominate the car's vehicle class, as those more than a quarter than a million units sold since March 2015 show. All of this takes time and like Toyota and Honda, the Volkswagen Group looks way into the future all the time. There was probably a plan in the early 2000s to make Škoda a make which people would aspire to. So Renault, PSA and others could do a lot worse than to emulate this idea. Will they though? For now, the Superb remains untouchable in its size class.