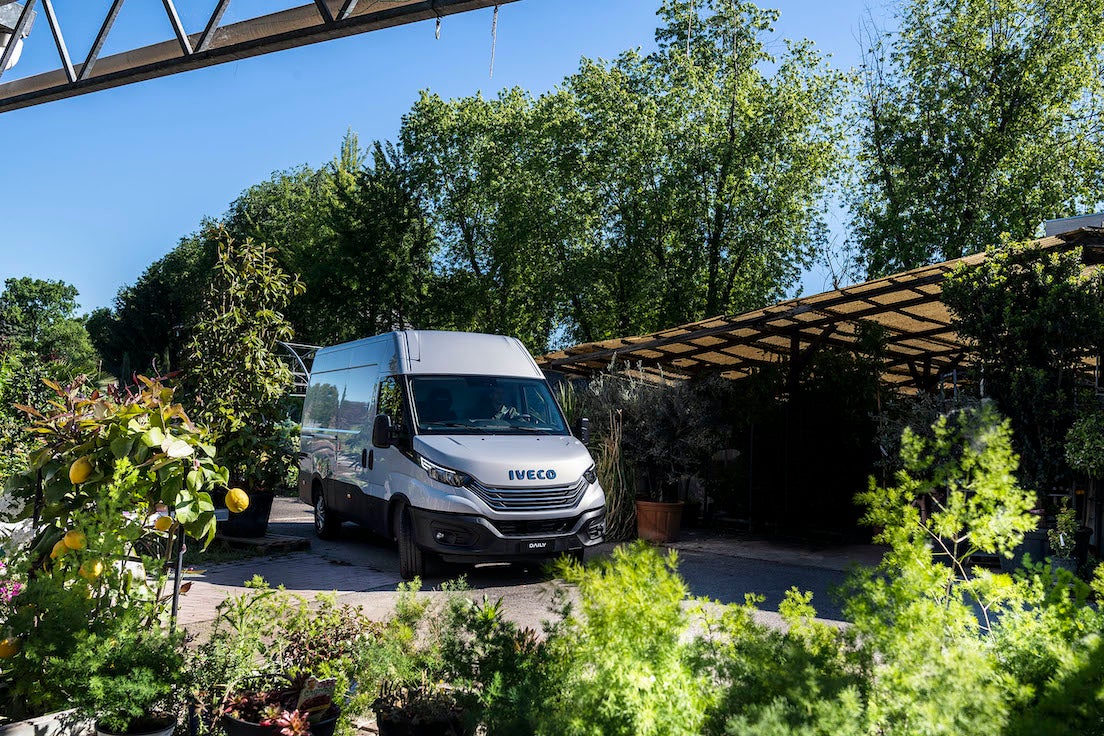 Competition in passenger vans and vans has resulted in all manner of alliances as OEMs battle for strong returns. The big names in the European region – Volkswagen, Ford, Stellantis and Mercedes-Benz – rule. Even so, there are opportunities for smaller opponents, as Iveco proves.
When you're used to testing the latest SUVs, and to a lesser extent nowadays, actual cars, vans can be a welcome novelty. It's been a long time since they were generally rattly, ill-handling and not always built to passenger model standards. In 2023, the best ones can even provide a tempting alternative to the tall and wide crossovers which now fill roads.
Too truck-like for those used to SUVs?
Keen to see why an OEM which only makes commercial vehicles does so well against the major brands, I therefore said yes to the offer of a Daily for a week. How would it feel and drive compared to all those car-based alternatives? A bit too truck-like? Not at all, it turns out.
The Italian LCVs and trucks specialist firm keeps adapting its best sellers, none more so than the Daily. This line of 3.5-7.2 tonne GWV vehicles includes EVs yet for several reasons, including battery weight, diesel power remains very much desired by operators.
Body-on-frame platform
A key differentiator of the model range is the thinking behind its construction. Where most of the Daily's segment rivals are monocoque designs, this one is based on a ladder-chassis principle. Which should mean certain disadvantages but in practice doesn't.
Right from the first moment, the thing feels strong. Perfectly put together, and here is a surprise – replete with (mostly) soft-to-the-touch interior surfaces – the vibe is Transit-like. Which is quite the compliment. Only there are some great details, such as the many physical buttons and switches which are shared with Fiats, these being simple to operate rather than replaced by screen-based functions.
Safety tech
Every mandated electronic safety system is naturally present yet not having to seek out convenience functions scattered all over an iPad-sized screen is a novelty. And an advantage over many more recently launched MPVs or LCVs.
After a couple of long journeys, the pneumatically-sprung driver's seat had provided great support and zero back-ache. Massive windows and an equally generous windscreen also play their part in making the big Daily easy to place on the road. The reversing camera is even more of a boon though the test vehicle would stick out of many parking bays. Plus it's quite wide.
Model life
Iveco has been building multiple generations of this model for decades (this one is made at the Suzzara plant in Italy). It's been around since 2013 and was last facelifted in 2019 though safety/technology updates and other tweaks are not infrequent.
The present generation could be termed 'tried and tested' in contrast to certain newer rivals, it must be acknowledged. Does that mean the Daily feels old? Not really. All the tech is there, the series also having had other freshening changes not too long ago. And for what is the largest model in the class, it drives surprisingly well.
The company specifies an eight-speed automatic transmission for the diesel engines (there are a couple of capacities and multiple power/torque outputs), something else which helps with smooth and stress-free driving.
You can select two modes – ECO or POWER, the former limiting top speed to 50 mph for the benefit of fuel economy. This isn't as good as some competitors' models, it has to be said, the Daily returning 28 mpg for me. Aerodynamics and weight will be the main reasons why 30+ mpg isn't the norm, as it can be for other vehicles in the size segment.
Multiple variants
Buyers may choose from vans, chassis cabs, minibuses and even some dramatic-looking off-roaders, these having a rugged, almost rally raid stance. The common link for all is a tough feel, insomuch as you soon begin to understand why the Daily sells so well. Far from the niche brand some might mistakenly consider it, Iveco seems to be well positioned for what's coming next too.
Electric and fuel cells
Having been something of a pioneer in electric vans, the company is now moving forward with battery-swapping. The e-Daily can be specified with one of three packs, capacities being either 37, 74 or 111 kWh. The company also sees a future for hydrogen in its models via an alliance with Hyundai.