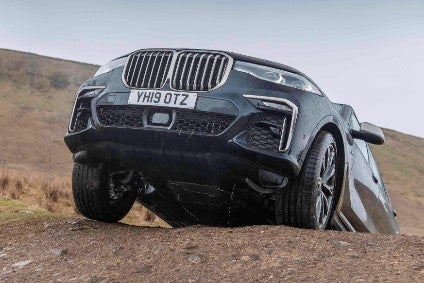 We all have an opinion on the front end of the next 4 Series which a concept at the recent Frankfurt motor show heralded. Or gave warning of, depending on your point of view. The 7 Series has a different kind of like it or loathe it grille and so too, the newish X7, BMW's largest vehicle yet. Know this though: more than 20,000 have already been sold. Approving the G07 project was a smart move by former CEO Harald Krüger and both boards of BMW AG.
The Munich-based firm is being wisely cautious about trumpeting the success or otherwise of the X7, so I had to get in touch with HQ to find out how worldwide deliveries were doing. Which is how any of us has now learned that they pushed past the twenty thousand mark in August, ending that month at 20,859 units. Impressive, given that the model hasn't yet reached all markets, some of which will be good volume ones too. Production started in January and all build takes place at Spartanburg, which remains the Group's largest factory.
Makes an Escalade look subtle
The South Carolina site lacks powertrain production and stamping operations even though it makes as many as 450,000 vehicles per year via two shifts, six days a week. BMW says production could theoretically rise to half a million by operating on Sundays and adjusting existing shifts. The official line is that such a scenario would only ever be undertaken for short periods.
It took the company quite a while to bring the G07 project to series production, this model having been first spoken about publicly in March 2014 on the 20th anniversary of the opening of Spartanburg. The 5,151mm long X7 pushed its way into a segment which includes, depending on how you define it, the Audis Q7 and Q8, Mercedes-Benz GLS-Class, Lincoln Navigator, Cadillac Escalade, Hongqi HS7, Range Rover, and a few others. Like the last of these, BMW's big bruiser has a horizontally split tailgate which opens and closes electrically (and theatrically for the noises it makes and how fascinating it is to watch).
About as German as the home city of Denny's Diner(s)
The US and Canada were obviously the company's first priorities, although the big SUV was subsequently and fairly quickly rolled out to other markets which love such vehicles, such as Russia and the Middle East region. Then came left-hand drive European countries and this past summer, Britain. The Germans aren't too keen on it, at least not yet, with only 161 sold in August and 1,037 year-to-date. Even the Renault Espace is more popular (180 and 1,210). The BMW is hammering the X166 Mercedes GLS (40 and 502) but that's not a fair comparison as the replacement has been highly publicised since its world premiere at the New York auto show in April but production is yet to begin.
The test car was one of the first I had seen, yet the UK will likely become a relatively important source of sales, even if that goes against all logic when considering our small public parking spaces, garages and narrow roads. Not to mention how snooty a lot of people can be about XL-sized SUVs. Especially ones which have such a, shall we say, confronting presence.
One turbo, two turbos, or perhaps four?
The carbon footprint from manufacturing isn't ideal, when you think about the engines and ZF automatic gearboxes which are delivered to the southern USA from northern Europe, fitted to X7s at the factory there, then transported back to our region. There are a couple of in-line six-cylinder diesels and these are not available in North America, which is a shame as each of the two is a terrific unit. I tried the base engine, which has a single turbocharger but hopefully will get to sample the quad-turbos alternative at some stage. Here's the whole range so far:
xDrive30d: 195kW/265hp & 620Nm 2,993cc six-cylinder diesel (single turbocharger)
xDrive40i: 250kW/340hp & 450Nm 2,998cc six-cylinder petrol (single turbo)
xDrive50d: 294kW/400hp & 760Nm 2,993cc six-cylinder diesel (four turbos)
xDrive50i: 340kW/462hp & 650Nm 4,395cc petrol V8 (two turbos)
M50i: 390kW/530hp & 750Nm 4,395cc petrol V8 (two turbos)
The M50i was only announced in May and that was at the same time as the X5 M50i which has an identical engine. This hasn't been confirmed but it would be surprising if BMW doesn't add a petrol-electric plug-in hybrid. That's going to be needed for EU markets very soon, even if perhaps BMW China can live without it for a while longer.
The X5 is very popular in The People's Republic (22,053 YtD) but BMW's business model for imported vehicles will have been shot to pieces by the Washington Vs. Beijing tariffs war that blows variously cold-warm-hot-warm and who knows where next? Still, if these things can eventually be worked out, the company might end up doing quite good business with the X7 in the PRC. Buyers of highly taxed luxury brand SUVs in the country's biggest, richest cities tend not to be too fussed about what to outsiders seem like sky-high pricing levels. Highlighting that fact is the tally of 1,414 X7s sold already, 719 of those having been registered in August.
X7 versus the narrow lanes of an English village
That's a summary of the global outlook but what is this controversial vehicle actually like to spend a week with? Maybe it's the Aussie in me but then my former life down under was always in the crowded crush of gridlocked Sydney so that can't really be the reason why every drive of the X7 saw me smiling, slowing down, giving way to everyone. Maybe I was hoping that Greta would get wind of how some of us roll in giant SUVs and then not condemn us too much. By the way, the lady rocks. What did I do when I was sixteen? Sail across the Atlantic to passionately address the UN? In my second language. Err, no.
The trouble with BMW's biggest car is that everyone tends to misunderstand it. The day that a dark blue example arrived at my house happened to coincide with school kids marching to insist that we grown ups listen to their demands. I get that, and yet I want to quietly tell them, we're doing our best, most of us, we have been for decades, and we agree with what they're saying. Yet sometimes, the way it looks can seem unsympathetic.
Imagine my horror half a second after I slowed to grin and wave and toot in agreement with the children and their teachers waving their placards that Friday in the small city where I live. Their stares were searing and I felt genuinely terrible: too late I remembered what I was driving and that it wasn't the ideal one to be honking from at that moment. You also don't want to know just how loud an X7's horn is, as we all learned. Face. And. Palm.
The elephant-SUV in the room – let's talk
It might be huge and it might be heavy. So too is a Model X and the same applies to next year's Rivian R1S. My point is that we are in an interim era, and nobody has all the answers. The 'base' diesel engine has low emissions, and if you want to dispute that, have a really good look at just how rightly tough the EC's 1 September 2019 legislation is and how much tougher next year's Euro 6d laws are. BMW is compliant.
One day vehicles such as this will be fully electric, powered by a fuel cell which draws its energy from a local renewable source, or else there are low-harm, low-mass solid-state batteries. Or perhaps it's a Model X today and the owner knows for a fact that hydro is what their energy supplier uses to recharge? This stuff is complicated.
It's a messy time, people such as myself are no longer treated as cranks should we ask the head of Design about a cow-free interior while attending new car media launches. The industry has wised up and to continue this one example of ongoing change, sees that it can even charge a premium for murder-free seat, dashboard, door and steering wheel coverings. And that this can be spun as a low-carbon/zero methane emissions option. Which if you think about it, it is.
I'm an optimist and eventually, even big Tesla crossovers maybe won't weigh three tonnes with passengers on board. And the tyres won't be wearing out often with nasty black petrochemical grit being rained off the edges of roads and into the water table. And so on. No point in being a hater; better to try to look at the big picture, at every technology and support every company (and every Swedish teenager) when they attempt to encourage positive changes.
Need a 250km/h top speed? You'll need the biggest engine
For now, I'm doing my bit, and also enjoying things. The X7 I borrowed wasn't just for a review but to also transport four lady-buddies and self (as driver and feeder and fresh socks every 10km or so provider) who were insane enough and caring enough to attempt a 100km walk raising what turned out to be a lot of money for a global charity.
As a safe and stress-free people-hauler, the BMW is hard to beat. You cruise quietly, the pneumatic springing allied to a 3,105mm long wheelbase delivers the most extraordinarily soft ride. For me though, driving solo, the X7 quickly became the size of an X3 so well sorted are its dynamics. Britain's old cities can sometimes be a pain though, granted: it's just too wide.
So yes this is an SUV for America but don't forget it was also engineered for German conditions. Top speed isn't restricted by a limiter, it's held below the standard 155mph by the sheer force of air ahead of it. Only the most powerful variants will get you to the usual big numbers which those on autobahnen expect. The same applies to its competitors, remember.
Glass roof for the third row lightens up the view
There is a crazy amount of space in all three rows of seating, a big carpeted well below the boot floor if you want a spare tyre (I would insist on that), the glass gear lever doesn't look all that blingy after a couple of days, the infotainment system is superb and BMW's rotary controller and physical buttons for HVAC are equally best-in-class to my way of thinking. Waving a finger in the air worked every time that I used that for various functions and it becomes fun but in the end it's a gimmick for the driver, who's way better off keeping their hands on the wheel.
Backing this heavy and too-wide-for-small-villages-like-mine beast up a driveway was a strangely satisfying experience each time. You can feel the weight of the thing as the torque converter's biting point defeats gravity but lift off ever so delicately and it'll quickly roll forwards again. The burble of 620Nm and the just-perceptible whistle of that big turbocharger perform miracles hauling the X7's mass around, totally fuss-free. It sounds tremendous too. I even wonder if the quad-turbo one might not be as characterful?
Other things to love are discovering that 21 inches is the dimension of the smallest wheels you can have on an X7, the acceleration is surprisingly strong, there is zero lag, all the dynamic settings for the steering and suspension do exactly what their labels say they will.
Something else: you simply cannot get the back end of this huge thing – even with all that thick glass up high on the sides and in the roof – to wag its tail and feel as though the electronic angels are battling to stop it going out of control. Um, not that I would have attempted that. I mean, sure you will grip the thick steering wheel tightly perhaps and start chuckling as you call it Big Bertha BMW in your head as it rolls but not alarmingly so mid-roundabout (empty roundabout, I promise) charge. Then it stops leaning, a torque wave is caught and you surf out – correction you are smoothly thumped out – to your exit road and there is a wide grin. It's like the even larger Infiniti QX80 I can clearly recall loving almost four years ago but way more sophisticated.
Conclusion
This isn't a vehicle for most people and every time you drive it, a statement is being made, it will seem to some. It might be kind of economical (no really, I got more than 30mpg) yet it would make zero sense for this single man. So why did I watch wistfully as the X7 was driven away last Friday?
Maybe, in the early 2020s, BMW will give its largest SUV the same three-motor treatment which is said to be coming for an extended wheelbase 5 Series EV that China's BBA joint venture will manufacture in the not too far-off future. Then I can look Model X drivers in the eye. I'd still miss the sound of the diesel six though.
The BMW X7 weighs a minimum of 2,370kg, has a boot with up to 750 litres of capacity, an NEDC C02 Emissions range of 248-171g/km and costs from GBP72,315.