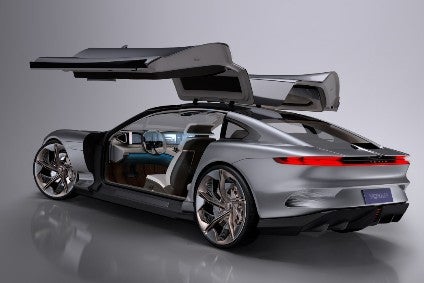 Who would have predicted in January that Dongfeng Motor might end 2020 riding high? The Chinese market has recovered spectacularly from not only the COVID-19 crisis but last year's slump. Number three in LCVs behind Wuling and Foton, the state-owned OEM has been a big player in cars too this year thanks to phenomenal demand for the Nissan Sylphy.
Data for November are yet to be published so we won't know for a while yet if the Sylphy, a C segment sedan which has swept all before it, crossed the half million mark a few days ago. By the end of the first three quarters, Nissan China had dispatched 369,701 units of the model to dealers, the country's next best performer, the VW Lavida, managing only 293,286 wholesale deliveries.
C segment cars – big in 2020
Dongfeng and one of its two big Japanese partners have had luck and skill on their side in 2020: when the market began to surge, the Sylphy was exactly what people were looking for. Other C segment sedans/hatchbacks in high demand include the FAW Toyota Corolla, VW Bora and Sagita, Buick Excelle Linyang, (Dongfeng) Honda Civic and the Corolla's GAC Toyota Levin twin.
The ongoing great news out of the Nissan JV, along with the equally impressive Dongfeng Honda stand in stark relief to the results of tie ups with Renault and PSA. The first of these has been greatly watered down and control of the DRAC joint venture passed to the Chinese firm.
Dongfeng Renault – reduced to one EV
Now the only Renault passenger vehicle built in the PRC is the low-speed, low-volume City K-ZE. Should Dacia's equivalent, the Spring Electric, catch on once exports to LHD European markets commence, Dongfeng will at least have that modest amount of success as a legacy of what was a major disappointment.
The fact that shareholders have tolerated PSA's years of sliding sales in the world's number one market is extraordinary. Yet why has Dongfeng Motor – called upon to help rescue the French company not too many years back, remember – stood by and said nothing?
Dongfeng PSA – urgent attention (still) needed
There is currently an attempt to relaunch DS with a high-priced sedan and even a stated intention to export this car to European markets, a maximum list price of a breathtaking 80,000 euro having been stated. The would-be luxury brand was part of a failed JV not with Dongfeng but with Changan. Even so, as a Peugeot Société Anonyme shareholder, Dongfeng has always had an exposure to years of PSA's losses in China, while other big OEMs such as TMC, GM and above all, Volkswagen, ride a wave of vast earnings. This remains the case.
The Chinese OEM will, after EXOR, FFP (the Peugeot family's holding company) and the French State, be a strategic, presumably long term investor in Stellantis. Surely those with the required expertise should be called upon to advise the soon to be merged group. Those at the top of FCA and PSA and who continue to therefore be responsible for the performance of DS, Peugeot, Citroen, Fiat and Jeep in China clearly need adequate financial resources, along with instruction from a giant local partner on how to succeed.
Stellantis in China – a reboot with Dongfeng?
The fact that Opel is now also being spoken of as either an additional or substitute brand is worrying, when there are already four (Fiat is gone) under-performing marques. During the first three quarters of 2020, a mere 17,377 locally manufactured Peugeots were sold, plus 15,156 Citroens and 27,842 Jeeps. Even as the market began to surge, all three continued to plummet. Just imagine what the capacity utilisation rates are in the relevant vehicle and powertrain plants.
As a shareholder with vast amounts of expertise to offer, Dongfeng Motor should be pushing hard for new thinking so as to make sure that Stellantis is not more of the same, i.e. two cars makers which are strong elsewhere but weak in China. Each has missed the boom years of volume and profit. Will that remain the case? It's certainly the reality as 2021 approaches.
Those charged with running the merged company hopefully see the mistakes which continue to be made – a failure to invest in brands and vehicles – and will make sure that new talent is brought in to reverse all the years of losses. There could be excellent profits. But only if change comes.
If Dongfeng shows Stellantis how it was able to play a part in the turnaround of what had been a deeply troubled JV with Kia Motors – now thriving, incidentally – then it would be doing a great service to the newly created car maker.
Carlos Tavares and Mike Manley have obviously achieved extraordinary things in many countries with what, from the outside looking in, has appeared to be only a minimum of cash. Stellantis denies it will happen but there should surely be a culling of brands as well as the retirement of relevant ones from certain markets (e.g. Fiat and Alfa in the USA). Once that is done, there should be a long-term, well-funded strategy for China based around building up the image of one or two marques and withdrawing the others.
Dongfeng is the perfect partner to advise John Elkann and Robert Peugeot's respective families about how to invest strategically in what looks like remaining the world's biggest and potentially most lucrative market in the 2020s.
Venucia & Voyah-Lantu
A brand over which Dongfeng has absolute control is a new division called Voyah. It joins Venucia, a division which while still successful, is only modestly so (1 Jan-30 Sep deliveries: 47,481, -42%), and needs some fresh vehicles.
Jiang Tao, the CEO of Dongfeng Motor's newly created Lantu division said in July that an eventual nine EVs would be offered in the Chinese market, commencing in 2021. Production will initially be based at DRAC, the former Dongfeng Renault plant in Wuhan.
A long and low concept car with two giant butterfly doors, the i-Land, was shown to the media at a special event, also in July 2020. Two months later, what turned out to be a prototype of the production model was revealed as the i-Free concept at the Beijing motor show.
The Free will be fully revealed in Shenzhen on 18 December, Dongfeng Motor confirmed earlier today (2 December). The market introduction is due to take place in the third quarter of next year. Both EV and REEV powertrains will be offered, with the latter having a single motor and a 1.5-litre range extender petrol engine. The architecture is new and called ESSA (Electric Smart Secure Architecture).
The English equivalent of Lantu is Voyah, which was why the i-Land and i-Free concepts had V O Y A H badging.
Dongfeng and subsidiaries brands
As with Venucia, Dongfeng the brand has been very successful in the past and still maintains a decent presence in China. Deliveries during the year to the end of September were down by 29% to 176,706 versus an at that point 7% decline year-on-year for the entire passenger vehicle market.
Electric models
One of the newest of Dongfeng's many models is the Rich 6, a 5,290 mm long electric pick-up. Based on the Nissan Navara, the Rich 6 is produced by the Zhengzhou Nissan joint venture but has a Dongfeng emblem on its grille. The truck's single motor has stated outputs of 163 hp and 420 Nm, the battery's capacity is 67.9 kWh and the range is 403 kilometres (NEDC). Sales commenced in July. There should be a facelift in 2024 and a successor in 2028.
The Ruichi S513 is another EV launched in 2020. This 4,385 mm long SUV is powered by a single motor with outputs of 120 kW and 300 Nm. Therer is a 52.6 kWh battery pack, while the claimed maximum range is 305 km. The model life should be seven years, which means a facelift in the second half of 2023.
The second generation of the Fengdu AX7 has gained a suffix. The public premiere of the new Fengdu AX7 Pro took place at the Beijing motor show in September. As with the AX7, the pro is Nissan-based. Sales are due to commence in Q1, and the life cycle should endure until the end of 2027 with a facelift in 2023/2024.
Reports for many other manufacturers' future models are grouped in the OEM product strategy summaries section of just-auto.com.
Future platform intelligence
More detail on past, current and forthcoming models can be found in PLDB, the future vehicles database which is part of GlobalData's Automotive Intelligence Center. The includes the many Dongfeng models not detailed above.
The next OEM to have its future model plans looked at will be Volkswagen AG.