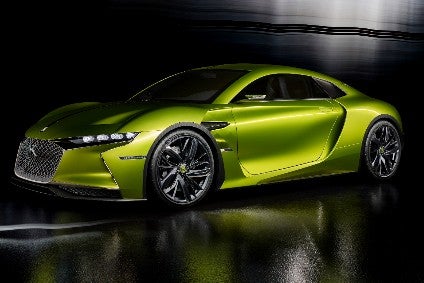 The future model strategy for DS is explored here in this, the first in a series concerning the passenger car brands of PSA Group. The other chapters will be a focus on Citroën, followed by Peugeot.
A world of troubles
It hasn't been the best of starts for what PSA Group hopes will eventually become its luxury brand. DS is meant to take its inspiration from the avant garde design of the Citroën DS/ID from the 1950s-1970s.
PSA Group has either overlooked or chosen to tackle head on one essential fact: time and again, buyers the world over have rejected the idea of French cars as expensive models. Perhaps taking a long term position, that might change with DS. So far, though, even the brand's most ardent admirers would hesitate to call it a success.
China and Europe are the two main regions for DS and there are big problems in both places. CAPSA, the JV which PSA Group established with Changan, has a near-new plant which is building only small numbers of DS vehicles.
Even PSA seems unable to find a way to put a positive spin on what was a troubled 2016 for DS. A recent press release had this nonsensical statement in a headline about the brand's year: DS Automobiles consolidated its premium brand bases. No hard numbers were announced, only these words: With a range that has been renewed over 12 months, the DS brand is gradually taking its place in the premium segment. The DS 3 stands among the top three best-selling premium city sedans in Europe, the DS 4 Crossback, the smart adventurer, represents 34% of sales of the DS 4 & DS 4 Crossback duo, and 81% of sales of the DS 5 are the high-end versions.
Aside from their age, there is nothing much wrong with the existing line models; in fact most of the vehicles have admirably distinctive styling and interiors. The issue is simply that truly fresh cars are needed, and of these, all or most should be SUVs.
Europe – sales plunge
While the European market, as defined by ACEA, rose by seven per cent in 2016, DS registrations fell by 13 per cent over the same period and by a worrying 41 per cent in December. The brand ended the year with 65,657 deliveries compared to 75,229 for CY2015. Some perspective: Jaguar sold 68,687 cars in 2016, the total for Lancia was 67,225 and for Alfa Romeo it was 66,172. With 3,783 vehicles delivered in December, Lexus wasn't far behind DS' 3,834. Overall, the French brand's EU+EFTA combined market share halved from 0.6 to 0.3 per cent.
One of the major causes of the collapse in Europe was the decision to save money by giving the DS 3 another facelift rather than replace it. The other reason for this could of course be that the project for a successor model was delayed at some point – but why? The DS3 was a highly competitive and successful car during the years following its release in March 2010 as a Citroën.
A facelift and rebranding as the DS 3 was announced in May 2014 and the car sold well for a time as an alternative to the three-door Mini and its convertible derivative. Then came the second restyle just under a year ago. The market was expecting a new car, not this second set of styling tweaks. DS will have to live with seeing sales keep falling until the replacement appears.
Not a good year in China either
Things aren't looking too good in China either. The overall market rose by 14 per cent in 2016 to 28 million vehicles but DS was not a brand which enjoyed its share of those gains. The model range is different to what is sold in Europe, comprising the 4S, 6 and 5LS, though the 5 is built and sold in both regions. Outside China, there is the 3, 4, 4 Crossback and 5. Eventually, the ranges should be common worldwide, with the sole exception of a future large sedan being probably only for China.
Data supplied by CAAM show the division delivered 16,156 locally made vehicles, a 26 per cent decline compared to the already disappointing total of 21,725 for CY2015. The brand fell nine places in 2016 to 62nd position. At least it was ahead of Fiat (12,699, -60%) and way in front of Jaguar (5,644). Only numbers for Chinese-made cars are provided by CAAM. In any case, the number of imported DS cars is tiny due to a 25 per cent tax.
Demonstrating just how strong the preference for SUVs and crossovers is amongst Chinese buyers, the DS 6 was the top seller, even though its total of 10,004 was down 34 per cent on the number delivered during 2015. Its ranking in the sales charts was a sobering 283rd position. The 5LS comes next, with deliveries of 3,151 (-37 per cent, 370th position), followed by the 4S (a new entry) and the 5 (1,229, -4 per cent). All four of DS' Chinese market models are manufactured at the CAPSA plant in Shenzen which has a capacity of 200,000 vehicles per annum.
All of the above makes for fairly depressing reading. It needn't be, as long as PSA Group is committed to spending what is needed to make this division one which could eventually deliver double digit profit margins. In an ideal world, a big injection of funds from the French state, the Peugeot family and Dongfeng Motor, the three main shareholders, would be taking place. This OEM is yet to become handsomely profitable again after some troubled years following the Great Recession, so there is something of a Catch 22 going on.
All in all, the company is probably doing the best that it can with limited resources. In that regard, you can see why PSA Group insists that it is still very early days for DS and that to judge the brand a success or failure right now is wrong. Like HMG's Genesis division, which also started off selling rebadged cars from other group brand, DS needs until around 2020 before we can really rate its performance.
Needed: SUVs and a five-door DS 3
The electric coupe concept pictured above probably reflects how the front end and interiors of the brand's future SUVs will look. If instead PSA thinks it should soon introduce such a vehicle as a rival for Groupe Renault's forthcoming Alpine sports car, then DS really is in serious trouble. Acura shows the folly of what happens when you place a high-priced sports car at the top end of your range but then ignore the segments where the true profits lie. Audi didn't launch the TT or R8 until more than a decade into its rise as a proper challenger for BMW and Mercedes-Benz.
As long as DS is given a slow, steady stream of new cars, crossovers and SUVs, it could well flourish. The urgent requirements are additional SUVs for the CAPSA plant in China, and the second generation DS 3 for Europe, as well as something to take on the Audi Q2 and that brand's other Q vehicles.
Current and future models – what's what
The 'DS 3 Crossback', a potential additional future model which could be a B segment SUV, might well be the first vehicle for the forthcoming platform being co-developed by PSA and Dongfeng Motor. The partners announced the project for a shared architecture at April 2015's Shanghai motor show. No models were named.
The Common Modular Platform (CMP) will become a new generation architecture for the B and C segments. CMP is to be based on what PSA once referred to in media releases as its EMP1 modular architecture but that name is no longer used.
The project calls for capital expenditure of €200 million, of which 60% is being committed by PSA and 40% by DFG. A liaison team of DFG engineers is located located at PSA's Vélizy R&D centre south of Paris, within the main project team. The co-developed model will be built in France at Poissy alongside the second generation DS 3, and likely in China too.
At the presentation of the DPCA strategic plan on 11 May 2016, Carlos Tavares and Zhu Yanfeng, the respective chairmen of DPCA's two company shareholders, signed an agreement to design an electric version of the Common Modular Platform (CMP). This future electric platform (e-CMP) "will deliver a worldwide offering of all-electric, high-performance B and C segment vehicles for the Peugeot, Citroën, DS and Dongfeng brands from 2019". DS is likely to have the first car for this platform. This could well be a version of the proposed DS 3 Crossback.
The next DS 3, as well as the second generation Peugeot 208 will also use CMP. There should be a three-door, a cabrio, a five-door and plug-in/EV/electric variants of some of these. The second generation DS 3 is due to be built at Poissy in France but the latest indications are that this won't take place in 2018 after all, and may not appear until 2019. It should have a seven-year life with a facelift after four years. This will mean a nine-year lifecycle for the existing DS 3 if we include its early years as the Citroën DS3.
B75, the DS 4, has not been too successful. While its looks have brought many admirers, there are flaws such as rear windows which cannot be lowered, plus it is also based on an old architecture so the chassis dynamics feel dated. This five-door hatchback crossover is more or less a rebodied and premium-priced Citroën C4: it is 60mm shorter and 20mm wider than that model. The DS 4 will probably be phased out and not directly replaced. That may happen as soon as 2018.
The 4 Crossback probably won't have a successor either. This car is a low volume rival for the Volvo V40 Cross Country. The Crossback had its global debut at the Frankfurt motor show in September 2015, as did the DS 4. In the case of the latter, this was a facelift and a renaming of the former Citroën DS4.
PSA confirmed in July 2015 that Mulhouse would be the production location for an additional DS model. The French plant has had €400m spent on its modernisation.
As part of the upgrade to Mulhouse, the Peugeot 2008, Citroën C4 and DS 4 were shifted to single-flow production in June 2015. "The newly freed-up production line will be entirely renovated over the next 15 months to integrate the new EMP2 modular platform dedicated to the Group's future C and D segment vehicles," PSA stated to the media in July 2015.
Things can be confusing when trying to follow the brand's worldwide C segment range. In China, but not in Europe, there is another car, the 4CS. This model had its world premiere at November 2015's Guangzhou motor show. The 4S is in fact a rebodying of the Peugeot 308. It began to arrive in Chinese DS dealerships in April 2016.
Production of the 4.4m long 4CS takes places in Shenzhen. A facelifted model is due in 2019 and a replacement in 2023.
There might be an EV version of the 4S' successor, with that car being based on the electric version of CMP.
Yet another vehicle in the C segment will be what is being tentatively called the DS 4CS. This is expected to be a crossover, based on the future Citroën C-Elysée Cross. These model names are speculative but DS 4CS has been trademarked by PSA. The DS 4CS would be built in China and released there first, though it should be made and sold in Europe too.
The big news for this year should be the debut of an SUV for European markets. This model may be revealed at the Geneva motor show but production would likely not commence until the final quarter of 2017. The model name is not yet known but the vehicle should be around the same size as the Audi Q3.
In the class above the various Compact models sits the DS 5. This is the former Citroën DS5. It and the DS 5LS are different models. The 5 is a five-door hatchback whereas the China-only 5LS is a sedan.
What started life as the Citroën DS5 had its world premiere at the Shanghai motor show in April 2011. The car for the Chinese market was the first vehicle to be made by CAPSA (Changan Auto-PSA) at the partners' joint venture plant in Shenzhen. Production commenced in June 2013. All DS cars are retailed through a bespoke CAPSA sales channel.
A facelifted and renamed model had its world premiere at the Geneva motor show in March 2015. The name changed from Citroën DS5 to DS 5, and there were new engines. This car went on sale in Europe from June 2015. Three months later, China's facelifted model had its debut at the Chengdu motor show.
The DS 5 replacement would be most likely to use PSA's EMP2 architecture. There won't be a successor for the diesel-electric hybrid. The next generation model will likely become a crossover rather than a direct successor for today's five-door hatchback. The car is due to enter production in China and France from late 2018 though this could be delayed until 2019.
As noted in the previous section, the 5LS is a different car to the 5. This D segment-sized sedan was revealed to the media at an event in Paris in December 2013 yet it is built exclusively in China by CAPSA. Local market sales commenced in March 2014.
The 5LS is not a sedan version of the DS 5 as some claim. Rather, it is a rebodying of China's first generation Citroën C4 sedan. A facelift is scheduled for mid-2017. As this model has not been a success, its lifecycle may end well ahead of the planned date of 2021. No direct successor is expected.
The most successful vehicle in China is the DS 6. This crossover was previewed by the Citroën Wild Rubis, a 4.7m long concept which premiered at the Shanghai motor show in April 2013. A pre-production model, the DS 6WR, appeared at April 2014's Beijing motor show. It was 4,550mm long, 1,860mm wide and 1,610mm tall, making it slightly longer, wider but lower than the Peugeot 5008. Despite its size, PSA says the production model competes with the Audi Q3 and Mercedes-Benz GLA-Class. The 'WR' part of the prototype's model name was dropped.
The Wild Rubis was said to be powered by a 165kW (225hp) 1.6-litre petrol engine and 70hp electric motor, with the DS 6WR also a PHEV. However, the production model is available only with the choice of 160- and 200hp 1.6-litre petrol engines. All-wheel drive is available. The 6 had its world premiere at the Chengdu motor show in September 2014 and went on sale later that month.
The DS 6 would in theory sell well in Europe but neither a manual gearbox nor a diesel engine are available, plus PSA would be wary of importing vehicles from China given how much trouble could be stirred up in France from such an initiative.
CAPSA should start selling a facelifted model in 2018 and replace the DS 6 in 2021 or 2022. That vehicle would swap the current car's PF 2 platform for PSA's EMP2 architecture. At this point, the same vehicle will likely also be made in France. The plant in question would probably be Rennes-la-Jannais.
The start of the revival of DS in China is set to commence from April. That's when a new top-end model for the brand will be revealed at the Shanghai motor show. The DS 8 (it might instead be badged DS 9) is expected to be the name of this luxury car which should be closely related to the second generation Citroën C6. The styling is likely to be influenced by the Citroën Numéro 9, a concept which premiered at the Beijing motor show in April 2012. This followed another design study, the Metropolis, an enormous yet elegant concept which was displayed in France's pavilion at the World Expo in Shanghai between May and October 2010.
The 8/9 is likely to be built in Shenzen at the CAPSA joint venture plant, with production rumoured to be due to start in August. Given how small any sales volume would be in Europe, build will be limited but exports to France as well as to a few other countries should not be ruled out.
Summary
Can DS be stabilised and eventually, greatly expand its sales? Certainly. The division needs fresh products to replace the ones which had formerly been Citroëns (DS 3, DS 4 & DS5), while a big limousine for China in the style of the Lincoln Continental could do wonders in demonstrating just what DS wants to be.
By 2020, this brand ought to have a line-up which stretches from the 3, to a group of SUVs in the C, D and E segments (think Audi Q2/Q3, Q5 and Q7), as well as a DS 8 or DS 9. EV and PHEV derivatives of most of those vehicles would also be offered.
If Groupe PSA is already putting such plans in place, and there is certainly much evidence to suggest that it does see what needs to be done, by 2025, DS could well be a true French luxury brand. Should the parent company instead think it can do things cheaply and simply put different bodies on existing Citroëns or Peugeots and not give DS its own, more sophisticated and/or advanced powertrains, then things may work out quite differently.
Future model plan reports for other manufacturers can be viewed in the OEM product strategy summaries section of just-auto.com.
Future product program intelligence
More data on vehicle lifetime and future product plans is available in PLDB from QUBE.