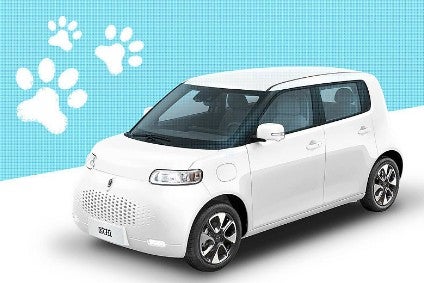 In this first of a two-part series, the existing and next generation models of Gwm's Pao and Ora brands, along with Great Wall itself, are examined. The second chapter, to be published later this week, will be all about Wey and Haval.
If we pay too much attention to car market gloom in Europe and the Americas it's easy to miss what's been going on in the biggest market of all for more than six months.
Great Wall Motor has just told us that global deliveries rose in 2020 thanks mainly to the ongoing expansion of the Chinese economy.
December was another strong month for GWM, the worldwide total for Pao, Ora, Great Wall, Wey and Haval reaching 150,109 units, a year-on-year surge of 42%. Of all those vehicles, 105,485 were Havals, the SUV division accounting for 750,228 of the group's 1,111,598 annual total (+5%).
Great Wall's pick-up line had an outstanding year (225,002, +51% including the sole Pao model), and a big December (21,636, +40%), while Ora ended 2020 with 56,261 cars delivered (+45% thanks also to the addition of several models).
Keeping the momentum going will be the main task for this year. GWM also continues to expand certain brands into multiple countries, reducing an existing reliance on the home market. Let's take a look at what's coming next.
Pao
In July last year, GWM told the media that it would introduce a full-sized pick-up (almost 6 m long and 2.1 m wide) in 2021. It isn't known which of the group's brands the model would be for but logic suggests it should be Pao, a premium pick-ups division, although Great Wall is another possibility.
The unnamed vehicle will be powered by a mild hybrid 3.0-litre turbocharged petrol V6, GWM says. Power and torque are 260 kW (354 PS) and 500 Nm (360 lb ft), the transmission is a nine-speed automatic and there will be pneumatic suspension.
Production is likely to be at GWM's Yongchuan (it can also be spelt Yangchuan) plant in Chongqing province. The pick-up's architecture should be the 'Tank Platform' which the company also announced in July 2020. This ladder-frame chassis is understood to be a newer name for the existing P71 architecture.
For the Pao brand's other model, please see link to PLDB below.
Ora
The Haomao, also known as the Good Cat, is a 4,235 mm long EV and Ora's latest model. Its looks are distinctive thanks to large circular headlights and there is a charging flap in each of the front wings. The car's world premiere took place at the Chengdu motor show in July 2020.
A motor with outputs of 105 kW and 210 Nm powers this five-door hatchback, with buyers offered two choices of battery: 47.8 kWh lithium iron phosphate with a 400 km NEDC range or a 59.1 kWh ternary-lithium pack with a 500 km claimed maximum.
This was also the first model for Great Wall Motor's Taizhou manufacturing base. Production commenced in October with the first cars delivered to customers in China during the following month. There should be a facelift in three years' time and a successor in 2027.
The R2 White Cat was the other Ora model released in 2020. Also a hatchback, the 3,625 mm electric car hit the Chinese market in July. There is a choice of two motors and two CATL ternary-lithium battery packs, these being:
34 kWh battery, 48 hp and 125 Nm motor, maximum NEDC range of 360 km
38 kWh pack, 61 hp and 130 Nm motor, maximum range of 401 km
While it doesn't look quite as radical as the Good Cat, the White Cat (see pic) does have a similar styling theme going on at the front end, with a vast number of tiny circles for an effect not unlike a colander. There will likely be some battery pack upgrades in the coming years, along with a facelift in 2024. The next generation is due in 2027.
GWM is, for the moment at least, keeping Ora as a special brand solely for the Chinese market. The link at the end of this report for PLDB is where data for other Ora cars can be found.
Great Wall
The decision to phase out Great Wall cars and make this marque one for pick-ups has been a roaring success. And even though there is only one passenger vehicle model, this, the Wingle 7, keeps breaking sales records. It is also being gradually introduced to ever more countries. One of the more recent ones was Australia, where the importer launched it as the Great Wall Ute, a successor to the Steed.
This model, introduced to the Chinese market two years ago this month, uses an extended wheelbase version of the older Haval H9's ladder-frame chassis platform. The 7, which replaced the aged Wingle 6, comes in standard and long-wheelbase forms. Dimensions are respectively 5,095 or 5,395 mm, 1,800 (width of both), 1,760 (height) and 3,050 or 3,350 (wheelbases). The sole engine is a 2.0-litre diesel which produces a claimed 110 kW and 315 Nm.
A prototype of a potential Wingle 7 EV was exhibited at the Shanghai motor show in April 2019. Plans for a fuel cell derivative were also announced.
With General Motors agreeing a deal to sell its Rayong plant to GWM in February 2020, the Wingle 7 could be manufactured in Thailand too. The sale deal closed in October 2020 with GWM announcing its intention to commence production in the first quarter of this year. The company did not name a model or models but did say that the retooled plant would be making up to 80,000 pick-ups, SUVs and cars per annum. It is thought the majority or possibly all will be for the Thai, South African and Australian – as well as certain other right-hand drive – markets.
Please see PLDB for details of the Wingle 7's life cycle.
Reports for many other manufacturers' future models are grouped in the OEM product strategy summaries section of just-auto.com.
Future platform intelligence
More detail on past, current and forthcoming models can be found in PLDB, the future vehicles database which is part of GlobalData's Automotive Intelligence Center.