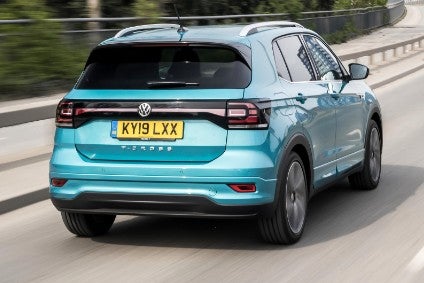 Until now, Europe's B-SUV segment has been missing the biggest brand of all. Volkswagen has timed the arrival of the T-Cross well too, as not one of the most successful incumbents is even close to being new.
Let's first take a look at the best sellers in this class, which can be roughly defined as containing front- and/or all-wheel drive five-door crossovers and SUVs, each of which is somewhere between 3.9 and 4.3m long.
B-SUVs – lots to choose from
One of the earliest was the Suzuki SX4 from 2005, followed by the Kia Soul in 2008, Toyota ist/Urban Cruiser in 2009 and then the Nissan Juke in 2010. Two years later General Motors launched the Chevy Trax, Buick Encore, Opel/Vauxhall Mokka while Ford came up with the EcoSport, initially for South America only though. Then came the Peugeot 2008, Honda Vezel/HR-V and Renault Captur in 2013, Jeep Renegade, Haval H2, SsangYong Tivoli, Citroën C4 Cactus and Hyundai ix25/Creta in 2014, Fiat 500X and Mazda CX-3 in 2015 and then in 2017, the SEAT Arona, Kia Stonic and Citroën C3 Aircross. Volkswagen AG has watched each of these arrive and, with one exception other than the Arona (the Škoda Kamiq isn't yet on sale), continued to watch.
Three years will soon have elapsed since Audi launched the Q2, unchallenged by any rival (the X1 and GLA being C segment models). That only makes it doubly puzzling as to why Volkswagen the brand has until now been content to let others control the B-crossover/B-SUV segments. Of course, it has been busy in other size classes and has arguably the world's most extensive line-up of crossovers and SUVs.
Volkswagen – big in SUVs
Here is a summary of global VW models either in production or on the way:
cross-up!
T-Cross
Golf Alltrack
T-Roc
T-Roc Cabrio (2020)
Tharu
Tiguan
Tayron
'Tayron Coupe' (heralded by the SUV Coupé Concept, due in late 2019)
ID. Crozz (late 2020)
Tiguan Allspace
Passat Alltrack/Magotan Alltrack
Touareg
Atlas X Sport/Teramont X (Q4, 2019)
Atlas/Teramont
'SMV' (5.1m long SUV for FAW-VW, late 2019)
Some readers might argue that certain models shouldn't be on that list and that others (Beetle Dune, C-Trek, Jetta VS-5 and Jetta VS-7) should be. In any case, what cannot be disputed is the sheer number of vehicles that the brand already has, let alone the others which are coming soon.
Market share – the only way is up
The arrival of the T-Cross will likely mean that Volkswagen pushes itself above the 11.5% share of the European market with which ACEA said the brand ended 2018. VW closed the first quarter with 10.5% due mainly to WLTP compliance issues with so many of its models. That situation is said to be just about finally resolved. Rivals will therefore be bracing themselves for the region's heavyweight being back up to full strength – surely an unsettling prospect.
May – first full month of sales in China and Europe
The big question then as the VW brand enters the B-SUV class is just how good a product the new T-Cross is. In short, it's very good indeed; possibly even best in class. Sales numbers for the big EU markets are coming in as I type this (but not yet for the UK and Germany) and the little SUV got off to a strong start: 1,852 in France, 1,020 in Italy and 589 in Spain. May will be the first full month for all these countries and for China too.
Built in Spain, China and soon, Brazil
For such a small model, the T-Cross is going to be a big deal. Production is already taking place in Spain and China, with Brazil (São José dos Pinhais/Curitiba) to be added later in the year. The European region's model is 4,107mm long and manufactured in Pamplona, while the T-Cross made in Changchun by SAIC VW is longer, as is its wheelbase: 2,649mm versus 2,564.
The decision to build the T-Cross at Pamplona was an important one: not only is this the lead plant but until recently, the Volkswagen Group had only ever produced the Polo there. There was a major investment, with capacity raised from 244,000 cars per annum to 350,000 so as to accommodate the addition of the B segment SUV. The firm spent around a billion euro adapting and updating the facility for production of the sixth generation Polo and first generation T-Cross. The two models share a wheelbase dimension but the SUV is 54mm longer than the Polo. And while VW markets the new model as an SUV, like the Polo, it is front-wheel drive only.
T-Cross for North America too?
Europe has it, China has it, South America will have it soon. However, Volkswagen of America is not expected to sell the T-Cross, at least initially, even though many dealers want this model as a challenger for the Jeep Renegade, Hyundai Kona and Chevrolet Trax.
To succeed in the USA, the little SUV would likely need to be offered with a larger engine than what is currently in the line-up. So far at least, there are four choices: 70kW/95PS 1.6 TDI four-cylinder diesel, 70kW/95PS 1.0 TSI three-cylinder petrol, 85kW/115PS 1.0 TSI three-cylinder petrol and 110kW/150PS 1.5 TSI four-cylinder petrol. In Britain, the launch range consists of the 1.0-litre unit only. Will the diesel or the 1.5 petrol be added? Volkswagen isn't ruling out either alternative, the official position being that demand for diesel in this segment is minimal.
Two manual gearboxes plus DSG
There are four trim levels at launch, these being S, SE, SEL and R-Line. If you want the 95PS engine, then the only transmission is a five-speed manual but choose the 115PS version and there's another ratio as well as the option of a seven-speed DSG. Prices start at GBP16,995 (S, 95PS, five-speed) and rise to GBP25,055 (R-Line, 115PS, DSG).
I found the standard specification to be somewhat curious. Certain items which you'd think would be present, such as grab handles and electric folding for the mirrors being absent, even on the priciest model grades (power mirrors cost GBP160).
A cynic might say every little helps to rebuild the coffers depleted by Dieselgate. There does seem to be a fair bit of evidence for that theory: even Škodas seem to be getting expensive and equally lacking in the once generous levels of convenience features. Does this matter to the people who typically buy Volkswagen Group vehicles? Seemingly not, as there are strong waiting lists for many models and even with what look to me to be steep prices, there is no doubt that the T-Cross is going to be a big success.
Interior – just like a Polo
I don't want to appear too harsh when it comes to what you get in any T-Cross, as things such as the typically well-designed Volkswagen interior are present. Pretty much everything reminds you of the Polo and that's a very good thing. Sure you can see where corners were cut but even though the handbrake's position (that's right, no electric switch) hasn't been swapped for RHD, it's not awkwardly positioned. You also will not find a push-button start although it's an option. Instead, it's a key and what's wrong with that?
Sadly, where I had hoped to see a spare tyre or at least a space saver when lifting the boot floor panel, there is instead a compressor and the dreaded goo. These are positioned inside a deep, circular well.
Anyone wanting a standard reversing camera will find that disappointment awaits, even for the R-Line. Instead, it's a system of beeps and lines on the touchscreen which Volkswagen calls ParkPilot. Funny how you come to expect the nice things: I love the sound of the VW badge flipping up when reverse is engaged on so many of the brand's models. Oh well, it's not as if the T-Cross is a massive vehicle anyway, and ParkPilot is perfectly adequate to help avoid nudging the vehicle behind.
One of the few times you can genuinely feel that someone stated very firmly that an inferior solution would be all that's offered is the tailgate trim. Reach to place your fingers on an unseen handle and what you feel is close-to-sharp grey plastic. Not nice. This isn't a ten thousand pound car, it's a twenty to twenty five thousand one and that's not good enough.
I can live without the nice felt lining that you usually get with Volkswagens in what are admirably deep and wide door pockets but that near-spikey boot plastic needs sorting out, especially as nowhere in the car does any other piece of trim feel or look anything but very good indeed.
A mini-SUV for people who love driving
Forgetting the disappointments, there is a great deal to love about the T-Cross. First impressions are of strong-feeling doors that thunk satisfyingly, a pleasant gear-change action lacking any vagueness and if you go for the twin-clutch alternative, it's smoothness all the way, even when parking: yes, Volkswagen does seem to have finally cured the former woes which could bedevil some of its DSGs.
The steering is another plus, with good weighting to it and an admirably small turning circle. The ride is also first rate and how about this – here is a small SUV which is a genuine pleasure to be driving on fast, empty roads. My choice would be the six-speed manual 115PS version of the 999cc turbo engine. It seems to love being revved and the red zone doesn't arrive until the 6,500rpm mark.
A few other quick facts: the fuel tank takes 40 litres, weight is 1,200-1,300kg depending on trim level, the boot has 385 litres of capacity or another 70 if you slide the back seats forwards, top speed for the 155PS engine is 120mph and 0-62mph takes 10.2 seconds (both transmissions), the CO2 average is 111/112g/km and Combined economy is 45mpg (WLTP).
Summary
Even with the criticism noted above, the T-Cross is a mightily impressive new model and I can see it causing a lot of angst for the makers of the 2008, Captur, 500X and Renegade. Ford's Puma will have to be very good indeed if it wants to make a stronger impression in this segment than the EcoSport has.
If Volkswagen isn't the new leader in Europe's B-SUV segment then it's pretty damn close. In Germany, and likely in Britain too, the T-Cross is really going to shake things up.