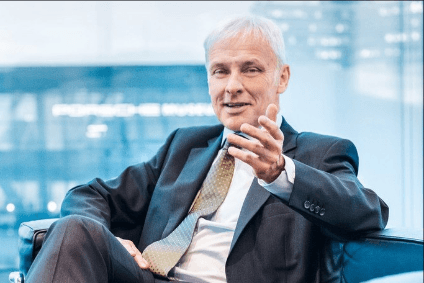 Volkswagen Group pushed expected liabilities from the diesel scandal into the 2015 accounts, so that it can make a new start with a new boss and a new organisation, writes Ray Hutton. However, 2016 is nevertheless shaping up to be a challenging year for the company.
"We lost 4.1 billion euros but otherwise it was a pretty good year." That, in paraphrase, was the message from Frank Witter, Volkswagen's finance chief, at the VW Group's media and investor conference held last month.
What a difference a year makes. At the annual business review in March 2015, there was an air of supreme confidence. Chief executive Martin Winterkorn presented a set of record results and was able to claim that it had already achieved most aspects of the ambitious Strategy 2018 which was to make the Volkswagen Group the world's number 1 car company.
This time, the mood was sombre and the tone apologetic – and everyone knew why. "Dieselgate" has been Volkswagen's undoing. Martin Winterkorn has had to fall on his sword. Matthias Müller, the rather dour former CEO of Porsche, took his place at the centre of the dais, surrounded the management board, which included new arrivals Herbert Diess, ex-BMW and now head of the Volkswagen brand, and Christine Hohmann-Denhardt, the Group head of Integrity and Legal Affairs, parachuted in from Daimler to deflect harm from the German automotive industry as a whole.
Müller accepted that, for the moment, Volkswagen's dreams of world domination are over. "The drive of previous years has been interrupted. We must have a different strategy this year. The most important thing is to regain trust and credibility; all else takes second place."
You have to feel a bit sorry for Müller, who was an outside contender for chairman and chief executive if Winterkorn had served until his retirement but found himself in the job as the board member at most distance from the diesel scandal. Müller has gone from running Porsche which has record sales (234,500 in 2015) and the best return on sales in the group, at 15.8%, to move to a huge business in disarray.
Witter, in charge of the numbers, was right to point out that the underlying business was in good shape, with 2015 revenue of EUR212.3bn and an operating profit of EUR12.8bn 'before special items'. The diesel issue accounts for EUR14.8bn of those special items, including EUR7.8bn for fixing the eleven million cars thought to be fitted with 'defeat devices' to circumvent emissions tests, and compensation and re-purchasing cars in the US. Another EUR7bn was earmarked for associated legal and administrative costs.
It was admitted that they could not be sure those sums would be adequate to deal with all aspects of the diesel issue but they represent "all known and quantifiable repercussions". Clearly, Volkswagen wants, if it can, to cover the matter entirely in the 2015 accounts, so that it can start afresh. Because the various pay-outs have not yet been activated, the group ended the year with an EUR24.5bn cash pile.
No-one on the board was prepared to say precisely how and when the cheater diesel engines (mostly four-cylinder EA189, used across the group) would be fixed. The details of the agreement made with the US government are supposed to remain confidential and there has been a delay in receiving approval from the German authorities for the fixes on cars in Europe. So far only the VW Amarok pick-up has been subject to the 'service action' but owners of Audi A4 and A5, Seat Exeo, and VW Golf Blue Motion models have recently been invited to take their cars to the dealer for modification. For the 1.2 and 2 litre diesels this is simply a software update but the 1.6 needs a small modification of the inlet manifold. The mainstream Golfs, the most numerous of the cars affected, will come next but VW has yet to gain approval for the changes proposed for Passats. Müller said that it was hoped to complete all the work by the end of this year but "it might extend into the first quarter of 2017".
He made it very clear that, because they were confident that fuel consumption or performance would not be affected by these modification, there was no question of buy-backs or compensation for owners in Europe.
As well as being short on detail of what was to be done, there has been no explanation of how and why the defeat devices came to be used and who was responsible. There was no mention of the senior technical personnel who have been suspended or left the company. Müller said it was "with regret" that the expected interim report from the Jones Day law firm could not now be published. This investigation was commissioned by the Volkswagen supervisory board, chaired by former finance director Hans Dieter Pötsch, and its conclusions will not be made public until the end of this year.
As already announced, Müller has called for a full-scale restructuring of the group following the diesel scandal. His Strategy 2025 particularly addresses the organisation of product development, bringing in a cross-discipline and cross-brand matrix system, and puts more emphasis on regional management. That is intended to provide models to meet to meet the specific needs of different markets, such as the mid-size SUV for the US and the Phideon replacing the VW Phaeton in China.
One surprise was Herbert Diess' announcement that the long-discussed 'budget car' (which Winterkorn wasn't keen to do) will be produced in China by VW-FAW and sold there under a different brand name.
Previously, Volkswagen has prided itself on having the biggest R&D budget in the industry. Frank Witter admitted that, with a return on investment in 2015 of just 0.2% (down from 14.9% the previous year), it must question all investment "except where absolutely necessary". Key areas where the budget will be maintained or increased include electrification (20 more plug-in cars by 2020, a new MEB modular 'toolkit', and a start of battery production in 2018) and digitalisation (for connectivity and autonomous driving – with three new 'Future Centres' in Silicon Valley, Potsdam and Beijing).
Of course, the annual conference did not address directly the question that has been hanging in the air since the diesel scandal erupted last September: has Volkswagen suffered irreparable damage and can it survive in its present form?
Matthias Müller has dismissed a question of whether it would divest its truck business (Fiat Industrial is thought to be interested) as 'pure rumour' and stressed that VW is not looking to sell any brands.
The chairman said at the annual review that Asia presented the best prospects for growth, albeit slower than in recent years, and that America would be a continuing challenge for the Volkswagen brand (though Audi and Porsche are still doing well in the US).
Müller ended this low-key summary of Volkswagen's turbulent year thus: "Volkswagen will emerge stronger from the present tense situation because we have a solid position on the operational side and our financial substance is strong. We know what needs to be done and we will do whatever is necessary." Which, I suppose, under the circumstances, is all he could be expected to say. He knows that VW faces a very challenging year under difficult conditions. What a difference a year can make.
See also: VW Group pre-tax profit down 20% in Q1