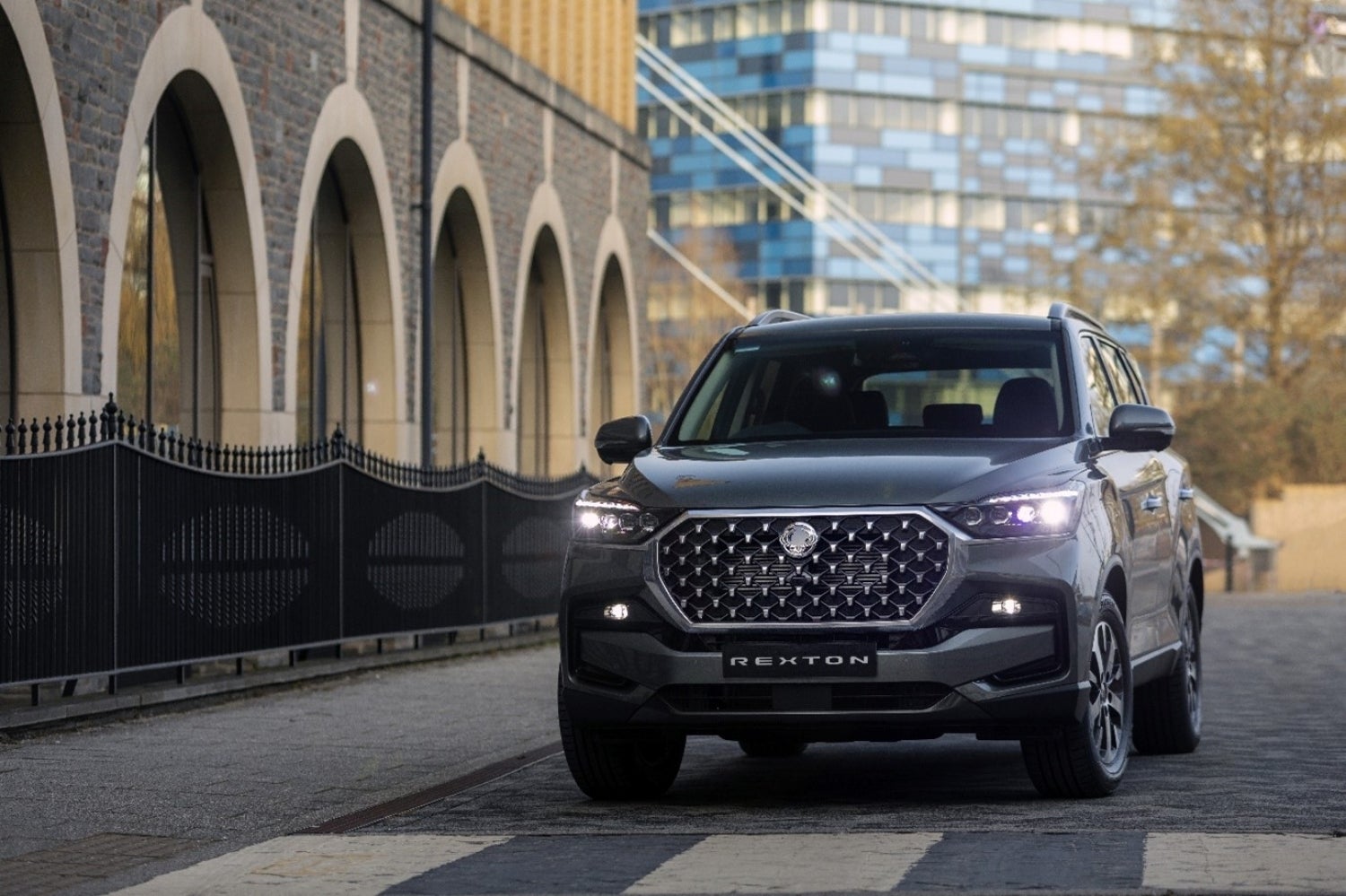 While it's hardly a vehicle (and a company) with a well-known name, the Rexton serves as a good example of why SsangYong deserves to survive. The current model has been given a few rounds of model year updates since its launch in 2017, the most extensive of which were for 2021.
Stand-out looks
A facelift announced earlier this year was more comprehensive than might have been expected given the cash constraints placed upon the company. It's money well spent, having made this large SUV even more of a stand-out model than it had been.
Nobody is going to mistake the latest Rexton for a generic 4×4 in the 4.8-5.0 m long size class. The changes include a prominent grille, new LED lights at both ends of the vehicle and fresh wheels.
Room for seven adults
There's a revamped interior too. That includes new digital instrumentation and infotainment system options plus redesigned centre and overhead consoles.
What hasn't changed is the generous amount of space for all occupants which the Y400 series Rexton has always offered. All versions for the UK come with seven seats and even those in the third row have a decent amount of lounging space.
An eight-inch touchscreen with CarPlay and Android Auto is standard, as is a heated steering wheel, electrically assisted and ventilated front seats (also with heating), TPU (faux-leather) upholstery and a rear-view camera.
As for safety equipment, there are nine airbags, automatic emergency braking, distance warning to the car ahead, lane departure warning, Front Vehicle Start Warning, Speed Limit Warning, Smart High Beam and Trailer Sway Control.
Stiffer body, less noise
The suspension feels more compliant that in pre-facelift versions, any frame platform being a notoriously tricky construction for chassis engineers to work with when it comes to comfort.
SsangYong reckons the Rexton now has a stiffer body and while there are no specific claims of softer springing and a less jerky ride, the test vehicle I recently tried felt better than previous examples. Of course it's not as sophisticated as the air-sprung Land Rover Discovery yet it doesn't cost anything like that model, which is about the same size.
Improvements which are immediately obvious are reduced engine and wind noise. The importer says the Rexton has a little less drag and highlights improved sealing around the doors as well as hydraulic engine mounts. Cabin noise at idle is claimed to be 44.0dB, while chassis vibration at idle is 95.0Hz.
Where the pre-facelift Rexton could seem a bit LCV-like in certain circumstances – not necessary a bad thing – the latest updates really do add refinement. The steering may still have more turns than in some monocoque architecture SUVs but it's accurate enough. Body roll is well checked too and despite lots of torque wheel-slip isn't an issue.
One engine, two trim levels
Trim levels are now called Ventura, which replaces ELX, and Ultimate. As always with SsangYong vehicles, you get a lot for what you pay.
Along with the facelift and new model grades, there's also changes for the engine. The revised 2.2-litre diesel now produces 149 kW (202PS) and 441 Nm (325 lb ft).
SsangYong quotes a CO2 average of 225 g/km WLTP, Combined economy of 32.9 mpg and a 0-62 mph time of 11.9 seconds.
Drive goes to the rear axle via an eight-speed Hyundai Transys automatic gearbox. This replaces a seven-speed one supplied by Mercedes-Benz. When conditions become slippier, drive to the front can be engaged via a dial on the centre console.
Outselling Jeep
The brand is still a small one here yet it's doing way better than might be imagined, all things considered. Volume is up slightly on the same period of 2020, deliveries numbering 1,432 for the year to the end of November (1,423 for 1 Jan-30 Nov 2020).
Some in the company have informally called SsangYong the 'Korean Jeep' and last month, an odd thing happened, which was that this brand outsold the Stellantis one. It was a close thing but nonetheless SsangYong (156) did indeed perform better than Jeep (155).
Supply issues are a major factor in the recent reversal of brand rankings but the Korean marque's achievement will have given the importer a thrill. Also, there probably will have been people who bought a Rexton or other available SsangYong not having considered the brand previously.
What next for the Rexton?
It's too soon to know precisely what the future holds for this model but even if SsangYong gains a new owner soon, what would logically be the existing plan should remain. That will presumably be a second facelift in 2023, and then a replacement in 2026, giving this generation a nine-year life cycle.
Where once SsangYongs majored on quirkiness and were often bought for the value they offered, increasingly, the brand's vehicles have gained a rising reputation for being tough, high quality choices. Now, a Rexton is luxurious too and more refined. The icing on the cake is a seven-year/150,000 miles warranty, which is close to the best of any in the British market.