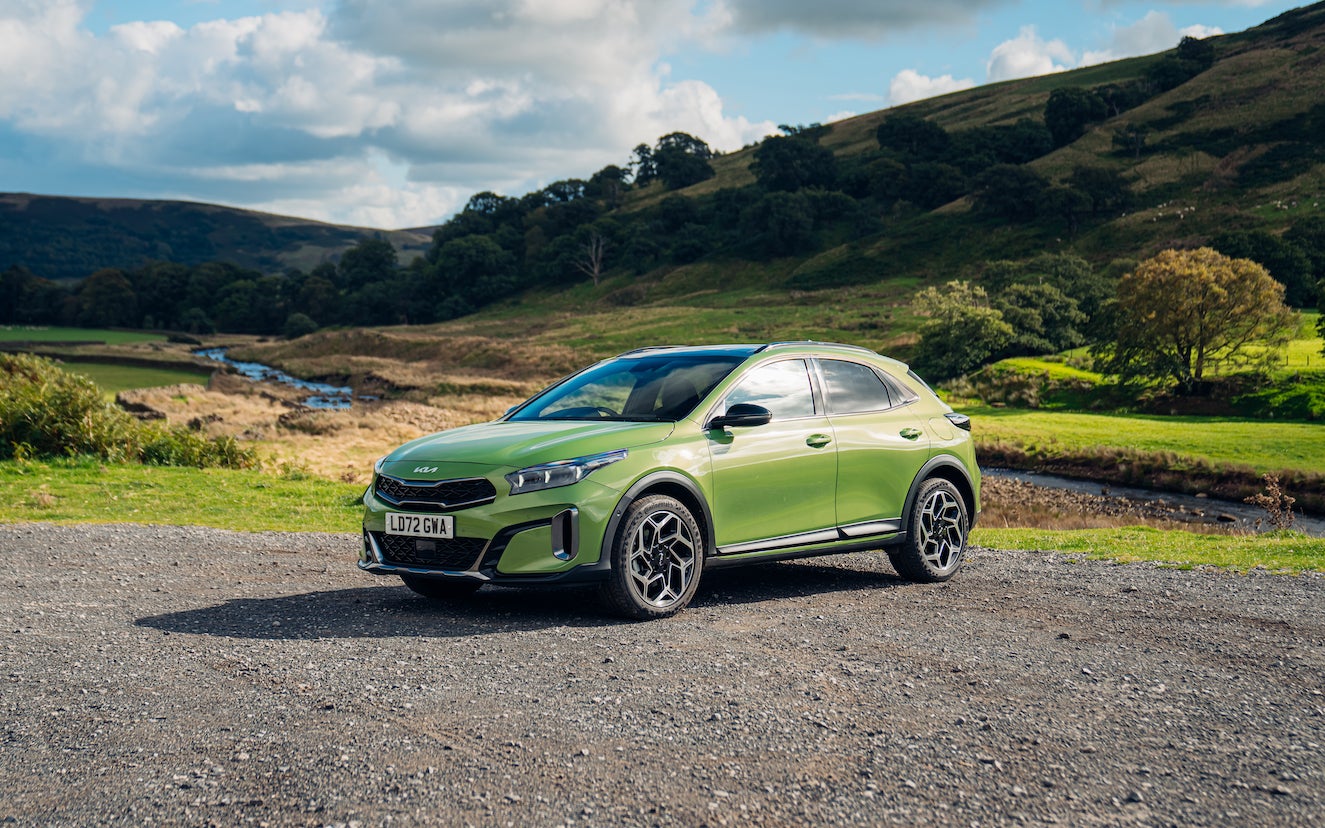 It didn't take long for the cross seed to germinate. Launched here three years ago, the Slovakian-made model now accounts for ten per cent of the brand's volume in Britain.
Sales of a facelifted model are just getting underway, with hopes high that the mid-cycle refresh will keep interest strong in the face of more intense competition.
Why ICE still matters
September was an especially interesting month here, as sales of electric and electrified vehicles fell. Many manufacturers keep deleting both diesel and petrol engines but Kia has been clever enough to keep an ICE option in the revised line-up.
There's no hybrid or EV with the XCeed, just the same 1.5-litre petrol turbo ('T-GDi') and 1.6-litre plug-in hybrid ('GDi PHEV') as featured pre-facelift.
New top-trim
Along with the changes to the inside and outside of the C segment crossover, Kia has added a new trim level: GT-Line S. This range-topping model grade is only for the T-GDi and succeeds '4', the designation for the pre-facelift vehicle's most expensive trim.
Along with GT-Line S, the petrol XCeed can be ordered in less expensive '2' or '3' trim levels. For the PHEV though, the sole trim is 3.
It's not easy to find a cheap Kia anything in the British market these days, the name now being way closer to VW than it once was. So it is that it's far from shocking to learn that a 1.6 T-GDi GT-Line S is now beyond the twenty thousands (it's GBP30,345).
Being a Kia, the new grade means an exceptionally good standard of features although even the base variants come well specified. I tried two examples at a recent media preview, the other one being a plug-in hybrid, its OTR price being GBP32,945.
Multiple powertrains but only two for Britain
Cars with the petrol engine have a 1,482 cc four-cylinder turbo which produces 118 kW (160 PS) and 253 Nm. Transmission choices are six-speed manual or seven-speed dual clutch automatic. As with all other variants, drive is to the front axle only.
There's an 88 kW (120 PS) and 172 Nm 1.0-litre three-cylinder alternative in certain other markets as well as two further choices aside from the PHEV. Also turbocharged (unlike the plug-in hybrid), these are a 150 kW (204 PS) 1.6-litre petrol and a 100 kW (136 PS) 1.6-litre diesel. Torque outputs are respectively 265 Nm, 280 Nm and 320 Nm. The latter two are each for the diesel, a DCT option meaning 40 more Newton metres.
What about the PHEV you ask? This one's 1,580 cc engine has a relatively lower power output of 78 kW (104 PS) and only 147 Nm but when the 44.5 kW motor's contributions are factored in, the totals are 104 kW (141 PS) and 265 Nm. As with power and torque, the capacity of the battery (8.9 kWh) is unchanged since the facelift.
Two-figure top speed
Not being too muscle-clad, the plug-in hybrid suffers a bit when it comes to performance. Perhaps revealingly, Kia quotes a 0-60 mph time (it's 10.6 seconds with the DCT) rather than the usual 62 favoured by almost every other brand. Similarly, top speed is not even in three figures (99 mph).
Of course the PHEV claws back its advantage in the official emissions numbers, Combined CO2 being only 32 g/km while the BIK tax rate is 12 per cent.
Even allowing for the unfair comparison of the GT-Line S having more standard gear compared to the PHEV 3, the petrol has a huge weight advantage (1,370 versus a hefty 1,594 for the plug-in hybrid). That, plus the extra power and torque, mean the top speed is 129 mph with zero to sixty taking 8.7 seconds.
The T-GDi is quite an efficient engine and as such, Combined economy is 44.8 mpg. CO2 isn't bad either, that being 143 g/km. Both are with a six-speed manual gearbox.
Each of these alternatives offers a tempting proposition to the usual bigger name brand C segment crossovers. It does have to be said though, that these days Kia is a mainstream marque. Its cars also offer really good interiors full of easy-to-live-with controls. Quite the contrast to all the I Demand Your Attention features in so many vehicles made by what had once been premium German makes.
Prices for the petrol XCeed start at GBP 22,995 while the PHEV costs GBP32,595.
What comes next
There's much more to come from Kia, the updated XCeed being a key part of a global plan to keep its crossovers and SUVs on short life cycles. This model, confined to Europe, should have a successor in the third quarter of 2025, by which time much will have changed for the brand's line-up.
A smaller electric SUV (project code: AY) is due around the same time as the next XCeed and this one will be manufactured in India. It may be exported to the EU and UK.
At the other end of the size scale is the 5 m long EV9. Production at Sohari 1 (Autoland Gwangmyeong) starts in April with vehicles due to be in Britain in the third or four quarters. The platform is E-GMP.
We should also see build of another electric SUV commencing next year, likely at the same Korean factory. 'MV' will be Kia's equivalent to the Hyundai Ioniq 7. It could be called EV7 or EV8.
Later in the decade, an EV4 should be added and in certain markets this would logically replace the Soul EV. And what will a theoretical EV5 be? Hard to say just now but possibly a 4.5-long crossover-coupé.
The brand's range being so young and fresh means there's always one model or other being rolled out: e.g. a new Niro is currently being launched worldwide in HEV, PHEV and EV forms.
Other models up for replacement during the next five years include the Stonic (2023); Seltos/KX3 (2025); Sorento, Telluride and India's Sonet (2026); plus the Sportage (2027 – the current NQ5 shape one is due a for a facelift in late '24).