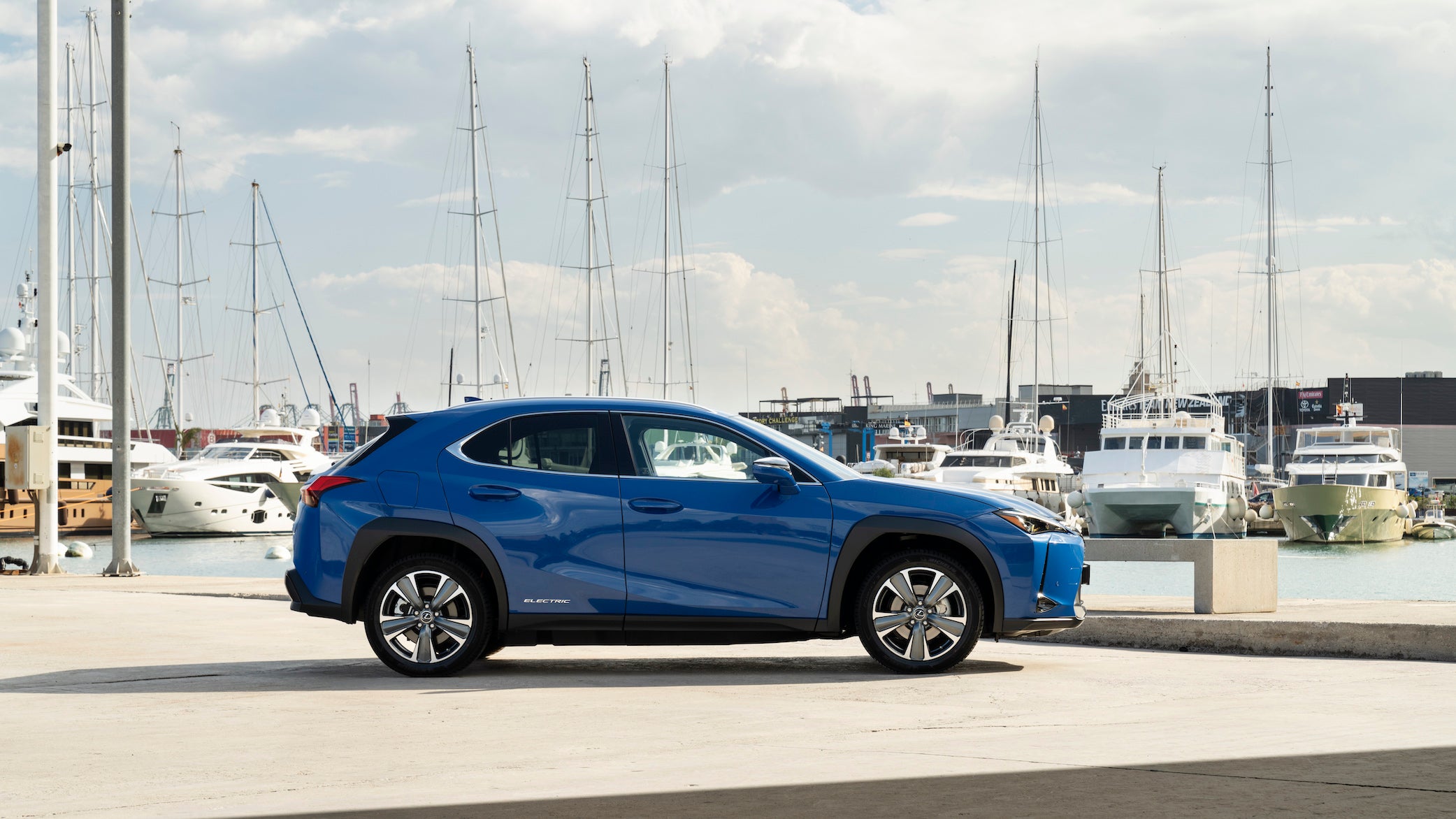 Until the arrival of this, the first electric Lexus, the UX has had something in common with almost every one of the brand's models, going back to the first LS 400 from 1989. That's incredible quality, refinement and durability but not much in the way of excitement.
Toyota took action on the second of those points when it decided to change the way the cars looked. Out when curves and in came angles as well as the so-called 'spindle' (i.e. humungous and great looking) grille.
Unfortunately, other things which had once been the best in the business were ditched, such as perfectly placed and precision-feel controls, their replacements often being haptic alternatives. Never mind, and in any case, some people do prefer them, I'm told.
Lexus does great big engines
We've also had the occasional mind-blowingly beautiful and menacing car from Lexus, the LF-A being the best example but the V8 in the RC F remains one of the best sounding in the business. Which makes it doubly sad that imports of the coupe to these islands ceased some time ago.
Unlike most other luxury brands and many high-volume global brands, Lexus and its parent firm are yet to commit to EVs in a big way.
There have been a few electric Toyotas but you get the feeling that Akio Toyoda doesn't want to bet the company (and its vast workforce in Japan and elsewhere) on plug-in cars. Which is why what I have been recently driving really is the first electric Lexus, and for now, there are no publicly stated plans to add many others.
Hybrid, PHEV and now EV
We all know that this brand is all about series hybrids, at least in our region. Almost every Lexus sold in the east, west, north and south of Europe – but not Russia – has an h after the numbers on the boot badge.
For a time there was the occasional d, and that still exists in some countries for a giant SUV (LX 450d) powered by a diesel V8, while h+ denotes a plug-in hybrid. Now we also have e, as in UX 300e and next year's larger RZ 450 e, also a crossover/SUV.
Let's discuss what the UX is before talking more about the new electric version. A 4.5 m long crossover, every variant is made in Japan by Toyota Motor Kyushu with the petrol, petrol-electric and electric ones rolling off the same line at the Miyata factory.
GA-C (or TNGA-C for Toyota New Generation Architecture) mentioned above is well known and underpins a vast number of Toyota and Lexus models produced annually. Next year we'll see TMC's first bespoke EV platform, which is called e-TNGA with the 'RZ 450e' likely to be the name of the first Lexus model to use it.
A tad smaller than a Q4 e-tron
Lexus Europe launched the UX at the 2018 Geneva motor show as an alternative to the Audi Q3, Bmw X1, Volvo XC40, Jaguar E-Pace and Mercedes-Benz GLA. Back then, there was no mention of the future electric UX and while some compare it to the ID.4 or Model 3, it's smaller than both.
The 'Urban Explorer' is closely related to the CH-R but despite sharing a wheelbase dimension, the Toyota is 15 cm shorter than the UX. Also, the littlest Lexus crossover's panels are all unique and mainly lightweight materials: the tailgate is constructed out of composites while the doors, bonnet and wings are aluminium.
The first variants were the UX 200 (only for certain countries) and a hybrid, the UX 250h. The 200 and 200 hybrid are powered by 2.0-litre four-cylinder petrol engines, each linked to a CVT.
In response to general consumer confusion, Lexus Europe refers to its series hybrid vehicle as a 'self-charging hybrid' and that does seem to have worked. The challenge now though is getting people to understand h+ and e.
No all-wheel drive availability
In the UX 250h, the battery comprises 180 1.2 V cells, giving a total voltage of 216 V and output of 24 kW with the pack itself positioned beneath the rear seat. Depending on the market, you can order either a FWD or an AWD version. That's not the case with the new electric UX, which is front-drive only.
Even though I say new, the brand's first EV was revealed at the 2019 Guangzhou motor show. That's because China is one of the main markets. Other places beside the EU-UK-EFTA region where it's available include Japan and selected other countries in Asia. You can't buy this car in North America, probably because of the sub-200 miles range.
Battery size: not too small, not too heavy-big
Even though the UX was developed for multi-powertrain applications, the layout of major components obviously differs. In the 300e, a 288-cell 54.3 kWh battery is placed below the passenger compartment with a single motor and relevant parts of the drive system under the bonnet. Power is 150 kW (204 PS) and torque is 300 Nm.
Range is anywhere between 140 and 190 miles depending on what size wheels you have, number of passengers, amount of cargo, how aggressive or passive the style of driving and which if any of the HVAC options are used. I decided to see what one would be like to live with for a week and it soon became my favourite EV (not that I've been too taken by any of the others, apart from the i3 and Zoe).
After each overnight charge I would see a claimed 186 miles in the digital instrument cluster. Pressing the A/C button changed that to 165 (oddly, that didn't happen if the mirrors demist, warm steering wheel or seat heating controls were activated). So the UX 300e is mostly honest from the word go then.
Compare the Lexus' low but no-lies number to some EVs and PHEVs which might drop the claimed reserve to a worrying level just as you drive past a motorway services.
By the way, something I like about the digi gauges is that not all of them are. The charge remaining is a fuel gauge complete with orange needle showing empty to full. There's even a little petrol pump, the hose of which ends in a two-pin socket. Who says big, rich Toyota Motor Corporation has no room for fun?
More character than the competition
The tiny touch of humour in the Lexus helped to endear me to the car, as did the honest range read-out. I've driven the Leaf and ID.3, a couple of similarly sized alternatives, and they left me fairly neutral. I really like the look of the VW, particularly from behind, with its Volvo C30-like blacked out bum and lack of me-too full width lights but the too-digital dashboard isn't great.
A couple of things were almost as unsafe and annoying in the UX. Toyota can get these things perfect, as the equivalent control in the Highlander proves, so why is the transmission selector level so dreadful? It's almost JLR-bad, something which happened when that OEM ditched its fantastic dial in favour of The Terrible Trigger.
In the UX, you can easily end up in a gear setting that you absolutely do not want. Switch from D to B for forced energy harvesting and then back to D. Simple, you'd think. But no, this delivers you to…neutral. Cue forceful prodding and apologetic waves to those you are delaying. Just like driving an otherwise hugely enjoyable Jaguar then.
Why change things which worked well?
Maybe things will change if enough reviewers and would-be buyers tell a sales person that a Mustang Mach-e has a way better design in the form of…an easy to twist and nice-feeling silver dial. Trouble is, on the big Ford fastback, to engage motor braking, you must press a B atop that dial when paddles would be better. Why is this simple stuff so hard to get right when it used to be something none of us gave a second thought to?
Now some observations about the better parts of the interior. The steering wheel feels great and is covered in soft leather or faux-leather. The test car had an appealing combination of grey plastic and brown fabric on the dashboard and there is a lovely analogue clock to the right of the dash-top screen.
Something else: the mirrors don't stupidly, automatically unfold at a certain speed if you've hit the fold button. Usually timed to hit those of the other cars squeezing past at 15 mph in the country lanes around where I live. BMW please take note. Maximum points to Toyota/Lexus then.
Potentially, the segment's best car
I have a please for the Japanese OEM though: lose the haptic controls and just give us back our buttons. Or even a touchscreen. Continuous, loud beeps are what happens should you dare to press Accessories with the driver's door open. This is far from a premium experience.
An estimated to to 25% of the people on the planet are reckoned to be highly sensitive like me: companies which push tech that overwhelms us are losing a LOT of business. We also love things which sound and smell and feel nice so taking those away is another fail. This is why I can't get on with Teslas as much as I want to. The first car company which exploits how we're wired will win big time as the word spreads.
If even some of these annoying-to-me things were to be tweaked at the time of next year's mid-cycle facelift I'd declare this to be one of the best electric cars on the market.
The 300e steers and rides beautifully although I did find myself wanting a tad less torque-tug from the front tyres though. Overall, this car can be highly entertaining and it's that rare Lexus: one that you want to head to favourite roads in.
The hybrid isn't nearly as much fun as the electric UX and nor is any EV in this size segment or the one above – at least not the ones I've had a go in. If Toyota (and most OEMs) would just take the noises and tech down a notch and let a driver enjoy driving or even starting a car, this could be the one EV which I'd finally be able to recommend to friends. I've been driving a Mustang Mach-e in recent days too and again, I want to love it but the digital stuff is intrusive. More on that very soon.
Rivals beware
It could be great, the UX 300e, and I'm determined to end this review on a positive note: Toyota Motor Corporation will get there with EVs. And it will be there sooner than many imagine. That this so-close-to-excellent car is the company's first attempt at an electric Lexus should scare the life out of Tesla, Audi, BMW, Mercedes and Volvo-Polestar.
The Lexus UX 300e will sprint to 62 mph in 7.5 seconds, its top speed is 100 mph and weight is 1,785-1,840 kg. Pricing starts at GBP43,900, rising to GBP53,500