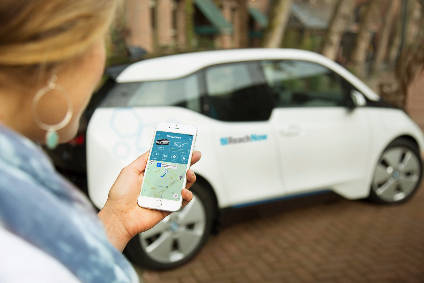 While car (ride) sharing has been around since the 1950s, it only really came of age in the 1990s with a number of small-scale schemes dotted across Europe and North America. Since then its use has become widespread in the shared economy. This research snapshot reviews some of the latest car sharing schemes on offer, prospects for self-driving car sharing and the implications for car interior design.
Car sharing schemes allow us to rent cars for a short period on an as-needed basis. The Daimler-owned car2go car sharing community has grown to exceed 2m, of whom 1.1m are in Europe. It is estimated that every 1.5 seconds, one of car2go's 14,000 vehicles worldwide takes a member where they need to go.
Who is doing what?
With the proliferation of the shared economy model, most automakers have a car sharing scheme on offer. For its part, Nissan is pioneering a shared car ownership service which will allow members (3 to 5 members per group) to part-own a Micra. A digital platform hosted by the automaker will match local groups (using social profiling and geo-location) with compatible driving needs. Members of the new scheme, known as Nissan Intelligent Get & Go Micra, will split the monthly parking and fuel costs in proportion to their actual use of the pool car. In order to join the scheme, they will be required to sign up for a 12-month contract. Annual membership fees include car insurance, servicing and access to an app regarding their car's availability and whereabouts.
Talking of apps, Jaguar Land Rover has launched InMotion, a new technology business that builds apps and on-demand services for the blossoming car sharing market. Although JLR owns InMotion, the start-up company operates independently from the carmaker.
Earlier this year, Magna International launched a pilot ride share programme using an SPLT app offering it to 1,700 employees who commute to four of its southeast Michigan locations. SPLT provides the app-based ride share platform which allows co-workers commuting along similar corridors to locate one another and share the ride to and from work using their own cars.
PSA Group recently launched Free2Move that unites all of its mobility solutions, namely car sharing, fleet sharing, smart (connected) services, and financial solutions for car leasing. And just last week, we learned that a new car-sharing platform from Mercedes-Benz will go online in December 2016. Croove is the name of the new app-based service that pairs up private vehicle owners and hirers. The Croove scheme will be launched in Munich to begin with and is open to any brand of vehicle.
Meanwhile, Toyota recently revealed plans to put a new car sharing service through its paces that allows users to lock and unlock doors, and start the engine with their smartphone.
An opportunity or threat?
While some view the rise of car sharing as a threat, leading to lower sales volume, a recently circulated research note from auto analysts at Deutsche Bank suggests the opposite. Analysts claim that the rise of car sharing could actually create new opportunities for automakers and that the view of a shrinking market could be incorrect.
The bank's team agree that the vehicle fleet will likely fall as vehicle utilisation rises, with population density serving as a key determinant of the size of the on-demand fleet. The net effect in the US could be to reduce the vehicle fleet by around 25m units. However, they point out that vehicles utilised more intensively will have a much shorter life-cycle – just three years for an on-demand and shared vehicle, they estimate. The higher rate of turnover of a smaller fleet would, according to the analysts, see sales volumes rise.
The researchers also maintain that under the car sharing scenario, the auto industry becomes less cyclical, as miles travelled, rather than the state of the economy and credit conditions, will drive sales volumes.
Self-driving car sharing
Taking car sharing to the next stage and merging it with the imminent prospect of self-driving cars appearing on a road near you, earlier this year GM and Lyft – a car share start-up – partnered to create an integrated network of on-demand autonomous vehicles in the US. GM has since invested in Lyft which operates a variety of lift and car sharing programmes using Mavern and Express Drive. Last summer, Lyft and GM further expanded their Express Drive short-term vehicle access programme to California and Colorado, to include the 2017 Chevrolet Bolt EV. In a surprise move, GM recently let it be known that it will partner with Lyft rival Uber to provide drivers with GM vehicles under its Maven car share umbrella. GM stated that Maven, General Motors' personal mobility brand, and Uber will team up "to provide people who want to drive and earn money on the Uber platform the option to lease qualified vehicles by the week or longer at discounted rates with no mileage limits." These moves are not the only example of automakers quickly forming alliances to avoid being bound by technology giants. Last year, Audi, BMW and Daimler teamed up to acquire Here, a mapping service, from Nokia, in a move that reduces their dependence on Google Maps.
Self-driving car sharing is already under trial. Last September, Uber kicked off a self-driving ride-hail trial in Pittsburgh, US, where it owns a research centre. The self-driving Ubers in the test will have a safety driver in the front seat "because they require human intervention in many conditions, including bad weather." Uber also remarked that even when these technology issues get fixed, "we believe ride sharing will be a mix—with services provided by both drivers and Self-Driving Ubers".
MIT's Senseable City Lab and Uber launched a research initiative earlier this month to explore how car and ride sharing networks could reshape the future of urban mobility. The initiative will explore new mobility paradigms for the 21st century, building on both parties' data and analytics strengths. The Senseable City Lab has been researching ride sharing since 2014. With self-driving cars taking to the road, sharing could potentially significantly increase. A shared self-driving car could offer one person a lift to work in the morning and then, rather than sitting idle in a parking lot, provide a ride to someone else in a family – or in the neighbourhood. According to MIT's research, this could theoretically lead to a city where everyone could travel on demand with just 20 percent of the cars in use today.
Implications for car interior design
How will the rising tide of car sharing impact interior design? Han Hendriks, vice president, advanced product development and sales at Yanfeng Automotive Interiors has some interesting thoughts on this matter. During the 2016 City Car Summit in Berlin, he highlighted the ever-developing automotive interior concepts due to the increasing demand of shared mobility and the new requirements of its users. To ensure maximum well-being for drivers, Hendricks stressed the benefits of a convenient interior, enriched by ambient lighting, a good smell, practical interior design that supports the specific needs of car-to-go requirements and antimicrobial surfaces.
Hendricks also noted the difference between owned and shared cars, specifically the implications for interior designers, adding: "Car sharing has a significant impact on the interior. Consumers buying their own vehicle spend quite a few hours to ensure that you order the exact car that you like. But with shared mobility, that one car will be used by hundreds of people who have not ordered that car. So the challenges for the interior designer will be very different." He observed how car sharing typically involves short rides in city environments. In 80 percent of cases, it involves one or two people. "So very different from the vehicle that you order and buy for your family."
Some practical implications for the interior of shared cars, says Hendricks, is that it must smell fresh. "The interior surface needs to be clean – so [we] think about anti-microbial surfaces. You also want it to be an easy experience. So you enter the vehicle, and all the adjustments involving the seat, steering wheel, temperature and ambient lighting, adjust to what you like to experience. So you don't want to spend five minutes adjusting everything but an easy experience."
Other interior differences between own and shared cars relate to storage, notes Hendricks. "One important aspect of storage in shared vehicles is that you have to have open access and visibility to where you put your items in a shared vehicle because you do not want to forget things. So a closed glove box will probably be something in the past."
"If you then start to tie a couple of the mega trends together, like shared cars and autonomous, think about hospitality in that temporary space … with lots of opportunities for new business models and service providers to enhance that shared vehicle interior experience."
See also:
&