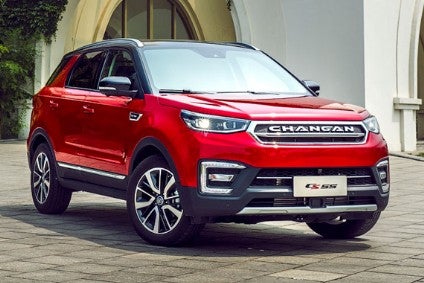 With sales of more than 1.8m vehicles so far in 2018, including its joint ventures, Changan Auto is major player in the Chinese market. Some 750,000 of that total comes from its own brand models. Until recent months, heavy investments in expanding the Changan and Chana ranges of SUVs were paying off. Now though, sales are falling so key new models due in 2019 can't come soon enough.
Changan Auto has had a bouncy ride throughout this year. Before the market began to slide from mid-year, things had been looking good for the state-owned company; even the CAPSA joint venture appeared to be improving. Then, consumer sentiment changed, and so too did buyer preferences. Many brands began heavily discounting and those that didn't were soon left high and dry. Volkswagen was lucky enough to have a few major models hitting the market at exactly the right time but buyers quickly turned against older VWs and in more recent times, against former big selling SUVs such as the Tiguan.
If even the mighty Volkswagen could be hard hit by a sudden downturn, what hope for medium sized brands? Changan, a joint venture partner of Ford, took an enormous hit in production volumes as the blue oval brand found its sales volumes plunging (27,384 deliveries in October, down 67 per cent), while PSA's DS brand has also been badly affected, its already tiny volume falling to a mere 204 vehicle sales in October and 3,632 YtD. At the same time, Suzuki, seeing that it needed to either recapitalise its JVs or bail out, told Changan that it had chosen to exit their venture.
With all of the above to contend with, Changan Auto will at least have been relieved that the Mazda JV is faring better than CAF (Changan Auto-Ford) and CAPSA (Changan Auto-PSA). Deliveries of the brand's locally built models are down by eight per cent for the year to the end of October, the total standing at 235,595, although that includes models manufactured by FAW-Mazda too.
A few weeks ago, Changan Auto reported better than expected sales revenue for the first nine months, this dropping by only three per cent to RMB 49.9bn (US$7.21bn). However, net profit plummeted to RMB 1.16 billion, a fall of almost 80 per cent.
With Ford taking action to arrest its alarming decline – the just-launched new Focus should help greatly – it's hoped that CAF may be on the way up again, although that is by no means guaranteed. What becomes of CAPSA is anyone's guess, it's still too early to say what Changan will do with the Suzuki brand and the now wholly-owned JV, while the prospects for the Mazda partnership look good, given that there is much new product coming soon.
Changan's own model lines continue to be renewed and added to, which is always the best response to any market taking a downturn. Volkswagen, way ahead of all other brands in China, proves that. While rivals suffer collapse, its performance was flat in October, and others such as Toyota, Honda, Nissan and Haval each experienced a sales rise thanks mainly to the arrival of fresh models.
Cars
The BenBen is Changan's main model in the A segment. The second generation of this small five-door hatchback had its global debut at November 2013's Guangzhou motor show, the car then entering Chinese dealerships in March 2014. A successor will likely be launched in 2021.
A five-door hatchback codenamed A301 is expected to be released in China during 2019, delayed from this year. This car will supplement the BenBen rather than replace it.
In the B segment, Changan offers the Yuexiang, which is also known as the Yuexiang V3. The car is now in the last year of its life having been around since mid-2012. A successor should appear at the next Guangzhou motor show in November 2019.
The Eado, a C segment sedan, was shown in China for the first time at the Guangzhou motor show in November 2011. Two months prior to this, it was revealed as a prototype at the Frankfurt IAA with the company stating that it would be launching its brand in Europe. These plans came to nothing, however, and still Changan/Chana have only the smallest presence outside China, the brands being present in only a handful of markets such as Chile, Nigeria, South Africa and Russia. In selected countries, the Changan brand offers only small vans and pick-ups.
Despite its age, the Eado sells very well still, with almost 72,000 cars retailed during the year to the end of October. A successor should appear in a year's time.
There is another Changan sedan of the same size which supplements the Eado. It started life in 2014 as the Yuexiang V7 but as well as a facelift, in March this year, the name was changed to Eado DT. Its replacement will probably be seen during the latter half of 2021.
The Eado XT replaced a model of the same name, although the previous model had also been known as the Zhishang XT. This 4.5m long five-door hatchback went on sale in China, its main market, during February. It continues to be a brisk seller. Changan plans to facelift it in 2021 and launch a replacement in 2025.
The Raeton CC, a D segment sedan, first went on sale in December 2017. It should be facelifted in mid-2021 and replaced in 2024.
MPVs
Changan Auto's own B2 architecture should be the basis for the successor to the CM8, a small MPV. The current, first generation model uses a Suzuki architecture but this is quite an old platform now. The new CM8 is said to have faced some delays in its development so is not expected to be seen until the second or possibly even third quarter of 2019.
Another MPV of around the same size but with totally different looks has been photographed whilst testing. There is as yet no confirmed model name, only the development code, which is S101. As with the CM8, it should hit the market in 2019, arriving in the second half of the year.
The Lingxuan and A800 twins are compact minivans for the Changan and Chana brands. Each is 4,730mm long and has seven seats. The standard engine is a 125hp 1.6-litre four-cylinder unit. Each is due a facelift in 2021 and should be replaced in 2024.
Changan gave each model unique front and rear ends. The A800 is marketed by the company's commercial vehicles division while the Lingxian (also known as the Linmax) is part of the passenger cars operations. The Chana brand mainly applies to LCV-based models but not always.
Crossovers & SUVs
Changan's smallest SUV is the 4.1m long CS15. Now two and a half years old, it will be due for a facelift in mid-2019. There will likely be an electrified variant to come next year too. The second generation CS15 won't be seen until 2023.
The CS35, available to buyers in in China since October 2012, is powered by a 1.6-litre four-cylinder engine. It was facelifted in 2016 and is due to be replaced in 2019. That should happen during the final quarter of the year.
Changan Auto's star performer is the CS55, its Chinese market deliveries having crossed the 140,000 mark at the end of October. This 4.5m long SUV has only been available since May, a few weeks after its world premiere at the Shanghai motor show. The trick will be to keep it popular in the face of intense competition from Geely, Volkswagen, Toyota, Honda and other big players in the C- and D-SUV segments. A facelift is due in the fourth quarter of 2020, which should be the only scheduled restyle ahead of the replacement's arrival in 2022.
The CS75, a 4,650mm long SUV that was engineered by Giugiaro, was launched in China in April 2014. It competes in the same class as the hugely successful Haval H6. A facelifted model was revealed at the Beijing motor show in April. The next generation model is due in 2021.
The CS85 has just been exhibited for the first time at the Guangzhou motor show. The model on display at AutoGuangzhou is a pre-production prototype. As its model name suggests, this 4,720mm long SUV is an extra model.
Following its debut at the Beijing motor show in April 2016, the 4,949mm long CS95 went on sale during March 2017. This big SUV is based upon the CS75 and is able to seat seven occupants. A mid-cycle facelift is pencilled in for the third quarter of 2020 and the replacement for early 2024.
Pick-up
Changan Auto and Groupe PSA are co-developing a pick-up as the first model for a shared Light Commercial Vehicles architecture. This was announced in September 2017 with the one-tonne model to be on sale "by 2020". It will be manufactured by Changan at its Ding Zhou plant. Although the model in question is termed an LCV, there should be passenger versions too both for the Peugeot and Chana brands.
Electric
Next year, we're likely to see an e-BenBen as well as an EV based on the A301 (see Cars section above).
A fully electric SUV will be one of the vehicles which Changan is planning to build in Nanjing at a factory which was announced in June. The plant is being erected at a cost of CNY20bn and will produce its first series production vehicles in June 2020, according to a statement on the Nanjing city government's website. The annual capacity to produce electric vehicles is said to be 240,000 units. This is likely to be expanded in a second phase, which would also entail adding one or more additional battery-electric SUVs by 2025.
Cos
There is presently only the one model for Cos, a new brand but at least one more is planned for 2019. The 1 Degree, a 4,830mm long SUV, was the first model, having been revealed at the Beijing motor show in April. Sales commenced in Q3 and so far, a total of 4,478 examples have been retailed.
The 1 Degree is also the first model for the renaming of a Changan sub-brand. The former Changan Oushang, which became Oushang Auto, is now an SUV and MPV specialist division. Confusingly, Changan still sells a van model as the Oushang (or Oshan).
The provisionally named Cosmos, a 4,840mm MPV/minivan, will be the second model for Cos. It should be in dealerships during the first half of next year.
Recent reports for many other manufacturers' future models are grouped in the OEM product strategy summaries section of just-auto.com.
Future product program intelligence
More detail on past, current and forthcoming Changan models as well as additional vehicles which are not in the feature above can be found in PLDB, the future vehicles database which is part of QUBE.
The next manufacturer to be featured in the future models reports series will be Toyota Motor Corporation.