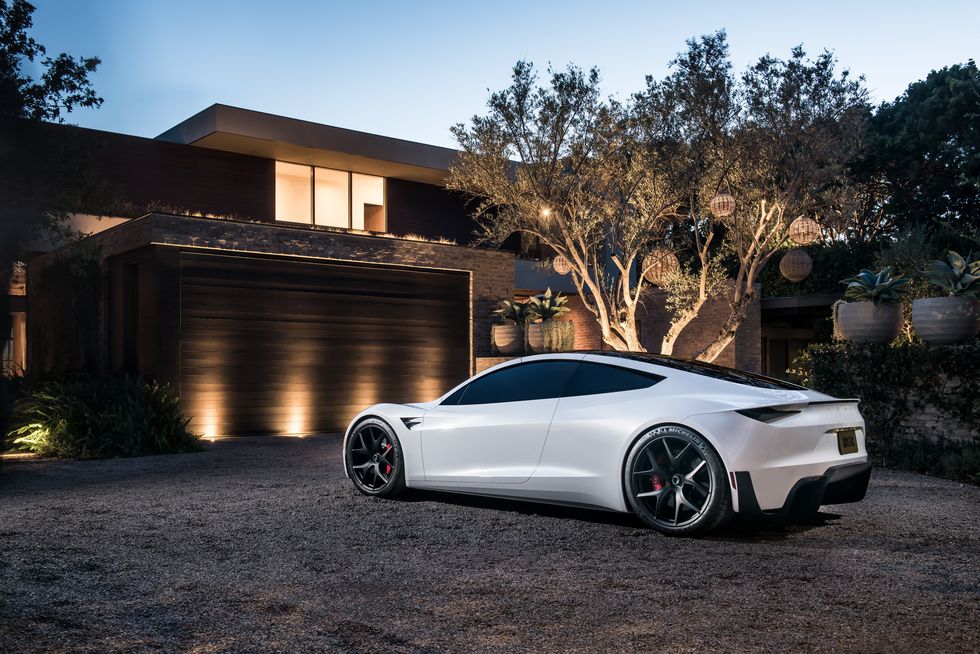 Model 2
In February there were reports out of China claiming that Tesla would reveal a 160,000 yuan vehicle in prototype form by year end.
Some believe that the firm will change its usual policy of announcing cars at special events by premiering the 'Model 2' at the Guangzhou motor show in November. It could also or instead debut at the LA Auto Show currently scheduled for the same month.
Tom Zhu, the president of Tesla China, told the state media in early 2021 that the smaller vehicle would be a global model.
There were fresh media reports in March claiming that the company could be planning a JV with Toyota for the development of an SUV smaller than the Model Y. Neither company has so far commented on this speculation.
Model S
The most recent update for Tesla's big hatchback includes the addition of a so-called 'Plaid' variant. This is claimed to have a range of up to 520 miles (837 km), a top speed of 200 mph and reaches 60 mph in under two seconds.
As at 27 January, the line-up was to become as follows but five months later the Plaid+ was suddenly cancelled:
Dual Motor AWD Long Range, two motors, US$79,990 base price, estimated maximum range of 412 miles (663 km), 0-60 in 3.1 seconds, 155 mph top speed
Tri Motor AWD Plaid: three motors, 1,020 hp, US$120,000 base price, range of up to 390 miles (627 km), 0-60 mph (96 km/h) in "1.99" seconds, 200 mph (322 km/h) top speed
Tri Motor AWD Plaid+: three motors, 1,100+ hp, torque vectoring, $140,000 base price, sub-two seconds 0-60 mph, quarter-mile in under 9 seconds, maximum range of 520 miles (837 km)
The production version of the Plaid was officially revealed at a special event in June and the first cars delivered to their owners.
The company has offered no guidance on when or even if it will replace the Model S and Model X. The hatchback dates to 2009 and could remain in production until perhaps 2024 while the crossover's life cycle began in 2015 and may continue into or beyond 2025.
Cybertruck
Tesla's angular pick-up had supposedly been due to be in production by the end of 2021. In February, Elon Musk said while he still hoped that would happen, early 2022 was looking more likely for high volume build.
The top speed of the fastest 'Tri-Motor' variant is claimed to be 130 mph and 0-60 mph will take 2.9 seconds. The maximum range is said to be in excess of 500 miles/800 km and the stated towing rating is up to 14,000 lbs.
Pricing starts at $US39,900. The base, rear-wheel drive version has a single motor and a provisional maximum range of 250 miles (400+km), 0-60 mph time of 6.5 seconds and a towing rating of 7,500 lbs. One step up is the Dual Motor version which has all-wheel drive, 300+ miles (circa 500 km) of range and a tow rating of 10,000 lbs (4,535 kg). Its 0-60 mph time is 4.5 seconds.
Unlike previous Tesla vehicles, this one will have stainless steel panels. These could be key to understanding the whole project.
As the vehicle revealed in November 2019 was a prototype or 'Alpha' as the company called it, understandably, no weight was stated. Tesla might be intending to save the cost of crash testing if the Cybertruck ends up with a Gross Vehicle Weight in excess of 10,000 pounds (more than 4.5 tonnes). The United States classifies such vehicles as Class 3 trucks. The heavy, unpainted body panels would also in theory negate the need for a paint shop.
Several weeks after the Cybertruck was revealed, Tesla said the highest price Tri-Motor variant would come first,  with the cheaper single motor to follow.
Production will be at a site in Travis County near Austin airport in south-central Texas. The company said it is spending US$1.1bn to produce the Cybertruck, Model 3, Model Y and even the Semi (see below) there.
In November 2020, the company's leader said a revised Cybertruck would be announced "in a month or so". That didn't happen. Three months later, Musk stated in an interview that the design had been finalised.
US deliveries might commence during the first half of 2022. We can expect a life cycle of perhaps ten-fifteen years and a facelift in 2027 or 2030.
Roadster
Whatever became of the Roadster? Next month it will be four and a half years since Elon Musk tweeted that the Model S "will always be the fastest Tesla until next gen Roadster."
A prototype was revealed to the media in November 2017 as part of the presentation of a truck prototype. The company said the new sports car would be on sale in 2020.
Tesla's CEO has stated that the sports car would have a top speed of over 400 km/h (250 mph), plus that it would reach 60 mph in 1.9 seconds and 0-100 mph in 4.2 seconds.
The company began taking US$50,000 deposits immediately after the prototype was revealed. Tesla stated that the price of the base variant would be US$200,000. A so-called 'Founder's Series' would see 1,000 cars released first, the firm stated, each one priced at US$250,000. For these, the entire price had to be paid in advance.
The last time the company said anything about this car – and it has been a while – the powertrain was claimed to consist of three motors and a 200 kWh battery pack, with the stated range at normal speeds being 1,000 km or 620 miles.
Elon Musk still hasn't given a firm date for the first deliveries of this car, stating only that it would be added to the range after the Cybertruck.
In October 2020, there were claims in the media that the Roadster would be made at a yet to be announced factory in the northeastern USA. The plant will reportedly also manufacture the brand's 'Semi' a Class 8 electric truck.
If the Roadster is still part of the company's future vehicle plans and the intention is to make it in a plant which doesn't yet exist, production probably won't happen until 2023 at the earliest. Tesla could instead theoretically outsource build to a contract assembler.
Reports for many other manufacturers' future models are grouped in the OEM product strategy summaries section of Just Auto.
That includes Tesla vehicles not detailed in this report.

Future platform intelligence
More detail on past, current and forthcoming models can be found in PLDB, the future vehicles database which is part of GlobalData's Automotive Intelligence Center.
The next OEM for Just Auto's future models series will be McLaren Automotive.