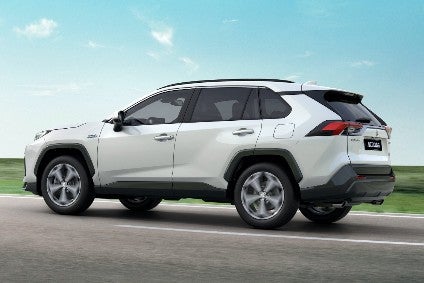 It wasn't a great first half of the year for Suzuki Motor Corporation and Maruti Suzuki alike, Japan and India having been hit very hard by the Coronavirus crisis. Still, not being a major brand in Europe and tiny in both China and the Americas at least means that SMC didn't suffer too badly outside its two big markets. Now, growth is resuming and new models are starting to appear.
Aside from the odd month here and there, Maruti has maintained an extraordinary dominance for the Suzuki brand, last month being back to normal: market share of 50.5%. Of the ten most popular cars, seven were Suzukis, while the same brand secured the first five places: Swift, Baleno, Alto, WagonR and DZire. Maruti's EECO and Ertica were seventh and ninth, with Hyundai taking the other three spots: Creta in sixth, Grand i10 in eighth and Elite i20 in tenth.
What about Japan? Year to date, the brand is now down by only 14% thanks to the arrival of new models and a bounce back for the market in general. Suzuki is (just) in second place behind the mighty Toyota, with nine-month deliveries of 469,264. Honda (468,690) was in third spot in September (59,507) but its sales fell by 19% whereas Suzuki's rose by 1.5% to 67,307.
The brand does OK at home with a couple of non-Kei models, the Solio (1 Jan-30 Sep: 29,837) and Swift (22,334) being in double figures, along with the Jimny (12,172). It's in mini-vehicles where Suzuki really excels though, the Spacia being Japan's number two for the year to date, its 104,832 deliveries bested only by the Honda N-Box (150,820). The little Suzuki also outsells the best performing vehicle which isn't a 660 cc vehicle, that being the Yaris, which ended the first three quarters on 96,055.
Let's take a look at some of the next generation vehicles which both SMC and Maruti will be launching in 2021 and beyond.
Cars
The current Spacia and Spacia Custom mini-vehicles were released in Japan, their main market, in December 2017. As was the case with the previous models, mid-life refreshes might not happen. Instead, the vehicles should have a lifecycle of just under five years so the next Spacia is due to arrive at the end of 2022. Both models are powered by a 660 cc engine, as is the norm in Japan's Kei segment. Suzuki also supplies a lightly altered Spacia to Mazda which markets it as the Flair Wagon.
The next generation of the Celerio is to be revealed in early 2021. As with the current model, the life cycle should be seven years, with a facelift in the third quarter of 2024. India will again be the main market, but there should also be build in both Thailand and Pakistan. The model name will likely be Cultus in the last of those three countries. Engine details are not yet known but expect 1.0- and 1.2-litre petrol units. The project code is YNC.
Crossovers & SUVs
The Future-S concept was a preview of Maruti's S-Presso. The prototype was a world debut at the New Delhi auto expo in February 2018 with the 3,565 mm long production model announced to the media at the end of September 2019. The first engine was a BS6-compliant version of Suzuki's K10B 1.0-litre, three-cylinder petrol unit but a version which runs on CNG too was announced in February. There should be a facelift in 2023 and a successor in 2026.
The second generation Hustler looks very much like the original. A preview in the form of the Hustler Concept was revealed at the Tokyo motor show in October 2019, going on sale in Japan in the final days of that year. The first generation of this 660cc Kei-class crossover had its Japanese market sales launch in January 2014, so the new one will likely also have a six-year life cycle. That also means a facelift at the end of 2022.
The second generation XBEE (Cross Bee) is due to hit the Japanese market in two-three years' time. This tiny crossover, which is closely related to the Hustler, has been available there since December 2017, powered by a mild hybrid 1.0-litre turbocharged engine.
Production of the latest Jimny started in Japan in July 2018. A month later, Suzuki announced at the Jakarta motor show that it would be assembling this rugged 4×4 in Indonesia for that market and export.
Whereas the previous model had been manufactured at the Iwata plant, this one is built in Japan at the Kosai factory in two forms. The narrow-body Kei class model is powered by a 660 cc (R06A) three-cylinder turbo petrol engine, with a 1,462 cc four-cylinder engine (K15B) reserved for the wider Jimny Sierra (Jimny in export markets). Both engines are offered with the option of five-speed manual and four-speed automatic transmissions. As well as the solid rear axle, there are drum rear brakes and recirculating ball steering.
Suzuki began to limit sales of this model in European countries from early 2020 due its relatively high CO2 number. The model was then discontinued in some markets (e.g. the UK) for this reason. However, it returned as a commercial vehicle (i.e. no rear seats) in September as that allows it to be subject to less stringent emissions norms.
A media report claimed in February that Maruti would add production of 50,000-60,000 units per annum at one of its plants. That's not the full story though. It now transpires that production of a yet to be seen five-door Jimny is planned for the Hansalpur factory in Gujarat; half to be retained for the domestic market and half shipped abroad.
The Jimny's life cycle will likely be a long one, which means there probably won't be a facelift until 2023/2024, while a successor may be as far away as 2030.
MPVs
As part of a far-reaching extension of their collaboration, Suzuki and Toyota told the media in March 2019 that one of their future projects would be "Drawing upon Suzuki's expertise in developing vehicles in India, joint development of a Toyota C-segment MPV and OEM supply to Suzuki". There are still few details of this model and its market release is probably about a year away.
Electrified
Three years ago next month, SMC and Toyota Motor Corporation revealed that they had "concluded a memorandum of understanding (MOU) on moving forward in considering a cooperative structure for introducing electric vehicles (EVs) in the Indian market around 2020″.
The project has been delayed but Maruti will likely launch a small EV in 2021 although production numbers will probably be small. The company told the media in October last year that it had pushed back the launch of an electric WagonR due to there being little potential demand for such a car. No date was stated.
In other news, Toyota would supply two electrified vehicles to Suzuki for its European markets, the companies announced in March 2019. The first of the pair is called Across and the first deliveries of this rebadged RAV4 Plug-in Hybrid are taking place this month. The powertrain consists of a 137 kW and 227 Nm 2.5-litre petrol engine plus a motor on each axle (134 kW and 270 Nm front; 40 kW and 121 Nm rear) driving through an e-CVT. The battery's capacity is 18.1 kWh. Further details can be found in PLDB.
Suzuki should gain a facelifted ACross in March 2023 and a potential successor in early 2026.
The other model for European markets is built in England, the recently announced Swace being a Corolla Hybrid estate. It's a win-win deal for both partners as while volume won't be big, the Swace helps the Burnaston plant at a time when UK vehicle manufacturing in general isn't having its best year. And for Suzuki, the car greatly assists with lowering its average CO2 numbers across the European Union and EFTA markets plus of course in Britain too. The life cycle of this vehicle will last until 2025 and there should be a facelift in late 2021 or early 2022.
Reports for many other manufacturers' future models are grouped in the OEM product strategy summaries section of just-auto.com.
Future platform intelligence
More detail on past, current and forthcoming models can be found in PLDB, the future vehicles database which is part of GlobalData's Automotive Intelligence Center. That includes Suzuki vehicles not reported on above.
The next OEM to have its future model plans looked at will be McLaren.