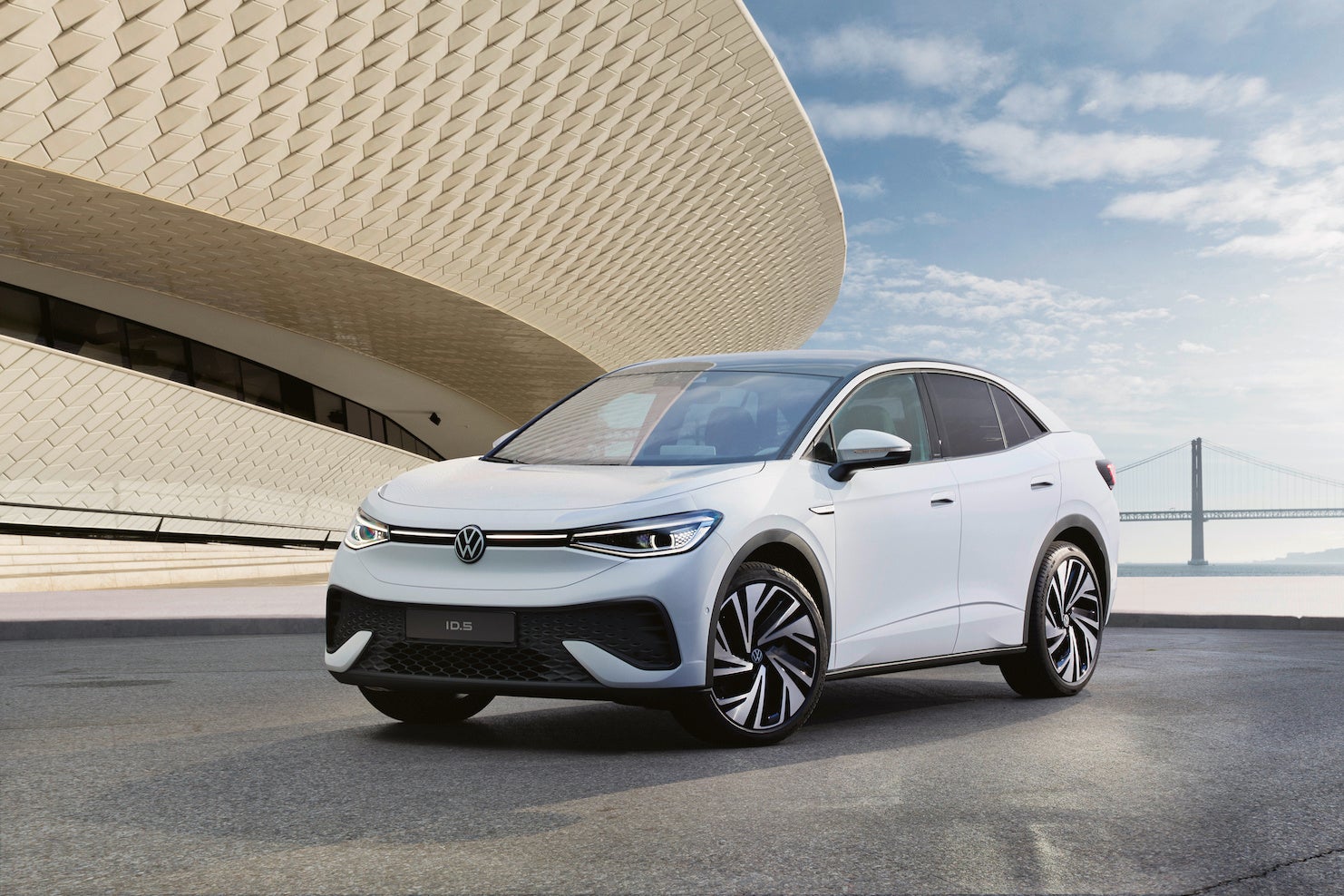 It's slightly smaller than the Model Y and officially called an e-SUV coupé. Yet there's no doubt about which vehicle the ID.5 is aimed at.
To make a major impact in the European region's 4.8-4.8 m long electric crossover class, Volkswagen must attract Tesla-intenders with a better product. So has it created one?
Distinct looks in a class of clones?
Tempting as it may be to gently mock the ID.5 as the latest speech bubble-shaped EV, there is some truth in that. Volkswagen had to come up with a shape that complements the ID.4 yet also clearly says "this costs more".
To be fair, the 5 does have its own silhouette and for those who really like this breed of 2020s-style electric family cars, there's lots of appeal. That starts with the light bars at either end then continues with the short nose and tail. Other obvious features are big and narrow wheels, slabbish sides and a friendly face.
Open any door, including the tailgate and you immediately wonder why a Passat doesn't seem to offer this level of room.
MEB – VW Group's electric platform
Volkswagen has cleverly hidden the reality of a long, wide and thick battery pack positioned below the feet of all occupants. This it did by raising the floor compared to where it would be in an IC-engined model of a similar size (4,599 mm).
Other reasons why the ID.5 looks nothing like conventional crossovers include a lengthy wheelbase, tall doors and big windows as well as a wide and long roof. The latter is a fairly vast expanse of glass.
A return to RWD family cars
It's funny how some things go full circle if you wait long enough. For decades, Britain's best selling family cars were rear-wheel drive (Fords) about the same size as this new RWD Volkswagen. And if the proportions were different due to these being saloons, hatchbacks and estates with shorter wheelbases and a lower roofline, the footprint of each was close to identical.
The British aren't alone in having defaulted (on and off) to vehicles of this size for more than half a century. It's just that nowadays, motors and single-speed transmissions have replaced four-cylinder engines and multi-ratio gearboxes.
One motor or two?
We're only a few months into the model's life cycle with the line-up so far consisting of these three choices:
ID.5 Pro – 128 kW (174 PS) & 310 Nm (229 lb ft) rear motor, RWD, 0-100 km/h in 10.4 seconds, 160 km/h top speed
ID.5 Pro Performance – 150 kW (204 PS) & 310 Nm (229 lb ft) rear motor, RWD, 0-100 km/h in 8.4 seconds, 160 km/h top speed
ID.5 GTX – 150 kW (204 PS) & 310 Nm (229 lb ft) rear motor, 80 kW (109 PS) & 162 Nm (119 lb ft) front motor, combined 220 kW (299 PS) for up to 30 seconds, AWD, 0-100 km/h in 6.3 seconds, 180 km/h top speed
There will inevitably be more to come, as well as additional battery options (for now, there is just the one: 77 kWh net). That will likely happen as the pricing of ever more advanced chemistry options begins to fall.
Weight – more than 2.1 tonnes
Any ID.5 is going to be far safer and mostly better in all the important ways than family-sized cars sold between the 1980s and the end of the 2010s. One very big difference though, is weight. This applies to all EVs, and not just the ones around this size. The press tester tipped the scales at 2,117 kg unladen.
Battery packs being the reason, anyone buying an electric vehicle, particularly of the crossover or SUV-coupe variety, must accept that it's not going to steer like a BMW 3 Series. Or, to continue the link I suggested earlier, the far lighter Mondeo which went out of production earlier in 2022.
Drive the Volkswagen, its Model Y competitor or any of the other rivals such as the Hyundai Ioniq 5 or Nissan Ariya with a large slice of enthusiasm and there's more bad news: rapidly depleted range.
Will it really go more than 300 miles?
The ID.5 will go about 250-300 miles on a full charge (VW says it's up to 316). And should the owner have a home/office wallbox and can easily locate even faster chargers (it'll take up to 135 kW) at filling stations, the range isn't an issue.
Battery drain certainly can become a worry though if motorway speeds are maintained during a multiple-hours journey. Not to mention the air conditioning and/or seat heating being activated. Even charging devices on the move will steal some miles. At least the low-drag shape partially offsets the burden placed on the motor and stored ions by the vehicle's sheer mass.
Sleek roof yet lots of space
That aero-look roofline doesn't just help with air-cleaving: it's a big reason why the 5 looks genuinely different to the ID.4 with which is shares so much. Sleeker lines don't do much harm to the available boot space either, you get an excellent 549 litres with seats up and 1,561 with them folded.
The more acutely angled roof hardly harms headroom, the 5's interior height being just 12 millimetres lower than what the ID.4 offers. In practice, even the tallest people will be fine on the back seats.
Charge your house with your car
As I've noted my own thoughts on Volkswagen's screen-biased controls on other occasions, there's no need to repeat them here. You also don't get a volume knob in the ID.5, while the mirrors controller has a less precise action to what used to be in VWs.
Handy features include this being the brand's first bi-directional EV. So energy stored in the car's battery can be sent to the owner's home should it ever be needed.
The vehicle's silence is also much appreciated and this is one of those rare electric vehicles in which neither road nor wind noise infiltrates the cabin.
Aside from the fiddly screen, there's one specific irritation shared with many other Volkswagen Group models. That's having to press many virtual buttons to reach the off function for steering interference (it resets every time the motor is turned off). For whatever reason, it's quite sensitive in this VW but can be less so in certain (mainly older) Volkswagens, Audis, SEATs, Cupras and Škodas.
Summary
The allure of the Volkswagen brand will be the decider for many shopping in the electric D-crossover segment. And the ID.5, along with its fairly similar ID.4 brother is selling fairly well in most European markets.
While VW doesn't have Tesla's charging network advantage, the novelty of owning a less common and more distinctive EV than the Model Y could tip the decision in favour of the ID.5 for many.
In as-tested 204 PS Tech Pro Performance form, the ID.5 costs GBP54,640 OTR.