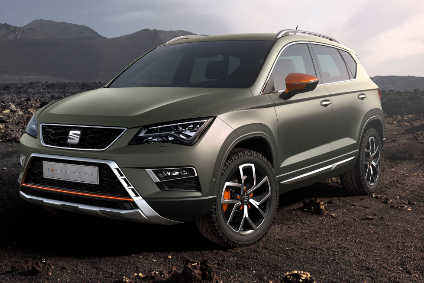 Following the recent reviews of Volkswagen, Audi and Škoda future vehicles, this fourth of a six-part series concerns SEAT. A look at what's ahead for Bentley, Lamborghini and Bugatti will make up the fifth part of a six-part series concerning the Volkswagen Group's brands. Porsche, to be published soon, will be the sixth and final chapter.
A segment (Mini-car)
The Mii city car is built in the same plant as the Volkswagen up! and the Škoda Citigo. SEAT's smallest model went on sale in Spain in late 2011, with cars reaching other European markets from March 2012.
Like the up! and the Citigo, the Mii was launched as a three-door hatchback, with a five-door car following from mid-2012.
SE130, the next Mii, is again expected to be manufactured at the Volkswagen Group's Bratislava plant alongside successors for the VW up! and SEAT Mii. There could also be a car for Audi. The platform for all of these will be an evolution of the existing MHB architecture. Job 1 is due to roll of the line at the Slovakian plant during the first quarter of 2019.
B segment (Sub-compact)
The fourth generation Ibiza has been in production since August 2008 so SEAT has had a big challenge on its hands to keep the brand's sales rising when it is stuck with such an old car. The Spanish company has had to wait for the Volkswagen Group's MQB-A Zero architecture to be ready before it could replace what had at one time been its best seller.
There have been no major changes to this range of three- and five-door hatchbacks since a second facelift premiered at May 2015's Barcelona motor show. Production of the ST ceased in May 2016 as this bodystyle, an estate, did not sell well. The Arona compact crossover will the effective replacement for the ST. The SC, a three-door hatchback which was marketed as a coupé, will also not be replaced – it is now built in very small numbers.
Ibiza generation five is due out in 2017, with its debut most likely to be at the Geneva motor show. It may instead premiere at a special event in April or May so as not to steal the limelight from the next VW Polo which it shares so much with. Production should commence in June but unlike the existing model, the next car's lifecycle will be limited to seven years. As noted above, MQB-A0 will be the architecture and there will be one body style: a five-door hatchback.
B/C segment
Like the larger Superb, the Toledo looks like a sedan but is in fact a five-door hatchback. Its debut was at the Paris motor show in September 2012 with production starting a month later.
The Toledo and the Škoda Rapid hatchback for Europe are more or less the same car. The platform is the Volkswagen Group's A05 architecture from the SEAT Ibiza (SE250), modified with a different rear end.
Spain and Portugal were the Toledo's first markets (November 2012), with the rest of Europe, Turkey and Mexico following from early 2013. Unusually, there has not yet been a facelift, so this could come in the first or second quarters of 2017.
The next Toledo is due in early 2020. It is expected to again be manufactured by Škoda at its main Mladá Boleslav plant. The platform will be MQB-A0.
C segment (Compact)
The León is SEAT's best seller with the car marketed in five forms: León (five-door hatchback), León SC (three-door), León ST (estate), León X-Perience (crossover estate), and León Cupra (sports).
One of the more interesting aspects of the León's MQB platform construction is the availability of a multi-link rear suspension system. This features only for cars with more powerful engines. All other variants instead come with a less sophisticated and therefore cheaper to manufacture beam axle arrangement. Škoda acknowledges a similar arrangement for low- and high-power versions of its Octavia, which also uses MQB modules for its construction.
A facelifted León range was announced to the media in October and there are also several new engines. The updated cars go on sale from January with a revised Cupra following in February.
The next generation model series is due to roll out of SEAT's Martorell plant near Barcelona from the fourth quarter of 2019. It will use the same platform as the Mark 8 Golf, an updated version of MQB A/B. The five-door will come first, followed by the ST but the three-door SC is unlikely to have a successor. Given that by then SEAT will have two SUVs, there is also a question mark over a direct replacement for the X-Perience.
Crossovers & SUVs
With so many SEAT models sharing manufacturing plants with Škoda vehicles, the future Arona will also be the basis of a Škoda model. In fact, there will be an eventual four small SUVs counting the 4,191mm long Audi Q2 and a model based on the next Polo for Volkswagen.
The Arona model name was confirmed by SEAT executives speaking at the 2016 Paris motor show. This rival for the Opel/Vauxhall Mokka X, Peugeot 2008, Renault Captur and others in that class is likely to have its public debut at the next Frankfurt IAA and be on sale across Europe in late 2017. Production should be at Škoda Auto's Kvasiny plant with the platform to be MQB-A0.
At 4,363mm long, the larger Ateca (aTEKa) is not only SEAT's first SUV but it competes in the most popular segment of the European crossover and SUV market. Deliveries began in August (2016), with both front- and all-wheel drive variants available.
A more rugged looking Ateca X-Perience had its public debut at the Paris motor show in September and this derivative will be on sale from the first quarter of 2017. Meanwhile, an Ateca Cupra is said to be under development and will likely be added to the range in late 2017.
A mid-life facelift for the Ateca range is due in early 2020, with the second generation model likely arriving in the third or fourth quarters of 2023. That would logically be based upon an updated MQB A/B platform. Should the current Ateca be successful, SEAT might build the successor in-house at an expanded Martorell plant. That depends on the company delivering consistently stronger profits between now and 2020, however. Should that fail to happen, Ateca 2 will probably be again built by Škoda at Kvasiny.
Returning to the case whereby SEAT's new models bring Škoda-style sales and RoI, the Volkswagen Group will give the Spanish firm additional vehicles. One of the most obvious supplementary models would be a 5+2-seat D segment crossover.
A rival for the Land Rover Discovery Sport, Ford Edge, Kia Sorento and Hyundai Santa Fe, SEAT's potential 4.8m long SUV would most likely be based on the Škoda Kodiaq or long wheelbase VW Tiguan. That means the MQB A/B architecture. Production could be at Kvasiny, Hannover or Wolfsburg, commencing in 2020 (SEAT was withdrawn from China some years ago so unless a return is planned, local production would not happen there).
Minivan
Several generations of SEAT's only people carrier have been manufactured at a Volkswagen Group plant in Portugal alongside its twin, the Volkswagen Sharan.
SE428, the Mk II Alhambra, had its world premiere at the Geneva motor show in March 2010, going on sale across Europe that summer. A facelifted model debuted at May 2015's Barcelona show, which was two months after a similarly updated Sharan had been revealed at Geneva.
Production of the SE438 next generation Alhambra is expected to start in July 2018 at Setúbal. Unlike the PQ35-based existing model, generation three will use the MQB A/B matrix. The vehicle's public debut will likely be at the 2018 Geneva motor show.
Electric vehicles
The e-up! has not been a big seller but still, Volkswagen is said to be planning a successor. A lower price and longer range could do wonders for this car's sales potential. Both Škoda and SEAT may be given their own versions of the second generation car – at the moment, only the VW is available in electric form.
Should there be a plug-in Mii, this would likely go on sale during the second half of 2019, roughly six months after the arrival of the combustion-engined car.
SEAT is said to be planning to launch its second EV for 2020 and this could be an electric Ibiza or León. Small numbers of plug-in models have been built in the past, with 'Electric' added after the model name, or in the case of the plug-in hybrid, León TwinDrive in its first generation and Cenit Verde (Green Zenith) for the follow up. It is too early to say if any of these suffixes will be revived for future SEAT EVs and/or PHEVs.
Towards half a million sales per annum
As at the end of October, SEAT had delivered 345,600 cars worldwide (Europe is the main region – ACEA data say 283,836 – but the brand also does OK in Mexico with just more than 20,000 cars delivered there in the same period) which was a year-on-year gain of 1.8%. The addition of the Ateca may push CY2016 sales above 425,000. There is a chance that the half million mark might be reached in 2017 thanks to a new Ibiza but that milestone may instead occur in 2018 – the Arona goes on sale in late 2017.
More important than volume is profit, something which SEAT has not found much success with in the past. Happily, the company was 137m euro in the black between 1 January and 30 September 2016 so there are encouraging signs at long last.
The recently announced operating profit was eleven times higher than the number attained for the equivalent period of 2015. SEAT noted that an improved sales mix, mainly due to the initial financial impact of the Ateca, plus what it termed "solid growth of the Alhambra and versions with a greater contribution margin, and cost reductions" were the key factors leading to this result.
The highest turnover in the firm's history also took place during the first three quarters of 2016. With an increase of 2.3%, revenue reached 6.535 billion euro (same period in 2015: 6.388 billion euro).
If SEAT really has at last turned the corner financially, it will be a major relief for the Volkswagen Group, which has been trying to resuscitate The Spanish Patient for many, many years. As other companies have found, the answers to most of SEAT's problems have been a firm focus on adding models in rapidly expanding high margin segments and replacing old cars more quickly than was the case in the past. SEAT was, however, especially unlucky to have its main market collapse just as fresh models were coming through the development pipeline. Registrations in Spain are strong again, and as long as the economy there is not allowed to become heavily dependent on the illusion of rising material wealth from a new debt-fuelled property bubble, SEAT should have a good chance of staying in the black.
Future model plan reports for other manufacturers can be viewed in the OEM product strategy summaries section of just-auto.com.
Future product program intelligence
More data on vehicle lifetime and future product plans is available in PLDB from QUBE.